Divya Jivan Newsletter
Sivananda Ashram, Ahmedabad
December 2019
====================================


OM Namo Bhagawate Sivanandaya!
OM Namo Bhagawate Chidanandaya!
OM Namo Narayanaya!
==================================================================
Glory of Bhagavad Gita on Bhagwad Gita Jayanti (Dec 7, 2019 )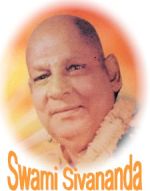 "The Gita is not merely a book or just a scripture. It is a living voice carrying an eternally indispensable and vital message to mankind. Its verses embody words of wisdom coming from the infinite ocean of knowledge, the Absolute Itself." "The Gita is the most beautiful and the only truly philosophical song. It contains sublime lessons on wisdom and philosophy. It is the "Song Celestial". It is the universal gospel. It contains the message of life that appeals to all, irrespective of race, creed, age or religion. The Gita contains the divine nectar. It is the wish-fulfilling gem, tree and cow. You can milk anything from it. It is a book for eternity. It is a vade-mecum for all. Peace, bliss, wisdom, Brahman, Nirvana, Param Padam and Gita are all synonymous terms." - Sri Swami Sivananda
<< Read More>>.
"All that can be learned by going through the whole of the Gita can be as well accomplished by repeating "Gita", "Gita" – Gita-gi-ta-gita, ten times; it virtually comes to be "Ta-gi" "Ta-gi" – a modification of "Tyagi", "Tyagi", which means one who has given up the world both outwardly and from the mind."- Sri Ramkrishna Parmhansadev
"When doubts haunt me, when disappointments stare me in the face, and I see not one ray of hope on the horizon, I turn to Bhagavad-Gita and find a verse to comfort me; and I immediately begin to smile in the midst of overwhelming sorrow. Those who meditate on the Gita will derive fresh joy and new meanings from it every day."- Mahatma Gandhiji
<< More Quotes on Bhagvad Gita>>
==================================================================
The Teachings of Lord Sri Dattatreya
on auspicious Sri Dattatreya Jayanti (Dec 11, 2019)

"Lord Dattatreya - He was a supreme yogi. Like Dakshinamurti, He was the adi guru, the primal world teacher. Contemplate His life. Meditate upon Him. Feel His divine presence. Evoke in your mind the sacred memory of Sati Anasuya and Atri Maharshi, the power of chastity, and divine grace in the form of Divinity taking birth at the earnest supplication and prayer of a heart filled with devotion. The earnest prayer of a heart filled with devotion never goes unanswered or unfulfilled. This is what the advent, the avatara of Dattatreya represents or proves."
================================================================
Christ's Divine Life by Sri Swami Chidananda (Christmas Dec 25, 2019)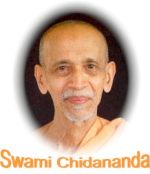 "Lord Jesus the Christ IS; here and now! Christ is Eternal. He has proclaimed this truth to the world not so much by words but by His glorious Resurrection. Where then is He to be sought and found? He abides where Virtue is and goodness. He is enshrined in the Divine Life of Love, Purity, Truth, Holiness, Prayer, Ceaseless Service and utter selflessness. In the heart where shine the light of Faith, Devotion, Humility, calm resignation to the Divine Will, Compassion and a genuine thirst for Righteousness, therein is Christ present, vibrant, vitally alive and radiantly manifest. O beloved Brethren! be ye also like Jesus and you shall find Christ within yourself now."
"Christ has given Himself to Mankind not so much as a personality but as a way of living, as a Path. He embodies in Himself the method of the Divine Ascent. To rise from the little human personality you now possess and ascend into the Christ Consciousness is to ascend from the unreal to the Real, from darkness to Light Everlasting and from death to joyous Immortality. When you have thee Christ Ideal before you as a shining example you cannot utter the excuse "Which is the way? I do not know the way. I would fain follow it if only I knew." The ringing assertion of Christ, "I am the Way, the Truth and the Life; no one comes to Father but by me." Yes, verily, verily is it true that growing into the Christ Ideal is the one sure and certain Key to the Kingdom of Immortality." -Swami Chidananda
<< Read More>>
==================================================================
Learning of "Jeevan Yog" from a Yoga Acharya Swami Adhyatmananda
Through TV episodes of
"Jeevan Yoga" Serie
s by Doordarshan Girnar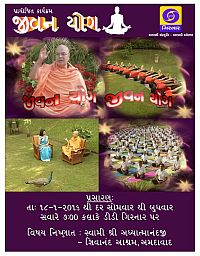 Yoganidra is a prolonged Shavasan that leads to relaxation and finally establishes in meditation. It is the art of conscious relaxation. It is a technique which will allow you to reach new sates of conscious awareness with acute perception of both your physical and subtle body. As you practice these techniques you will feel the flow of Prana move through physical, emotional and energetic blockages. The end result is the healing of the body and mind and the expansion of consciousness.
Yoganidra CD
- By Swami Adhyatmanandaji
Yoga, A way of Life (
DVD's , set of two)
For purchase of Yoga DVD-contact Ashram # 079-2686234 or
sivanandaashram@gmail.com
44 th YTTC through Sivananda Institue of Vedanta-Yoga Academy
: You can still enroll in YTTC at Sivananda Ashram , Ahmedabad. Yoga Teacher Training Course at Sivananda Ashram, Ahmedabada is designed to offer you the experience of living, Yoga way of Life and to present the necessary techniques that will enable you to pass these great teachings on to others.The program syllabus includes detailed instructions for each posture with their benefits. Also, in depth practice of different pranayama (breathing exercises), meditation, relaxation (Yoga Nidra) techniques are taught based on Patanjali Yoga philosophy. At the concluding of the program and passing the test graduate receives certificate recognized by Gujarat University.
Reg Form.
For more details, Contact
Sivananda_ashram@yahoo.com
/ # 079-26861234

==================================================================
Highlighting upcoming event and news
Bhagavat Katha at Rishikesh (October 31, 2019, to - Nov 6, 2019): How fortunate and blessed are those who could attend Srimad Bhagawat Katha by His Holiness Sri Swami Adhyatmanandaji Maharaj adorning on Vyasasan! It was indeed a grand and memorable event for one and all. This was attended by more than 700 devotees from all over India, as well as from Taiwan and the USA. It was organized as a part of Amrut Mahotsav celebrations of H.H. Sri Swami Adhyatmanandaji Maharaj at Parmarth Niketan, Rishikesh.
Pujya Swamiji discourses on Bhagavat Kathamrut was enlightening, Krishna Janmotsav, narrating Krishna Lilla, Goverdhan Puja, Rukhmini Vivah, the teachings given by Lord Krishna to Uddhava on the eve of His departure, the Soul-stirring Kirtan ... all were a Divine experience for all. << Read More>>.
Jnan Yajana - Prasthan Trayee Parayan ( Nov 24, 2019, to Dec 6, 2019): A grand starting session of Prasthan Trayee Parayan on Nov 24, 2019, was in the holy presence of Paramadrsh Vedanta Peethathiswar Sri Swami Bhaskarananda Saraswati Ji at Chidananda Dhyan Mandir, Sivananda Ashram, Ahmedabad. Pujya Swami Adhyatmanandaji Maharaj gave an inaugural speech and enlightened all. About more than fifty Saints, Mahatmas, Mahamandleshwers, and Bhramcharis as well devotees attended this sacred JnanYajana. Pujya Sri Swami Sarvananda Giriji was the Pramukh Acharya and had led the entire Jana Yajana. It was full twelve hours of daily program schedule that included recitation of Brahma Sutras, Ten Principal Upanishad namely; Isha, Kena, and Katha, Prashan, Mundaka, Mandukya, Tattiriya, Aitareya, Chhandogya and Brihadaranyaka, Bhagavat Gita and Sri Vishnu Sahsranama and two hours of discourses on "MANDUKYA UPANISHAD" and Mandukya Karikas by learned scholars from 4.30 pm to 6.30 pm.

It was a spiritual feast for the devotees to listen to great MANDUKYA UPANISHAD and its explanatory treatise Mandukya Karika by Acharya Gaudapada. The Mandukya Upanishad mantras provide us with the staple food for our intellect by enunciating the Truth while the Karika graphically reveals to us a line of inquiry and thinking with logic and reason to find out that Truth.
<< Read More>>
News & Activity Report for the Month of November 2019
News Through Event Photos
Amrut Mahotsav Tour 2019 to USA, Canada & UK
Divya Jivan / December 2019
==================================================================
Chidananda Darshan - through Life incidence of Guru Maharaj

"Sthita Prajna" : Swami Chinmayananda, the illustrious saint-scholar, was giving a series of discourses on Gita during his Gita Jnana Yajna at Lucknow in 1977. In course of his talk he dealt with the characteristics of a Sthita Prajna, the ideal Godman of the holy scripture. At the end of the talk Prof. Varma who was, indeed, very much impressed, sought an interview with Chinmayanandaji and put the straight question - Is the ideal Godman of Gita a mere scriptural representation or a living reality? Is there anybody in India today who may fittingly be called a Sthita Prajna?
The erudite monk who is not given to easy praise paused for a moment and then replied with all seriousness and solemnity - Yes. There are such great ones. One is Mother Anandamayi and the other is Swami Chidananda. One should behold them and get sanctified.
Amrut Mahotsav Celebration of H.H. Sri Swami Adhyatmanandaji Maharaj