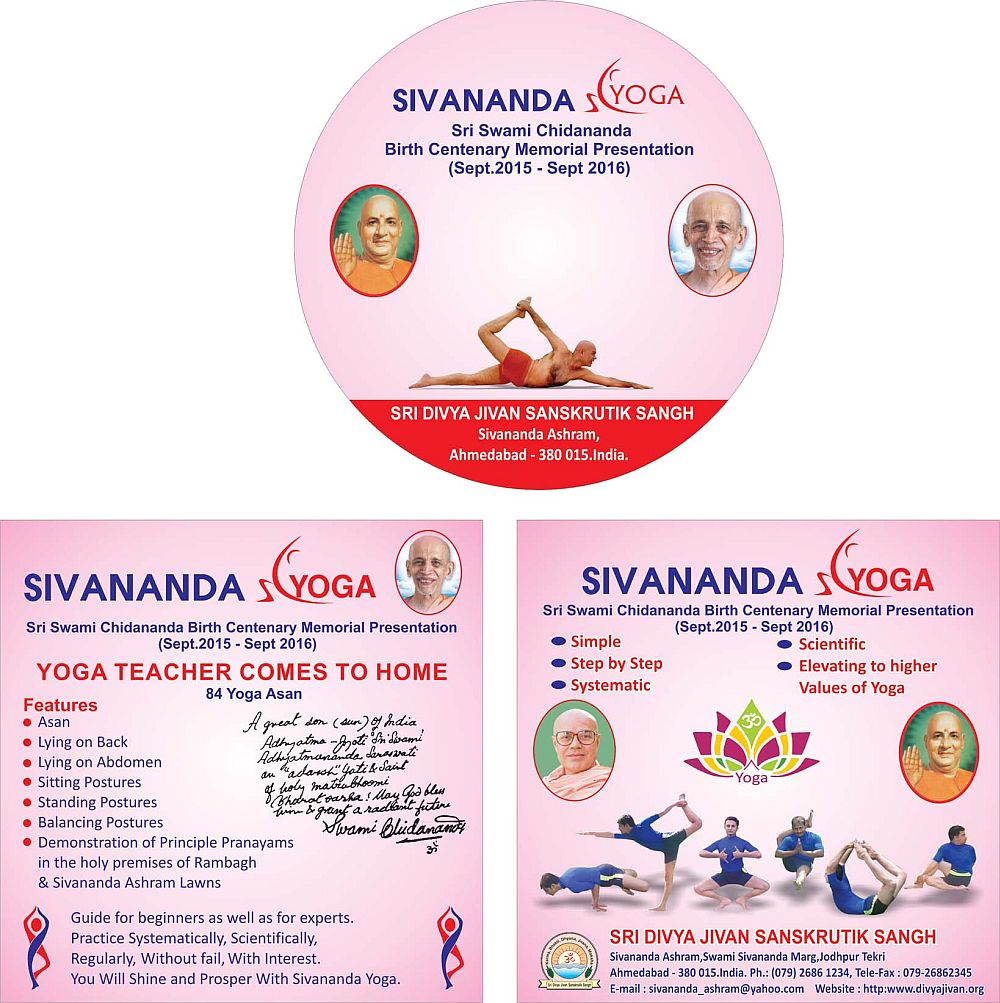 Sri Chidananda Birth Centenary Yoga DVD is a creation of Divya Jivan Sanskrutik Sangh to commemorate Birth Centenary celebration of Guru Maharaj Sri Swami Chidanandaji Maharaj. It is a complete guide for the beginners as well as experts. It contains 84 Yoga postures. It is like Yoga Teachers comes to your home.
It is filled with systemic, scientific and yet simple methods of yoga teaching by H.H. Swami Adhyamanandaji, who has been teaching yoga for over last four decades and has conducted more than 770 Yoga camps around the globe. Pujya Swamiji has trained thousands of students in Yoga, Pranayam and Meditation through yoga Camps and Yoga Teachers Training Course (YTTC) through SIVA (Sivananda Institute of Vendanta -Yoga Academy), who themselves are teaching others. Swamiji is a born teacher of international repute and author of many books on Yoga.
A "must possess" treasure for not only Yoga lovers but for everyone.
"Yoga way of Life brings Happiness of sound mind in sound body. Yogic living implies discriminative living. Yoga is equanimity, equipoise or equilibrium. It is skill in the performance of actions.Yoga is disconnection from union with pain and freedom from attachment and desires it is turning away of the senses from the objective universe and concentrating of the mind within." ...........Swami Adhyatmananda
Latest Additions.........

Please subscribe to Divyajivan Mailing List. We will update you with new uploads of spiritual literature on the web of Holy Master Sri Swami Sivanandaji Maharaj, saints of his lineage and other saints. We will also update you about the Sivananda Ashram, Ahmedabad website and facilitate communication with Sri Swami Adhyatmanandaji Maharaj.

Please enter your email address and click Subscribe button
To manage your subscription, please visit Subscription Page. You can also subscribe and unsubscribe from this page. You may unsubscribe by yourself anytime you wish. You will be required to send confirmation link that you will get in your e-mail to complete this subscription.

[ Home ] [ News ] [ Upcoming Events ] [ What's New? ] [ Services ] [ Swami Adhyatmananda ] [ Multimedia ] [ Publications ] [ Administration ] [ Saints and Sages ] [ Photo Gallery ] [ Contact ] [ Guestbook ] [ Important Links ] Webmaster: webmaster@divyajivan.org