News & Activity Report for the Month of November 2019
Sivananda Ashram, Ahmedabad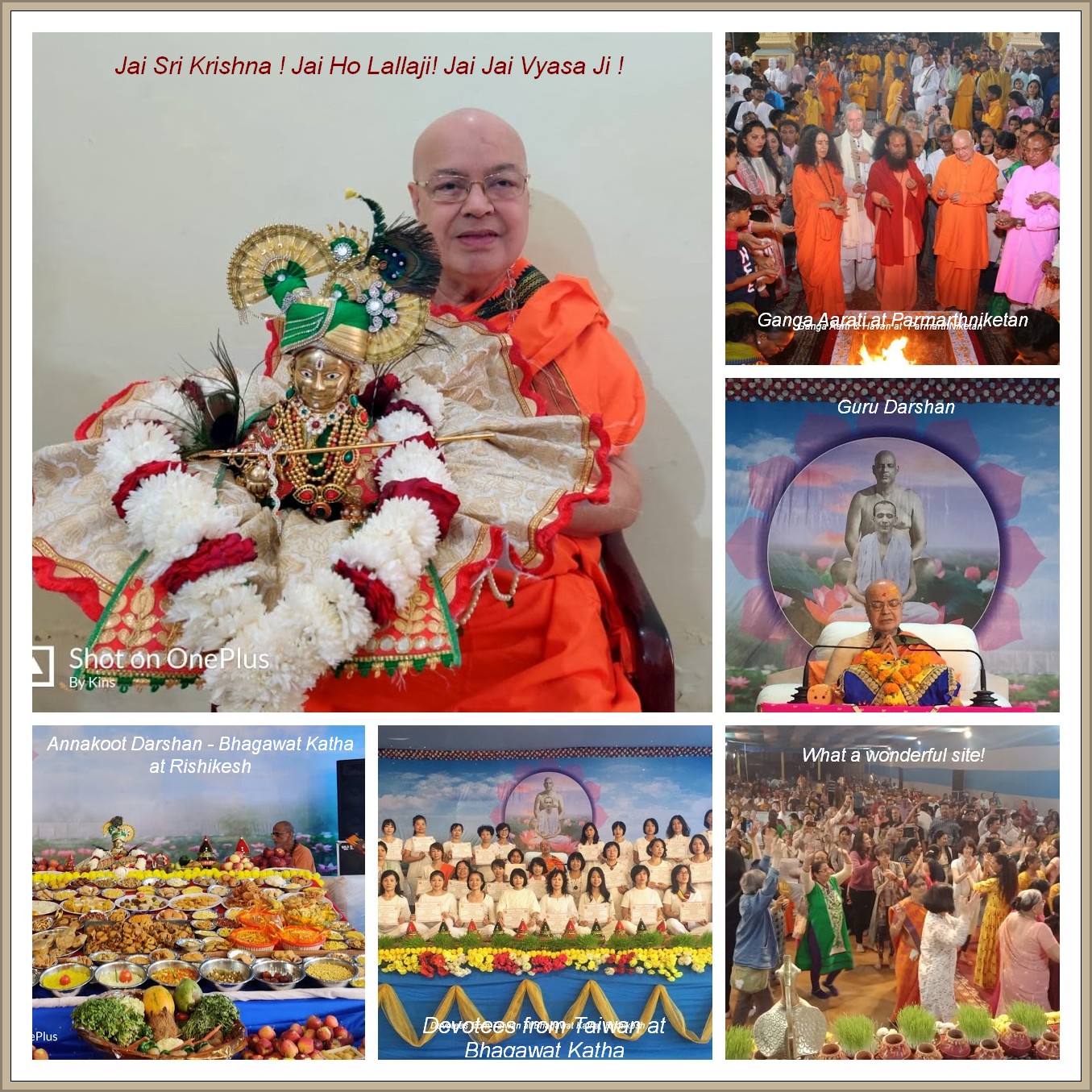 Bhagavat Katha at Rishikesh (October 31, 2019, to - Nov 6, 2019): How fortunate and blessed are those who could attend Srimad Bhagawat Katha by His Holiness Sri Swami Adhyatmanandaji Maharaj adorning on Vyasasan! It was indeed a grand and memorable event for one and all. This was attended by more than 700 devotees from all over India, as well as from Taiwan and the USA. It was organized as a part of Platinum Jubilee 75 th Birth Anniversary Celebrations of H.H. Sri Swami Adhyatmanandaji Maharaj at Parmarth Niketan, Rishikesh.
Pujya Swamiji discourses on Bhagavat Kathamrut was enlightening, Krishna Janmotsav, Krishna Lilla, Goverdhan Puja, Rukhmini Vivah, the teachings given by Lord Krishna to Uddhava on the eve of His departure, the Soul-stirring Kirtan ... all were a Divine experience for all.
Mahamandleshwar Sri Swami Ashanganandaji Maharaj of Parmarthniketan blessed the devotees with HIS holy Presence. Pujya Swami Chidananda Sarswati (Muniji) and Pujya Sadhviji blessed the ocassion.
The credit goes to a dedicated team of Sivananda Parivar working behind the scene for the past few months to organize this sacred occasion for the benefits of all. The Bhagavat Katha concluded on Nov 6, 2019.
Sharon Allitt (Sudha ji), founder Kul- Kamala Yoga School at USA embraced holy order of Dashnam Sannyyas from His Holiness Pujya Sri Swami Adhyatmanandaji Maharaj with all essential traditional rituals and her Sannyas Yoga-Pat name is given "Swamini Shraddhanandaji Saraswati". She is welcome in the family of most worshipful and Revered Guru Bhagwan Srimat Swami Sivanandaji Maharaj.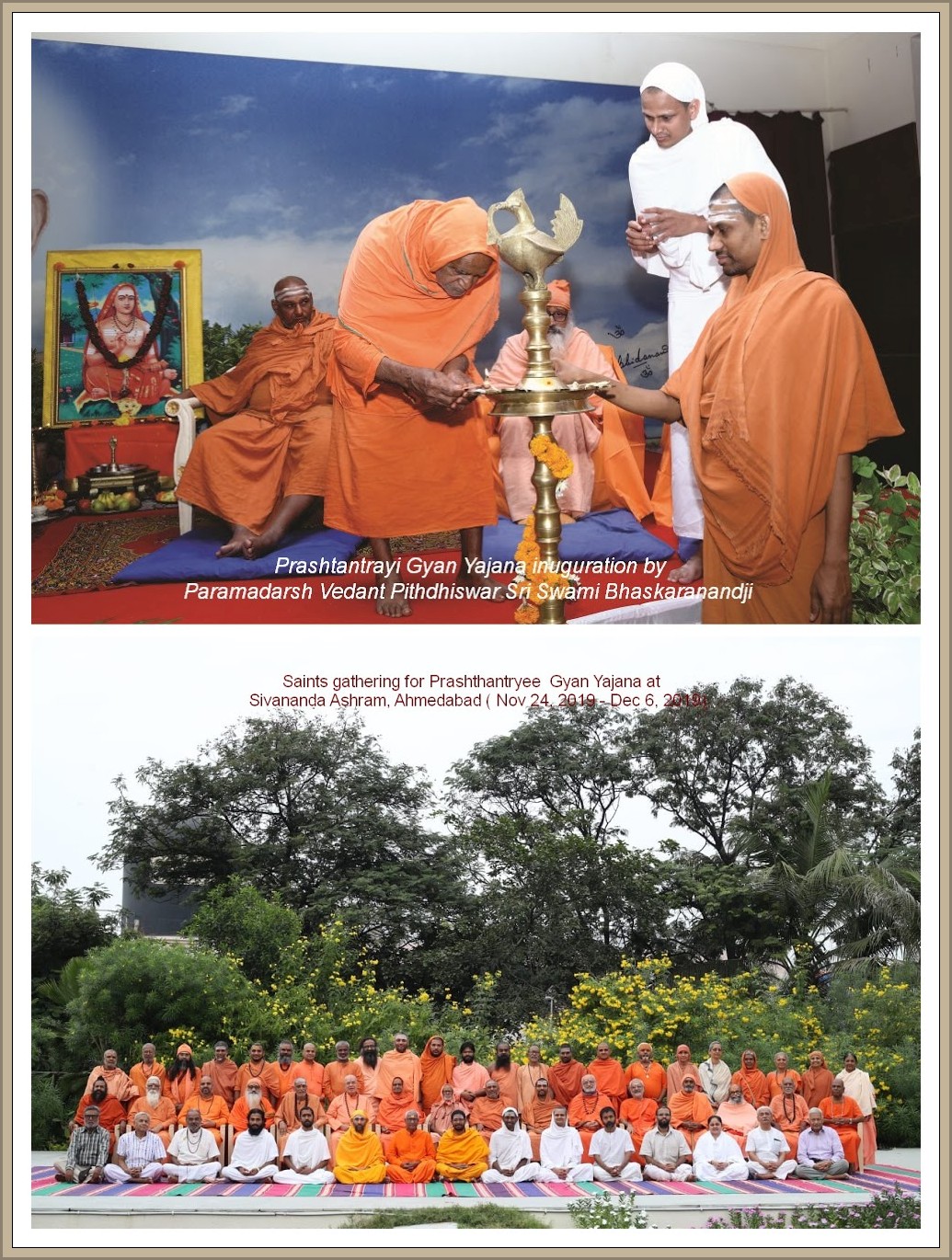 Jnan Yajana - Prasthan Trayee Parayan ( Nov 24, 2019, to Dec 6, 2019): The Prasthan Trayee Parayan was organized as a part of Amrut Mahotsav Celebration of Pujya Sri Swami Adhyatmanandaji Maharaj. A grand starting session of Prasthan Trayee Parayan on Nov 24, 2019, was in the holy presence of Paramadrsh Vedanta Peethathiswar Sri Swami Bhaskarananda Saraswati Ji at Chidananda Dhyan Mandir, Sivananda Ashram, Ahmedabad. Pujya Swami Adhyatmanandaji Maharaj gave an inaugural speech and enlightened all. About more than fifty Saints, Mahatmas, Mahamandleshwers, and Bhramcharis as well devotees attended this sacred JanaYajana. Pujya Sri Swami Sarvananda Giriji was the Pramukh Acharya and had led the entire Jana Yajana. It was full twelve hours of daily program schedule that included recitation of Brahma Sutras, Ten Principal Upanishad namely; Isha, Kena, and Katha, Prashan, Mundaka, Mandukya, Tattiriya, Aitareya, Chhandogya and Brihadaranyaka, Bhagavat Gita and Sri Vishnu Sahsranama and two hours of discourses on "MANDUKYA UPANISHAD" and Mandukya Karikas by learned scholars from 4.30 pm to 6.30 pm.
It was a spiritual feast for the devotees to listen to great MANDUKYA UPANISHAD and its explanatory treatise Mandukya Karika by Acharya Gaudapada. The Mandukya Upanishad mantras provide us with the staple food for our intellect by enunciating the Truth while the Karika graphically reveals to us a line of inquiry and thinking with logic and reason to find out that Truth.
The statement "Brahma Satyam Jagat mithya – Brahman is the only reality and all the others are mithya or illusory, an unending dream" puts in a nutshell the entire non- dualistic philosophy of Adi Sankara and his teacher's teacher Gaudapada. But any person even with a minimum intelligence is bound to argue how this everlasting universe perceived by him and others like him day in and day out in the waking state be a dream? The response to this question is very meticulously investigated and expounded in the great MANDUKYA UPANISHAD and its explanatory treatise Mandukya Karika by Acharya Gaudapada.
The Jnana Yajana of Prasthan Trayee Parayan was organized as a part of Amrut Mahotsav Celebration of Pujya Sri Swami Adhyatmanandaji Maharaj. The 12/13 days Parayan was concluded on December 6, 2019.
On Nov 30, 2019: Kalaratna Dr. K.V. Satyanarayana Ji from Andhra Pradesh (South India) presented Kuchipudi Dance Ballet at Sivananda Ashram, Ahmedabad which received Grand applause and attended by large audience.
Satsang & Tour of H. H. Sri Swami Adhyatmanandaji Maharaj during the Month of November 2019
Haridwar: (Nov 6, 2019): After concluding of Holy Bhagavat Katha Rev. Sri Swami Adhyatmanandaji Maharaj arrived at Bharat Heavy Electricity Ltd (BHEL). Sri Swamiji is a regular visitor to this unit of Government of India, Haridwar. The Management Association organized Revered Swamiji Satsang discourse on the subject of "Key to Stress Management is the Self Management". This was attended by high profile executives of the BHELgroup.
From Nov 6, 2019, to Nov 8, 2019, Sri Swamiji's Satsang were at Vedanta Sammelan of Sri Parmananda Bhandar, Kankhal-Haridwar. Also Sri Swamiji's Satsang was organized by the branch of the Divine Life Society, BHEL, Haridwar at Sri Sanatan Dharma Mandir, Shivalik Nagar. Sri Swamiji is a regular visitor to this wonderful community of Shivalik Nagar since 1978.
Ambala (Nov 9, 2019): Honoring humble and generous invitation of Respected Dr. Sharmaji of the Divine Life Society, Revered Sri Swamiji Maharaj paid the visit to Ambala, as Dr. Sharmaji is a veteran member of the DLS and initiated disciple of Holy Master Sri Swami Sivanandaji Maharaj. Revered Swamiji had visited his ailing wife and had blessed her for excellent health and long life.
Ludhiana (Nov 9, 2019): Late afternoon Sri Swamiji arrived at Ludhiana. His Satsang was organized at the famous "Rakh Baug" was attended by many devotees. Sri Swamiji Maharaj has been regularly visiting this place since 1976.

Chandigarh (Nov 12, 2019): At dusk Sri Swamiji arrived at Chandigarh. Members of Divine Life Society, Chandigarh organized Swamiji's Satsang at Smt. Sudesh and Sri. Mulakh Raj's bungalow. Satsang was followed by Dinner served to all.
Gandhinagar (Nov 13, 2019): At Rishikesh Bhagavat Katha, Sri Prahlad Modi the younger brother to Sri Narendra Modi Ji (Prime Minister of India) attended the entire session of Katha. His wish for Revered Swamiji bless his Mother Hira Baa who is 99 years. It was such a lovely Satsang with loving, pure and bright mother of the great son of India. On the way back to Ahmedabad entire group visited Sri Dholeshwar Mahadev and had Satsang with Revered Sri Swami RamSwaroopanandaji Maharaj of Niranjani Akhada.
Ahmedabad (Nov 14, 2019): Pujya Sri Swami Adhyatmanandaji Maharaj was Invited by "Amneal Pharmaceuticals" for a lecture, on "World Quality Day" at Pandit Dindayal Upadhyay Auditorium. Pujya Swamiji stressed that 'Quality' concept should not be restricted to corporate functions like production, marketing or HR. In fact, Quality should first be put in the life cycle. Everything that we do right from morning to night and for every talk and interaction we carry out should have a mark of Quality. Once Quality concept is imbibed in life, it
will automatically happen in everything. It is not only important to have Quality relations with our superiors, colleagues, business associates, but, it is equally important to have them with the family members too. A gathering of over 1300 employees listened attentively to the words of Pujya Swamiji Maharaj. They appreciated the deeper meaning of the word 'Quality' on the " World Quality Day".
Bhavnagar (Nov 17, 2019): In memory of Sri Nyaldas Vakil every year Shishuvihar Bhavnagar is organizing a function to honor Senior Citizens. Rev. Sri Swami Adhyatmanandaji Maharaj was invited for this very humble cause. In the afternoon senior members of the DLS organized Satsang at " Shivodaya" and all were happy for the darshan and Satsang of Pujya. Swamiji Maharaj. Also, He visited a few devotee's home on their humble request.
Ahmedabad (Nov 11, 2019): Sri Swamiji Maharaj presided over conference organized at Gandhi Ashram, Sabarmati as a part of Mahatma Gandhi's 150 th Birth anniversary celebration. It was a joint venture of Gandhi Safai Vidhyalaya, Baa-Yoga Trust, Arogya Bharati, Ambedkar University and Maha Prajna Naturopath Society.
In the afternoon Pujya Swamiji attended the inaugural ceremony for Srimad Bhagavat Katha organized by Acharya Parivar at "Chidanandam" Hall of Sivananda Ashram.
Ahmedabad (Nov 21, 2019): Rev. Sri Swami Adhyatmanandaji Maharaj was invited as a guest of honor at Gita Jnana Yajana organized by famous Cadila Pharmaceutical Company. Sri Swamiji greeted the Kathakar Sri Bhupendra Pandya Ji and it happened to be his happy birthday also. The program was organized at University Conventional Center and was attended by more than three thousand devotees.
Ahmedabad (Nov 23, 2019): Gujarat Rajya Yoga Board organized its first get together at GSC Bank Auditorium. Revered Sri Swamiji lit the lamp and graced the occasion in the company of Smt. Bijal Patel, Respected Mayor of Ahmedabad Municipal Corporation and other dignitaries.
Upcoming Program
Prasthan Trayee Parayan up to 06.12.2019. Mandukya Upanishad. Discourse – every day from 4.30
p.m. to 6.30 p.m. with Karikas.
Gita Jayanti Parayan (Dec 8, 2019) from 9.00 am. to 11.30 am.
44 th Yoga Teachers Training Course (Dec 11, 2019 to Dec 30, 2019)
Sri Dattatreya Jayanti ( Dec 11, 2019): Puja, Archana, Arati from 9.00 am to 12.00 pm
Christmas eve (Dec 24, 2019) Satsang from 8.00 pm to 9.00 pm Narayan Seva (poor feeding)
Christmas day( Dec 25, 2019) Satsang from 8.00 pm to 9.00 pm
Om Shanti!
Latest Additions.........

Please subscribe to Divyajivan Mailing List. We will update you with new uploads of spiritual literature on the web of Holy Master Sri Swami Sivanandaji Maharaj, saints of his lineage and other saints. We will also update you about the Sivananda Ashram, Ahmedabad website and facilitate communication with Sri Swami Adhyatmanandaji Maharaj.

Please enter your email address and click Subscribe button
To manage your subscription, please visit Subscription Page. You can also subscribe and unsubscribe from this page. You may unsubscribe by yourself anytime you wish. You will be required to send confirmation link that you will get in your e-mail to complete this subscription.

[ Home ] [ News ] [ Upcoming Events ] [ What's New? ] [ Services ] [ Swami Adhyatmananda ] [ Multimedia ] [ Publications ] [ Administration ] [ Saints and Sages ] [ Photo Gallery ] [ Contact ] [ Guestbook ] [ Important Links ] Webmaster: webmaster@divyajivan.org