Sri Hanuman - An Apostle of Service and Devotion to Sri Rama
by Swami Adhyatmananda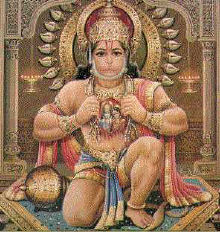 In the epic Ramayana, Sri Hanuman appears in front of Sri Rama as a messenger of monkey King Sugriva. Sri Hanuman's entire life is a life of dedication, devotion and total commitment to the mission of Sri Rama.
The meaning of Hanuman is a person with "NO EGO". This is the greatest qualification of the individual soul or the person if one can shed his ego. If we glance upon his life and teachings we can see him a person with highest knowledge, patience, intelligence, valour, vims, vigor, strength and unimaginable imaginations. He was blessed with sixth sense the common sense.
Scripture says that Sri Hanuman was eleventh Rudra or Shiv incarnate. In His childhood, He jumped to catch hold of rising sun, thinking it to be a beautiful red ripe fruit. The king of the Lord Indra gave a kick at the chin of Hanuman, and lo! Because of that only we see divided chin of Hanuman. But this unexpected gesture of Indra enraged Lord Vayu (Lord wind and father of Hanuman) and he decided not to move. The moment air stopped moving there was suffocation in and around the world. Angles of the heaven's also were suffocated. Supreme were summoned! Only after the Boons and blessings from Lords, Gods, SemiGods, Sages and Saints were showered upon Sri Hanuman, the wind god moved and there was a sigh of relief in the cosmic panorama. Such was the valour of Sri Hanuman and after this episode He becomes more powerful.
His faith and confidence about the certainty of the successful outcome lies in his total surrender and unshaken faith upon Sri Rama. And with these endowments only he jumped the ocean in the search of mother Sita and burned Lanka, the kingdom of king Ravana.
The most secret part one misses that when Hanuman entered Lanka it was dead night; and naturally all Rakshashas (a kind of generation known for destroying the peace and harmony of the society for the self centered motives) were indulging into sensual pleasures. They were all in their bedrooms with their wives, half nude, nude, heavily drunk and intoxicated! Epic says that Hanuman moved palace-to-palace; door-to-door; person-to-person but least perturbed or disturbed with emotions or with commotions. He was perfectly balanced in his mind. Though he moved in darkness in midst of unpleasant scenes, his mind was single pointedly focused in search of Sita, the Bhakti, only. So Sri Hanuman is known as a man with mastery over mind… "Manojavam", he who has conquered his mind and so he was free from lust, greed or anger.
In the battlefield during the war between Sri Rama and Ravana, when Laxmana the younger brother of Sri Rama fell down, Sri Hanuman only came to rescue and like an efficient ambulance facilities he brought doctor and medicine to revive and save the life of Laxmana.
A teaching of Sri Hanuman is – be humble, be noble, be kind, serve all. Love all. Surrender and remember God at all time and in all condition. Glory to Hanuman. Hail Jai Hanuman!
Latest Additions.........

Please subscribe to Divyajivan Mailing List. We will update you with new uploads of spiritual literature on the web of Holy Master Sri Swami Sivanandaji Maharaj, saints of his lineage and other saints. We will also update you about the Sivananda Ashram, Ahmedabad website and facilitate communication with Sri Swami Adhyatmanandaji Maharaj.

Please enter your email address and click Subscribe button
To manage your subscription, please visit Subscription Page. You can also subscribe and unsubscribe from this page. You may unsubscribe by yourself anytime you wish. You will be required to send confirmation link that you will get in your e-mail to complete this subscription.

[ Home ] [ News ] [ Upcoming Events ] [ What's New? ] [ Services ] [ Swami Adhyatmananda ] [ Multimedia ] [ Publications ] [ Administration ] [ Saints and Sages ] [ Photo Gallery ] [ Contact ] [ Guestbook ] [ Important Links ] Webmaster: webmaster@divyajivan.org