His Holiness Pujya Sri Swami Adhyatmanandaji attained Mahasamadhi on May 8, 2021
Tribute to HIS Holiness
Amrut Mahotsav Celebrations Photos (May 3, 2019)
Amrut Mahotsav Celebrations Tour 2019 ( Sept 10, 2019 to Oct 22, 2019)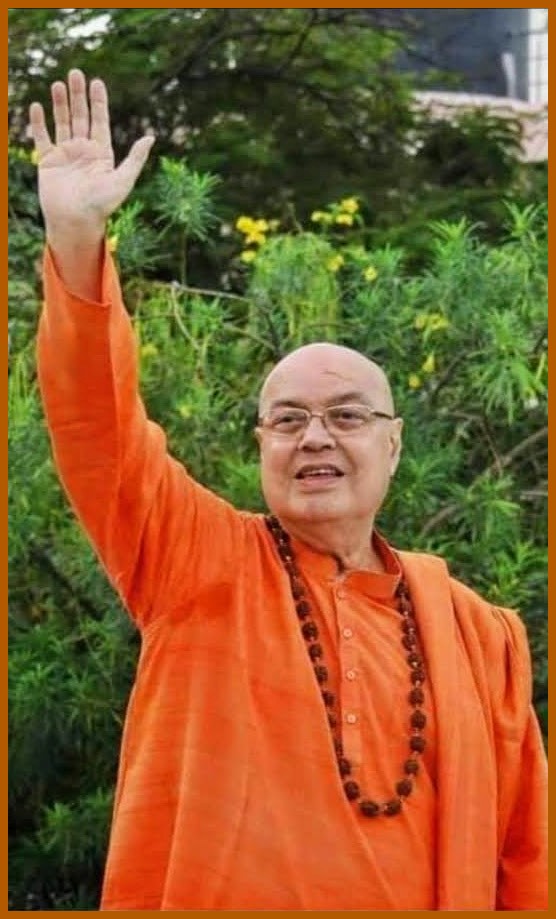 "A great son (sun) of India Adhyatma-Jyoti Sri Swami Adhyatmananda Saraswati an "adarsh" yati & Saint of holy matrubhoomi Bharatvarsha."
these are the words of HIS Master H. H. Sri Swami ChidanandaJi Maharaj.
"What can I share about my life journey at this age of 75? What is my message?
"My Life is My Message."........."Don't be afraid of adversities, they make you strong".
Just as the deep-rooted tree stands tall in spite of the calamities in the form of severe storms, tornadoes, hail storms, or torrential rain, I have faced many adversities, ups & downs, impediments, agony, along the journey of 50 years of my monastic life and came out strong. Life has given me exuberance, joy, bubbling energy. Awakening of inner SELF lead me to spread the Glories of the DIVINE. Look at Nature, there is Fall & Spring, there is Sunrise & Sunset, there is Ebb & Flow. It is the Law of Nature. Ups & down is a part of Life. Don't be afraid of adversities, they make you strong. In all situations, be rooted in the Absolute Truth, Abide in the SELF, sing HIS Glories, Surrender at the holy feet of your Guru. Stick to the path guided by your Guru. Chant the Guru Mantra with unwavering faith. Hold on to Hari-Nama, the Lord's name is the solution for all the trials and tribulations of Life. Intensify your faith only on one thought " I am Thine, Thou art Mine, Thy will be done". "O God, I am Thine, Thy wish is mine as I have none". Guru's Grace is unfailing; it is ever ready to help you. I have experienced in my life, you can too. The secret of my joy in life (of 75 years) is unbroken Guru Smarana, faith in my GURU, abiding at the Holy feet of my GURU. Ever-flowing Grace & Blessings of my Guru is the supreme joy of my Life." - (This is from message delivered by Brahmleen H. H. Sri Swami Adhyatmananda Maharaj on the occasion of His 75 Birthday Celebrations on May 3, 2020)
"WILL Power Wins ALL Powers". Be cheerful. Be peaceful. Be Blissful. Enjoy your present moments and be with your family, eat together, pray together. Pray fervently, sincerely, and wholeheartedly. Prayer elevates the mind. It fills the mind with purity. Have perfect faith in the Lord's name. His name is your sole support and refuge. Call HIM by any name Ishwar, Allah, Jehovah, Ahura Mazda, Zande vats, Waheguru, Jesus, Moses, Buddha, Rama, Krishna, Durga, Kali, Ganesh, or Shirdi Saibaba or any other. In case you are initiated into Guru Mantra, do Japa of Guru Mantra with faith and sincerity."
"Each activity of Yogi should bring him near to the eternal unfailing beauty of the Soul. This is a real sense and high value of Yoga. Yoga is like a vast sky which can envelop everyone, those who want peace & harmony".

"Yoga is eternal life in the soul or spirit. It transforms a man into divinity. It brings a message of hope to the forlorn, joy to the depressed, strength to the weak, and knowledge to the ignorant. Yoga way of Life brings happiness of sound mind in a sound body. Yogic living implies discriminative living. Yoga is equanimity, equipoise, or equilibrium. It is the secret master-key to open the realms of eternal bliss and deep abiding peace".
"Key to Bliss" - Denting of I (ego), Surrendering to the Lord and Selfless Service; are the true ways to achieve Bliss, lasting peace and real happiness"
- Brahmleen H. H. Sri Swami Adhyatmananda
How simple, How sublime, How Divine are these Messages! How precious are these messages now when Pujya Swamiji is no longer with us in the Physical form! He is free from the bondage of the body and liberated now and has merged in the Infinite. He is with us in the Spirit.
Pujya Swamiji carried a spark of love, light & joy. He kindled and inspired people, whoever came in contact with Him. His Life and each breath were dedicated to spreading the ancient wisdom of Yoga and Vedanta through simple and practical teachings of Gurudev Sri. Swami Sivanandaji Maharaj and Gurumaharaj Sri. Swami Chidanandaji Maharaj. Wherever he went, he talked about the simple message of Sri. Swami Sivanandaji Maharaj, "Serve, Love, Meditate & Realize" and guidelines of daily Sadhana through Gurudev's "Twenty Spiritual Instructions". Devotees welcomed Him in the East & the West and all over the Globe for his simplicity, sincerity, and love for teaching Yoga way of life.........People asked Pujya Swamiji the secret of His ever Vibrant, Radiant & Joyful nature? "Abide In The SELF", He said………." In all condition I am Bliss, Bliss, Bliss Absolute"……Adopt, Adjust & Accommodate" ……And each breath of His, was in the remembrance of GOD and in the service to Humanity, service to known & unknown. Revered Swamiji was a living example of the teachings of his Gurudev Swami Sivanandaji Maharaj. He was a Yogi, Vedantin, and Devotee all in one. Swamiji's discourses were wisdom outpourings coming from decades of personal experience of leading the spiritual life.
Personally, our core sentiments of love and gratitude for Pujya Swamiji Maharaj are beyond what words can express. With the grace of Divine, we got the opportunity to host His Holiness Sri Swami Adhyatmanandaji Maharaj on His first visit to the USA in 1995 and thereafter for the past twenty-five years we were fortunate to receive His Satsang and blessings in abundance, until He breathed the last, even from the hospital bed HE sent a video clip on May 3, 2021, expressing HIS love and blessings. HE brought us a life-size photo of Gurudev Swami Sivanandaji Maharaj and established HIS living presence and we sit at HIS holy FEET right here in our home.........Being with Him in close proximity during coordinating the Adhyatma Tours to the West (USA, UK & Canada) all these years, you observe how immeasurable devotion Sri Swamiji had for his Gurudev! You observe that Guru Smarana is unbroken, whether He is thinking, talking or delivering discourses. then, you start seeing God Gurudev's presence in your life at each step of the way, at every moment and you realize that He is the"Kartaharta", Naham Karta Haruhi Karta then, little i melts away and inner joy springs forth from within, you are peaceful, you are under His protection & everything is wonderful! It is all Guru's Grace!
Pujya Sri Swamiji was a world-renowned Yogacharya who conducted over 800 yoga camps throughout the world and trained tens of thousands of students in Yoga, Pranayama, and Meditation. Swamiji designed Yoga Teachers' Training Course (YTTC), a comprehensive twenty days residential program through Sivananda Institute of Vedanta -Yoga Academy (SIVA) for the training of Yoga teachers which is conducted twice during the year. Swamiji has conducted more than 45 YTTC which is recognized by Gujarat University and he has trained more than 1000 yoga teachers. These teachers render both preventive and curative aspects of yoga teaching for the well-being of body and mind across humanity around the world and are instrumental in spreading ancient Indian Culture and rich heritage.
Governor of Gujarat, Om Prakash Kohli has presented HIM the title of "Glory of Gujarat" in the month of January 2017 on behalf of the Indian Council of Social welfare (ICSW) Gujarat state branch. This award is given to HIM for HIS dedication and distinguishes contribution in the field of Yoga, Meditation as well as for spreading the Religious, Cultural and Spiritual Awareness. Swamiji received the "Gujarat Ratna Gaurav Award" in 2019. Swamiji was a great missionary on the blood donation front and affirms his faith in "Donate blood and save a life". Swamiji was instrumental in organizing about 300 blood donation camps and he himself donated blood 117 times and was honored by the Governor of Gujarat as a centurion blood donor. His love for Tree & Ecology was great. Swamiji has planted more than 10 million saplings and plants on this planet and has rendered great service to Mother Earth for ecological balance.
Countless devotees all over India and over the globe are grieving for the Physical loss of their beloved Swamiji Maharaj. Devotees at the Ashram has lost their beloved Swamiji Maharaj, Nation has lost a spiritual leader and the world has lost Yoga Guru. He is free from the bondage of the body and liberated now and has merged in the Infinite. He is with us in the Spirit and will continue to inspire us & guide us. OM Shanti!
With peace, prayers & OM,
sevak

"Shraddhanjali Sabha" (May 11, 2021)

People from all walks of life including Prime Minister of India Sri Narendrabhai Modi JI, Saints & Mahatmas, Spiritual Organization heads, Dignitaries, Devotees of Swamiji all over the Globe have conveyed the tribute in different ways. They have spoken at Shradhhanjali Meet on May 11, 2021 & at Shodshi Satsang on May 24, 2021, they have sent letters, emails and continue to send their Bhavanjali soaked in deep love & gratitude for their Mentor, dear Friend, Philosopher, Guide, Guru and whatever relationship they were in with Pujya Swamiji Maharaj. It is heart-melting.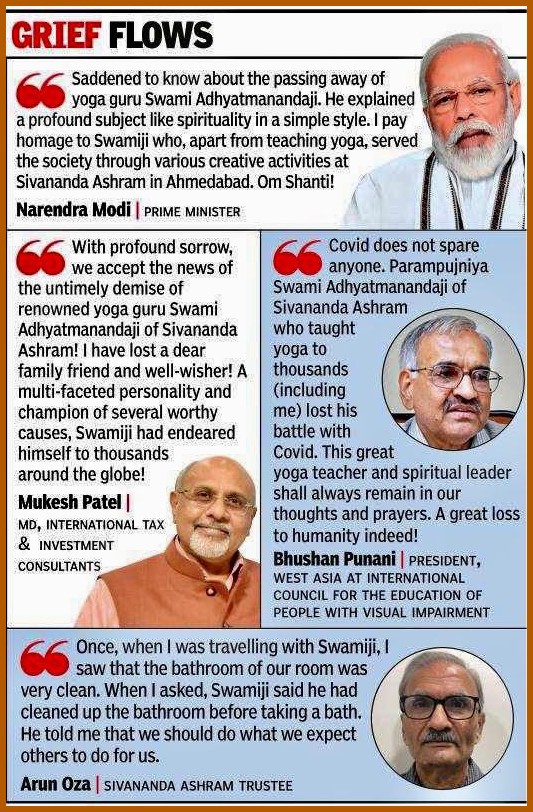 Narendra Modi Ji ( Prime Minister of India)
@narendramodi

યોગગુરૂ સ્વામી અધ્યાત્માનંદજી પરમધામ સીધાવ્યા તે જાણી દુ:ખ થયું. આધ્યાત્મિકતા જેવા ગહન વિષયને તેઓએ સરળ શૈલીમાં સમજાવ્યો. યોગ શિક્ષણ ઉપરાંત અમદાવાદના શિવાનંદ આશ્રમની અનેકવિધ રચનાત્મક પ્રવૃત્તિઓથી સ્વામીજીએ સમાજની સેવા કરી છે તેનું સ્મરણ કરી શ્રધ્ધાંજલી અર્પું છું. ૐ શાંતિ ! Saddened to know about the passing away of yoga Guru Swami Adhyatmanandaji. He explained a profound subject like spiritually in a simple style. I pay homage to Swamiji Om Shanti !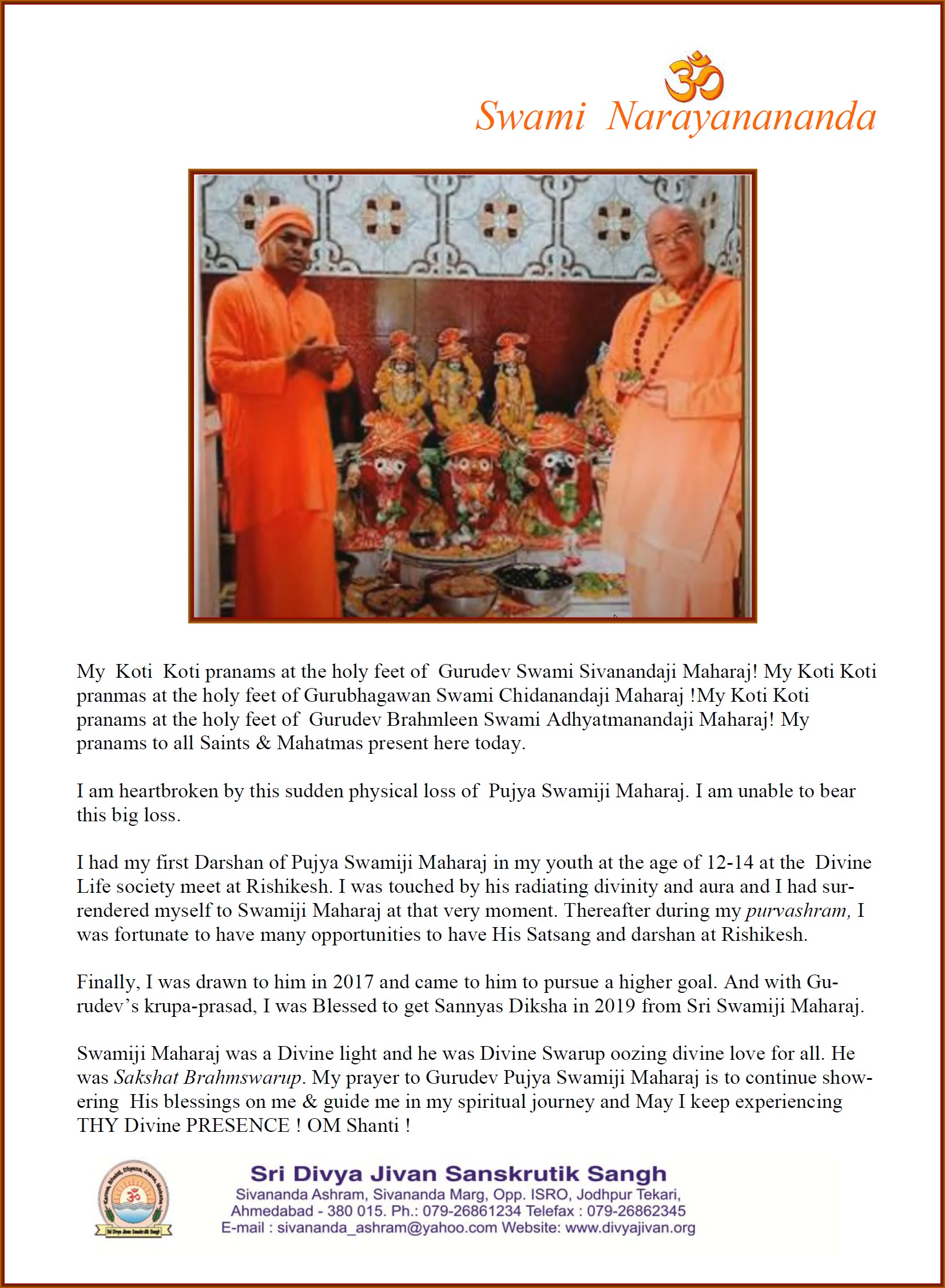 Direct Disciples of Brahmleen His Holiness Sri Swami Adhyatmanandaji Maharaj
Revered Sri Swami Narayananda - Sivananda Ashram, Ahmedabad
------------------------------
"I am heartbroken with the sad news of Swami Adhyatmanandaji left the body, so early. He was my close friend, my Gurubhai, my support. He was a favorite disciple of Guru Maharaj Sri Swami Chidananda JI Maharaj..... He was a master organizer, a karmayogi &more, all in one. Whatever you say, how much you say about him is less, speech stops,....Jai Ho Swami Sivanandaji Maharaj! Jai ho Swami Chidananda JI Maharaj! Jai ho Swami Adhyatmanandji Maharaj!" - H. H. Sri Swami Premanandaji Maharaj (Uttarkashi, Divine Life Society)
------------------------------
"Swami Adhyatmanandaji was favorite of (pat Sishya) Gurumaharaj Swami ChidanandaJI Maharaj.....He was like Hanuman to Lord Rama." - Revered Sri Swami Ramswarupananda (Divine Life Society, Odissa)
------------------------------
"Ever joyful, loving, yogi, supreme Bhakta, Jnani, Samanvay-yogi all in one. He was giving joy to one and all, who came in contact with him......Swamiji Maharaj, where are you going to go? You are here, the body came and left, your are here and now, to that Divine immortal Atman, we give Shraddhanjali. Pranams to you Swamiji Maharaj, Jai ho! Swamiji Maharaj." - Revered Sri Swami Shivchidanandaji Maharaj (Divine Life Society, Bhuvneshwar)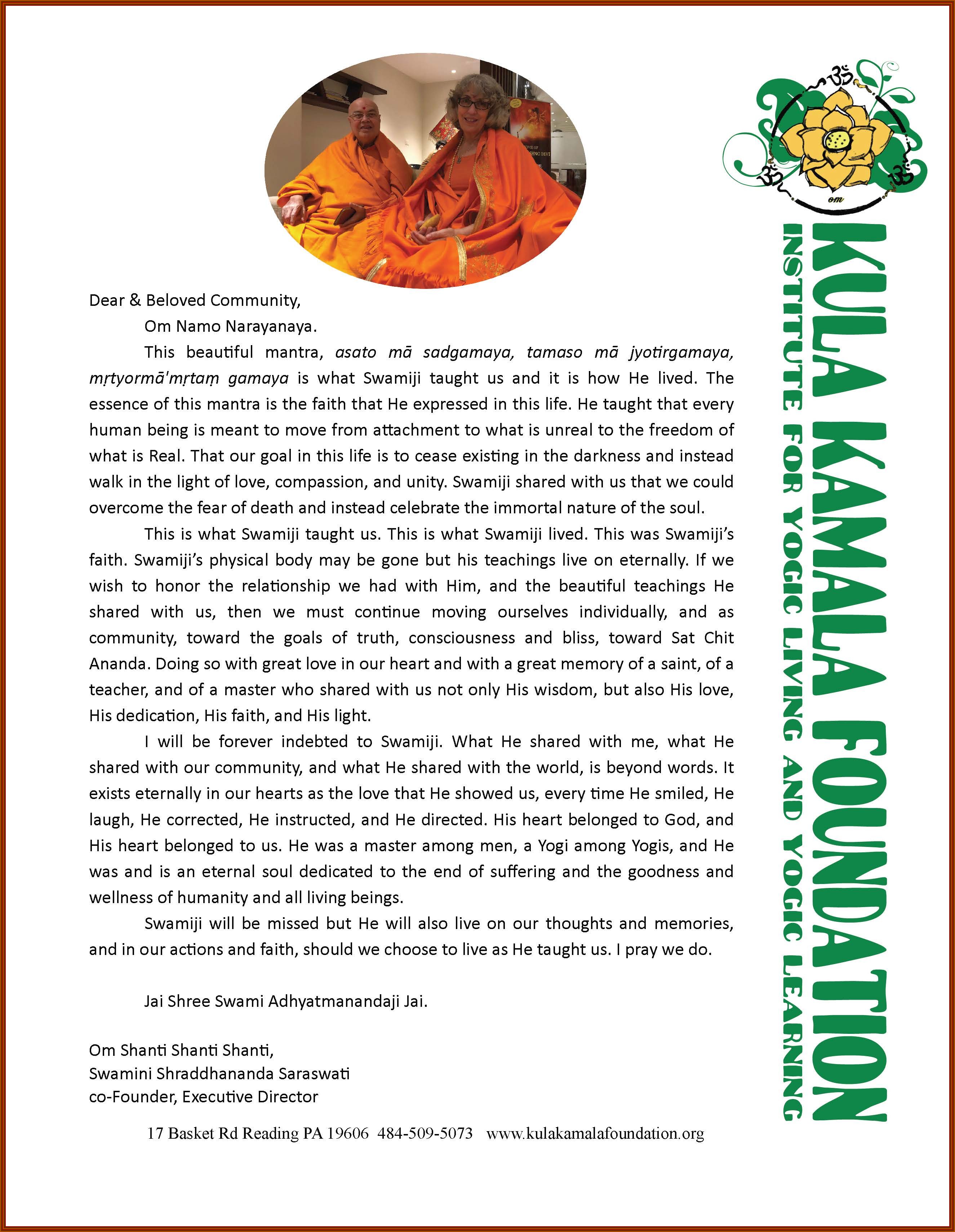 Direct Disciples of Brahmleen His Holiness Swami Adhyatmanandaji Maharaj
Revered Swamini Shraddhananda Saraswati - USA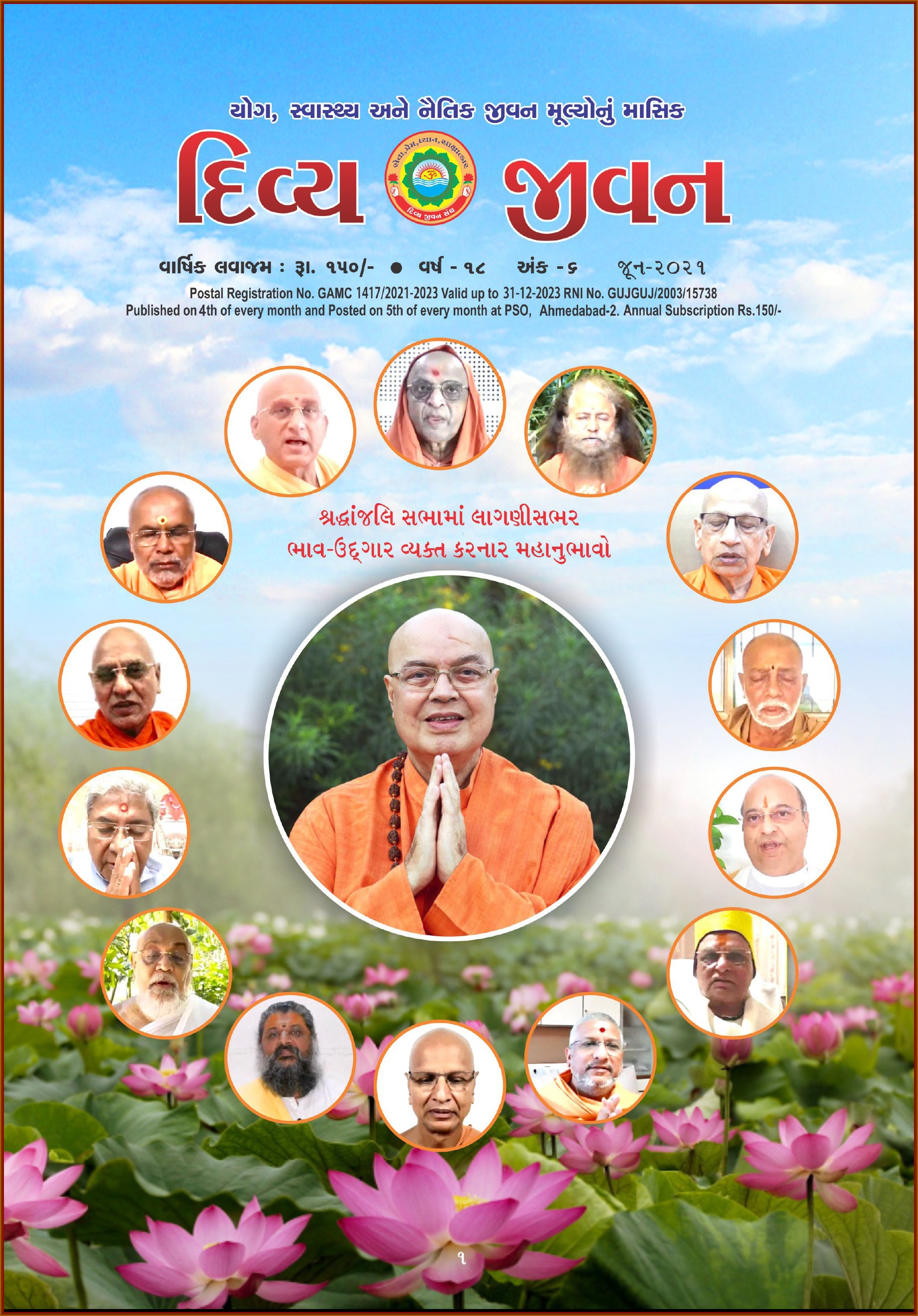 Shraddhanjali" Special / Divya Jivan, June 2021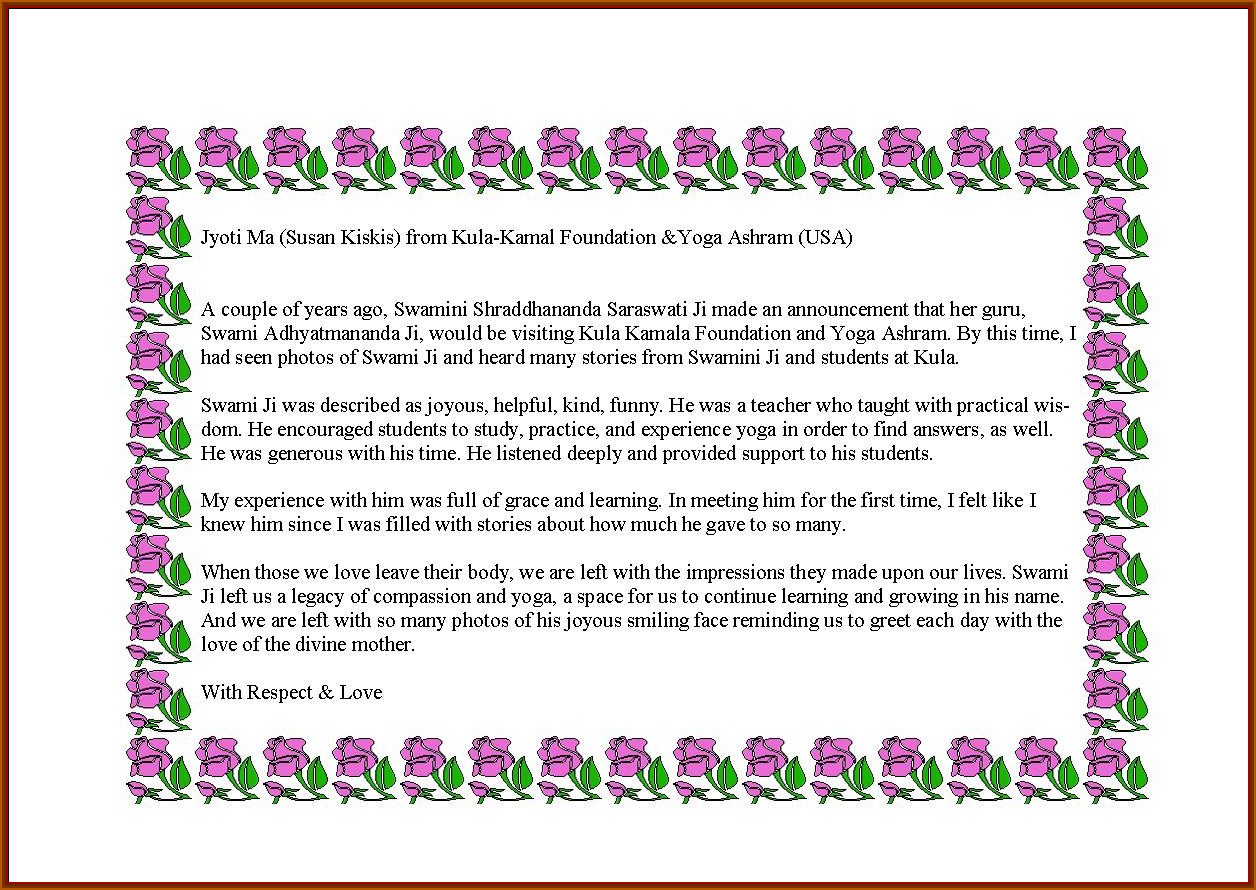 Shodshi Satsang ( May 24, 2021)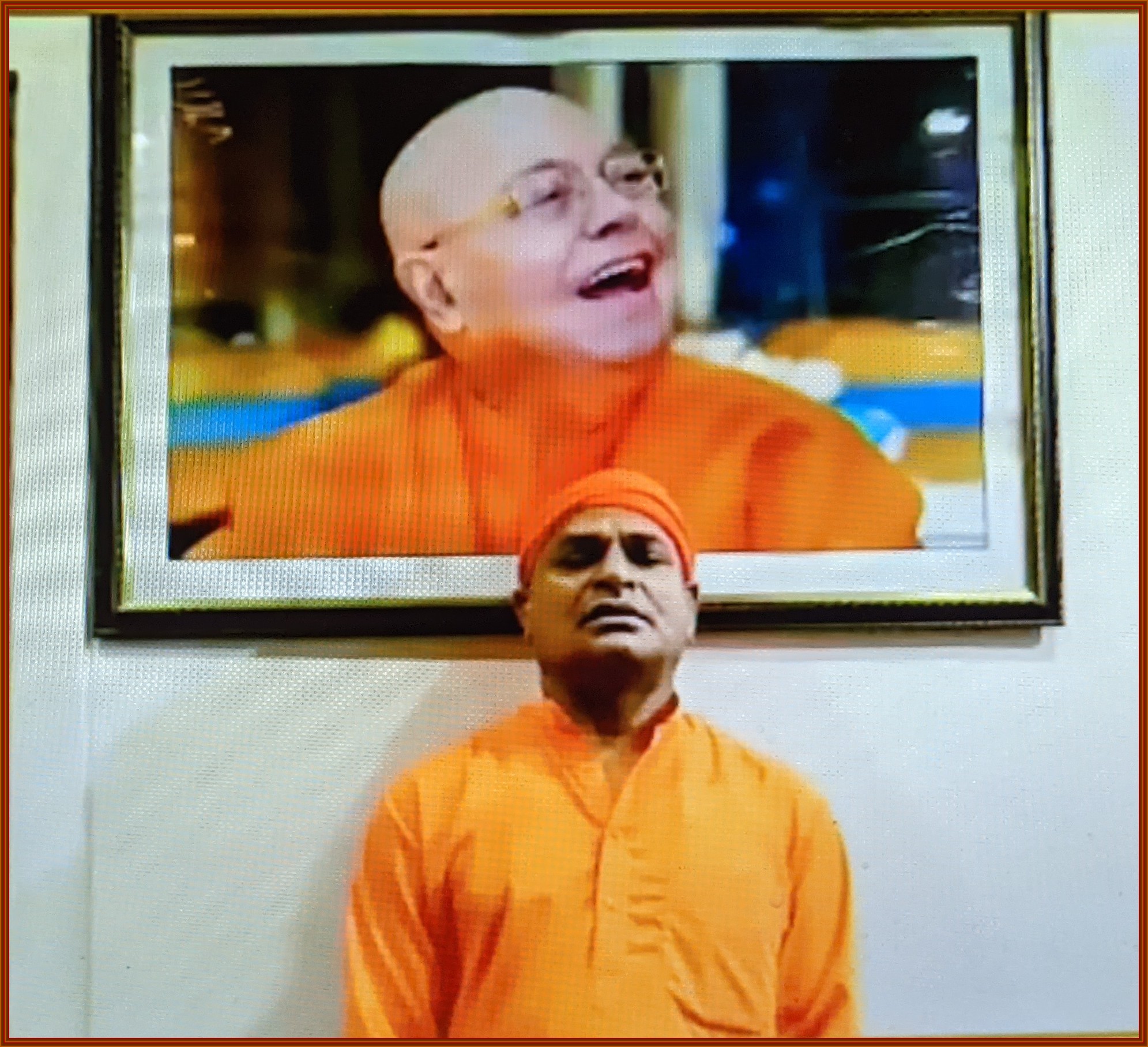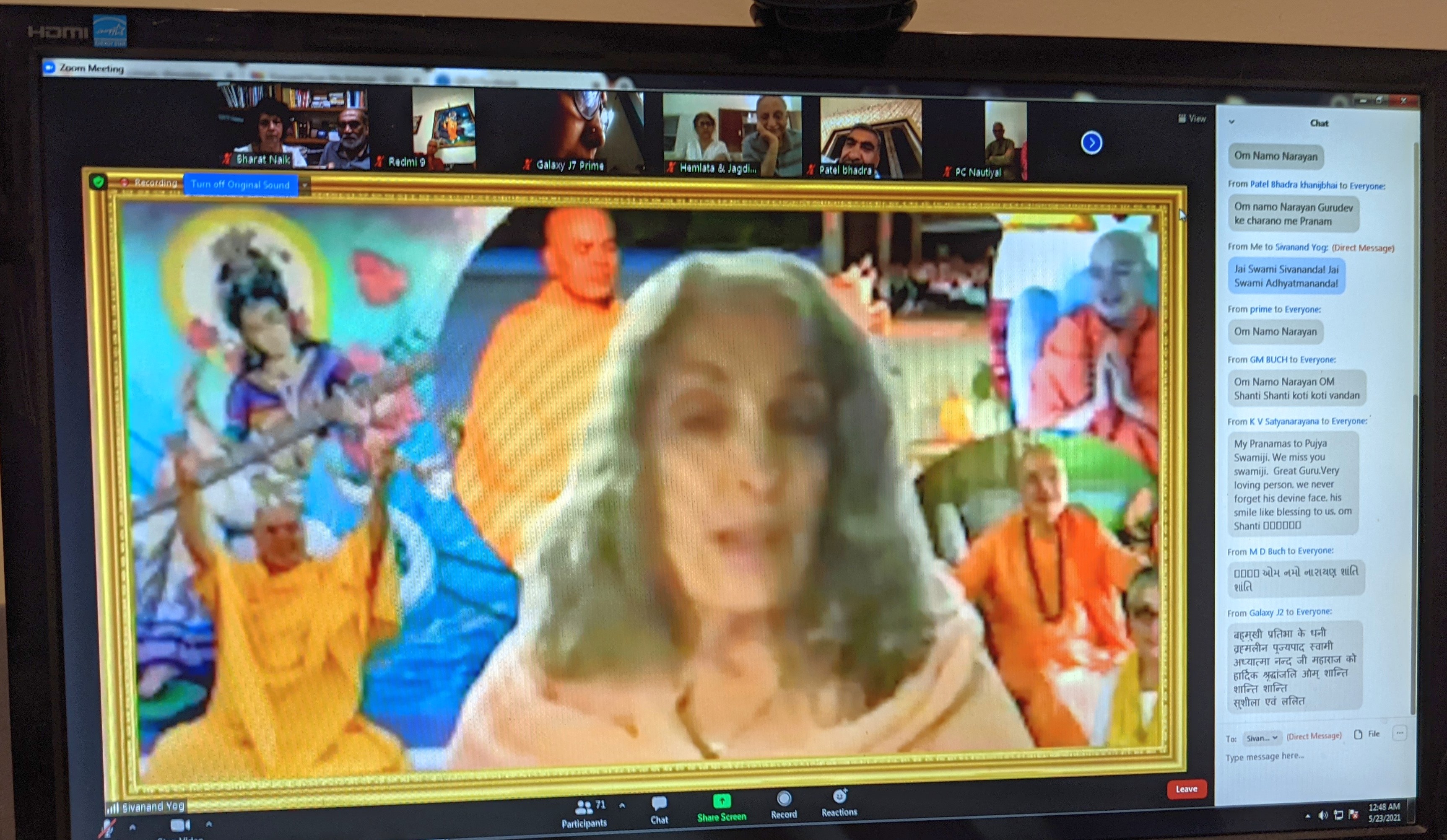 At Shodshi Satsang
Revered Sri Swami Narayananda (Lt) - Sivananda Ashram, Ahmedabad
Revered Swamini Shraddhananda Saraswati (Rt) - USA
-----------------------------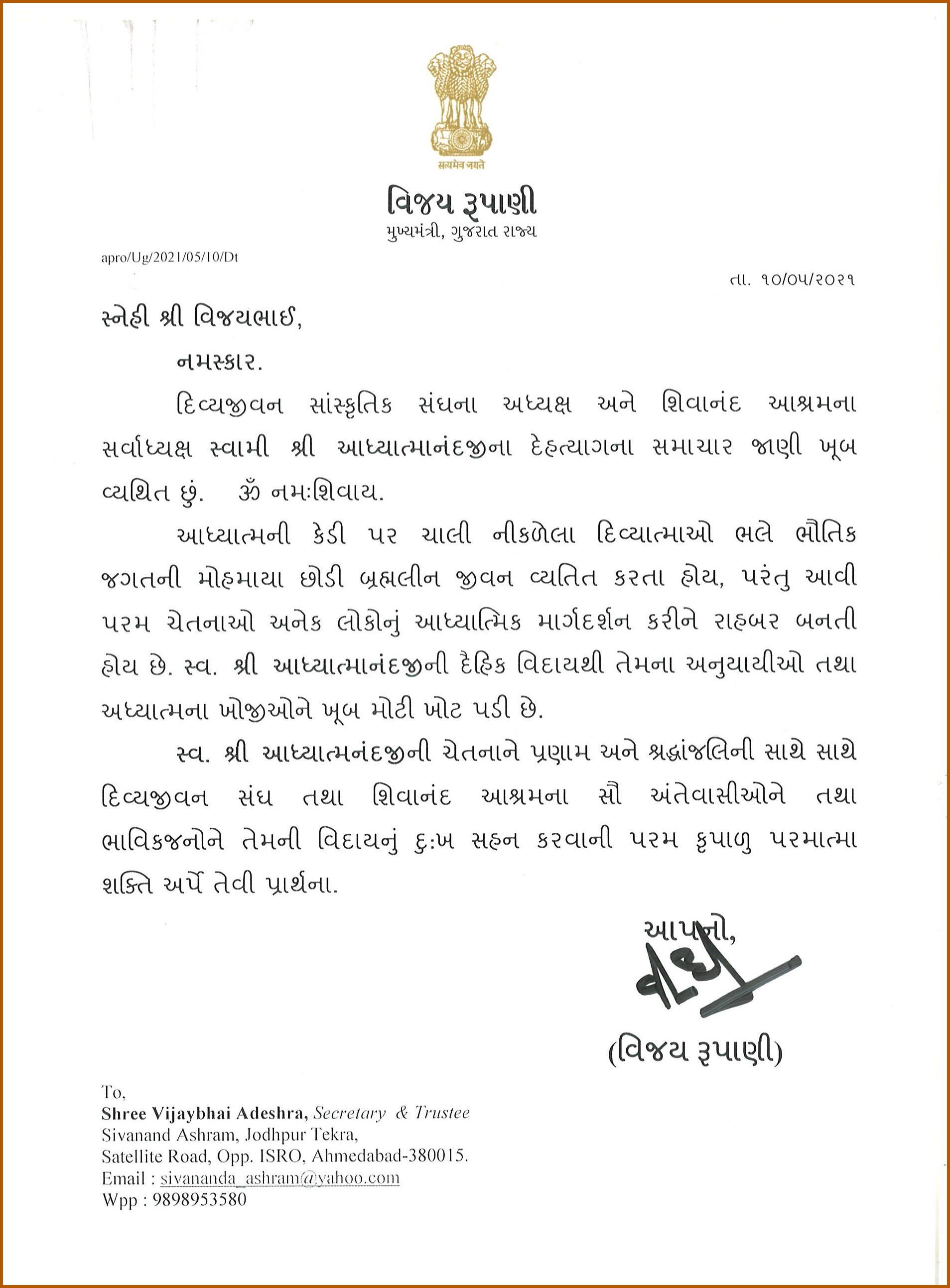 "Swami Adhyatmanandaji was favorite of (pat Sishya) Gurumaharaj Swami ChidanandaJI Maharaj.....He was like Hanuman to Lord Rama." - Revered Sri Swami Ramswarupananda ( DLS, Odissa)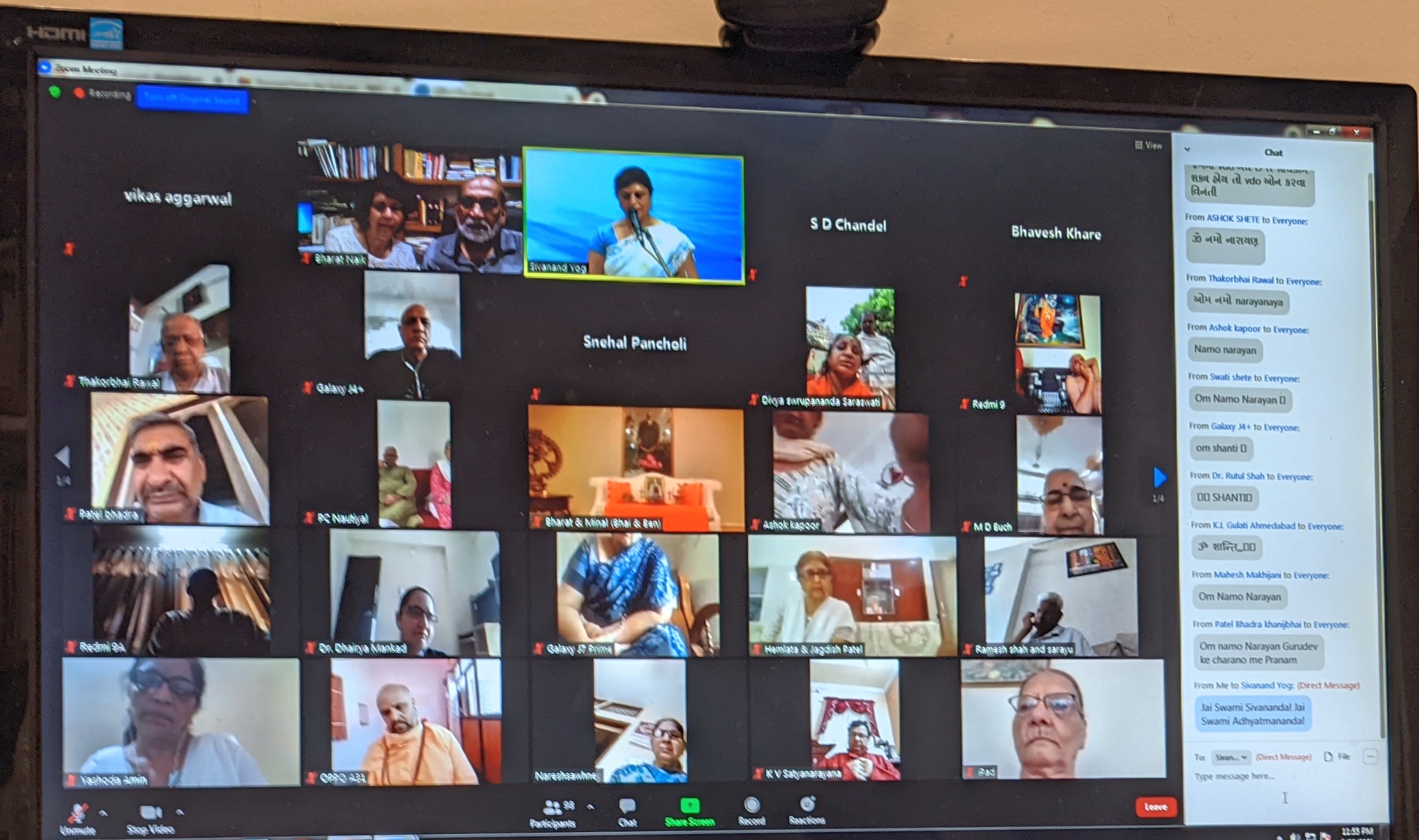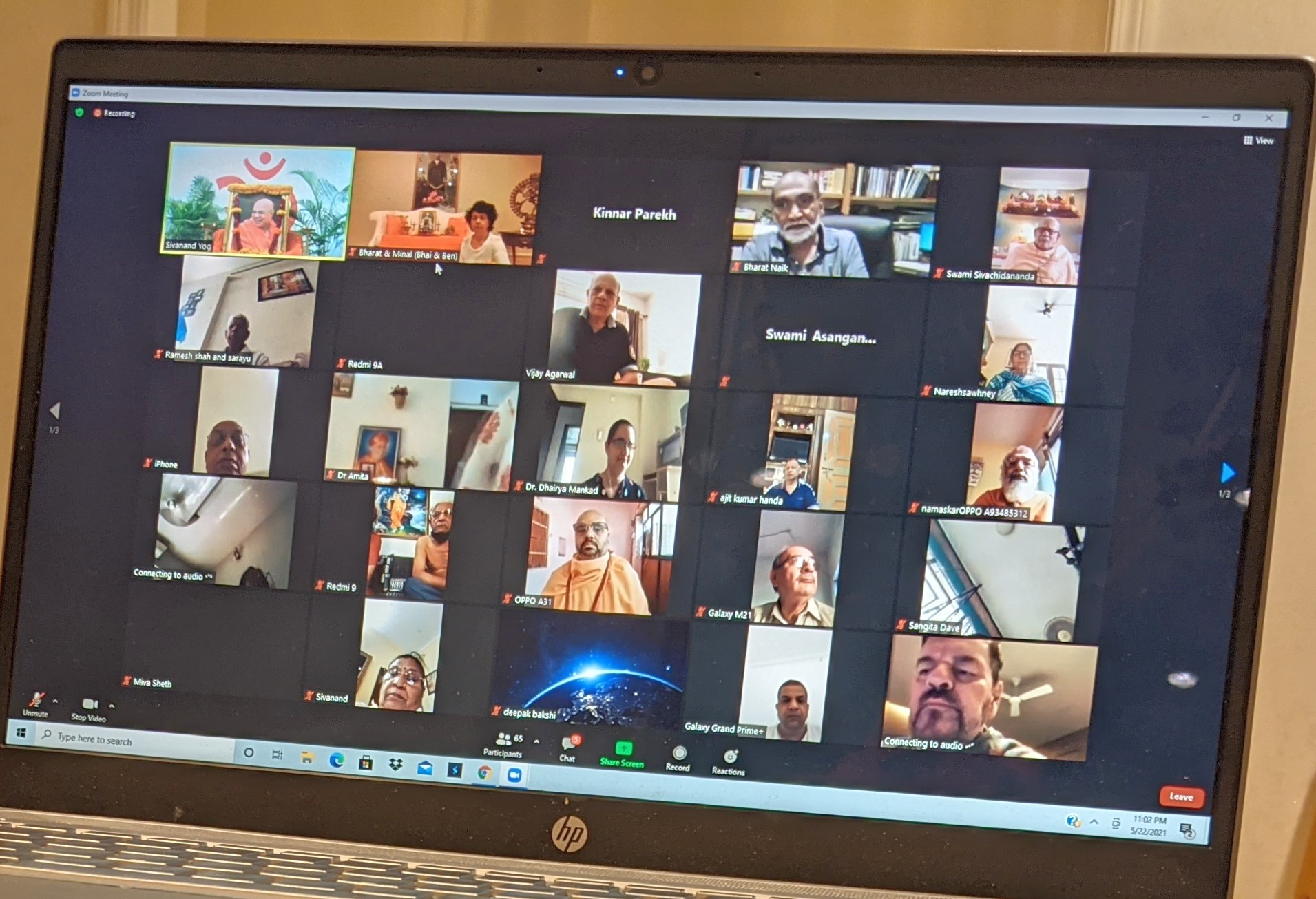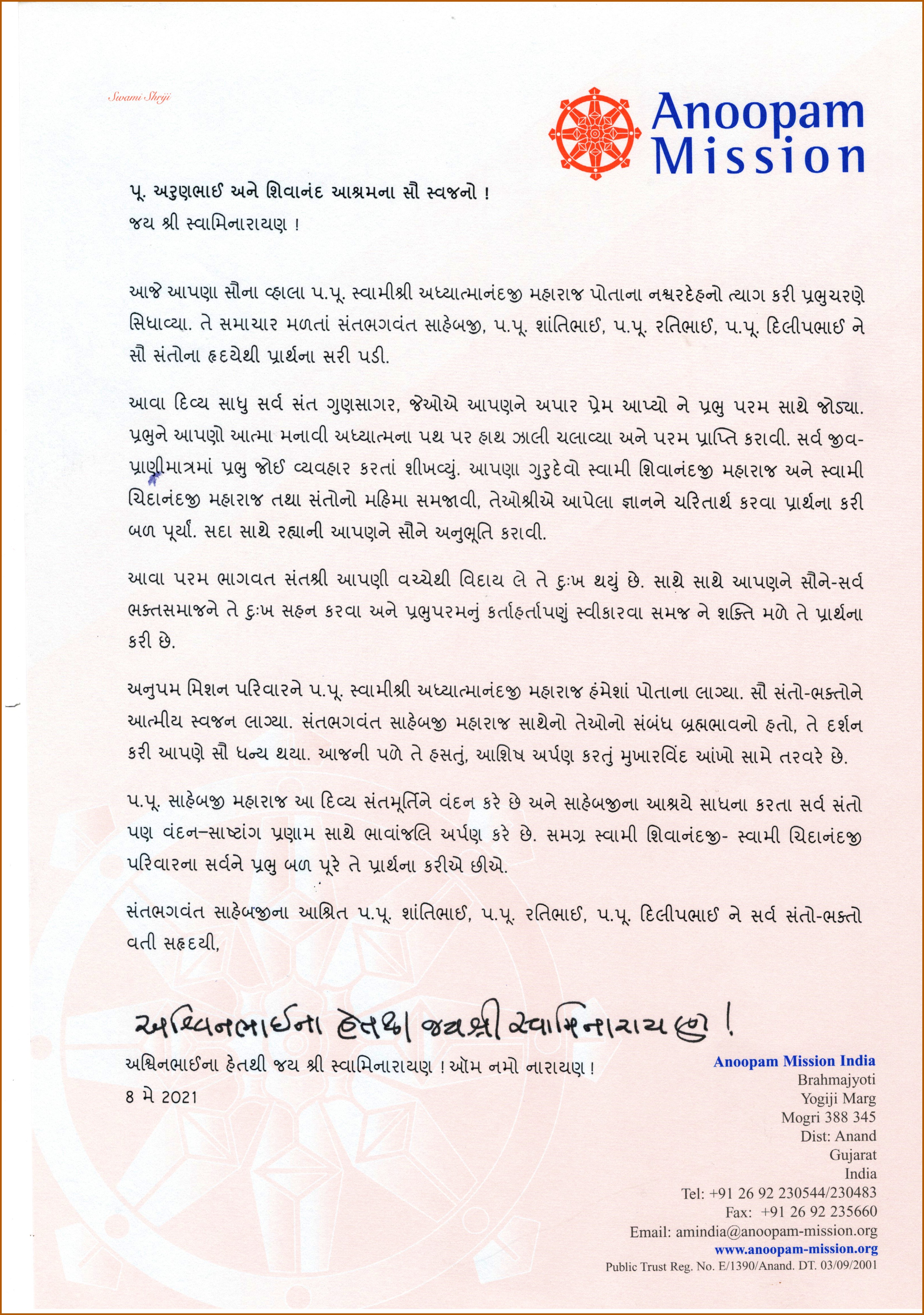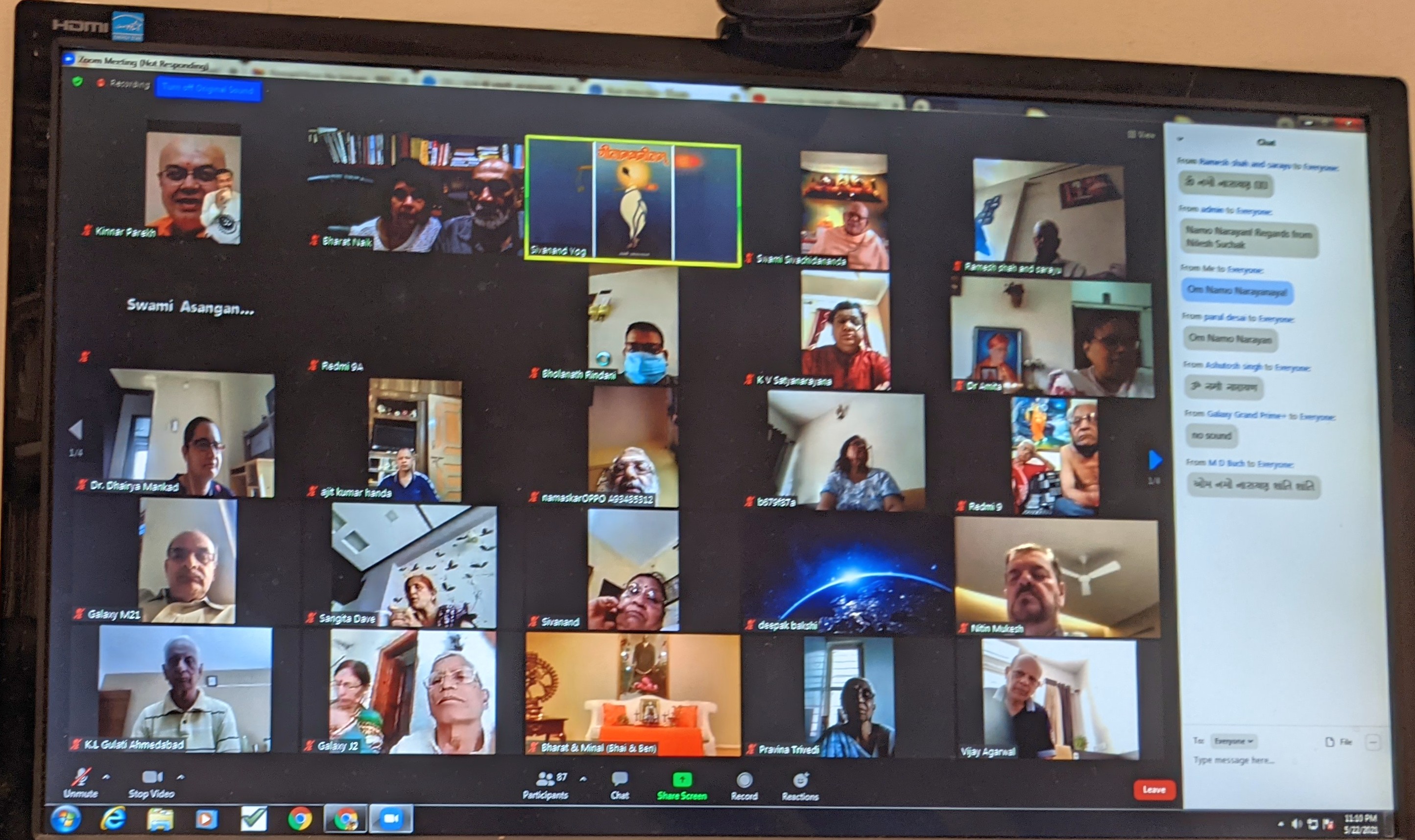 -----------------------------
"The state of Gujarat honored him with the "Glory of Gujarat" but I would say he is the glory of Bharat-Vrash, glory of mother India, glory of Sanatan Dharma and glory of the whole world. When you glorify Swami Adhyamanandaji you glorify Swami Krishnanandji, you glorify Swami Chidanandji and you glorify Gurudev Swami Sivanandji Maharaj. As a student, I have interacted with Swamji since my student career many time I have interacted and then after also becoming a monk Swamiji has been always support to me." - Sri Swami Brahmnisthananda
------------------------------
"My heart is heavy for this loss. Swamiji was a divine light walking through the world. He served so many and with such grace, always selfless and caring. He would help anyone who asked. I attended the online Memorial. It was beautiful and a true tribute to his being.

While Swamiji may no longer be here with us in the physical form, he is certainly with us forever in our hearts and minds, our memories and through His teachings. The greatest way that we can honor him is by living the way he taught. Compassion, kindness, discipline, devotion, these are what he taught and to live in their light is to live in His.

I pray for India every day. Covid 19 has taken far too many of our loved ones."

Peacefully,
Swamini Shraddhananda Saraswati
(Founder & Director of Kula Kamal Yoga Asharam, PA )
------------------------------
------------------------------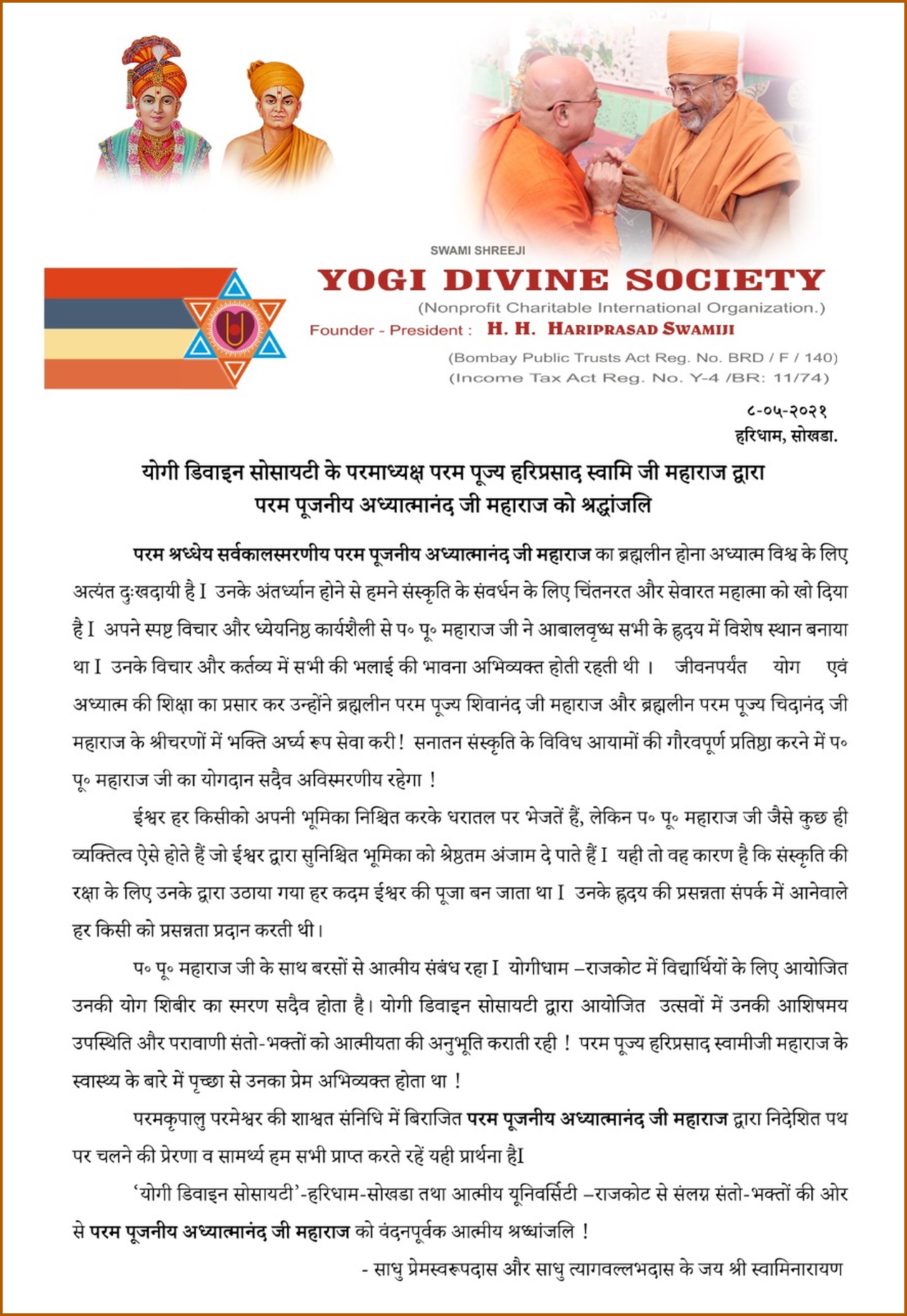 Tribute from Param Pujya Madhavpriyadasji Swami of SVGP
------------------------------
To
The Trustees
Divya Jivan Sanskrutik Sangh
Shivanand Ashram, Amdavad

Blessed Self,
Hari Om. Salutations. Om Namo Narayanaya.

The news of the Mahasamadhi of Pujya Swami Adhyatmananda ji Maharaj was received at the least expected time. This loss is not just to Shivanand Ashram, Amdavad, but also for the Sadhu Samaj at large.

Pujya Swami ji Maharaj has been a champion of Yoga and the Bharateeya Culture, not only in Amdavad but also in the entire world, where he travelled tirelessly spreading the message of healthy spiritual living. His was a very cheerful and loving presence, who would embrace everyone! At his age, he was very young at heart and inspired many.

I have got the fortune of interacting with Pujya Swami ji Maharaj and to be a recipient of his love at many occasions. He used to visit ParamDham Ashram whenever invited, and also added value to many of our programs. He also used to lovingly invite me to attend many beautiful programes at Sivananda Ashram and introduced me to many monks of various Mutts in and around Amdavad.

Prayers to the Lord and Param Gurudev Swami Shri Sivananda Maharaj that all devotees and followers get the peace and strength to bear this great loss. The best tribute to Pujya Swami ji Maharaj will be to follow the guidance he has given and continue serving Bharat and Bharateeya culture in the spirit of dedication and devotion.

With Prem and Om,
In the service of the Lord,
Swami Avyayananda
Chinmaya Mission
------------------------------
Jai Shri Swaminarayan
Sad News
It is with utmost regret that we inform you of the passing of Param Pujya Shri Adhyatmanand Swami to Akshardham.
We will always remember this great, radiant and wise Saint, who was so borderless, whose love for Guruhari Sahebji was boundless and who made Anoopam Mission his family.
He also visited our AksharPurushottam Mandir in Des Plaines ( Chicago) in 2019 October 14 on birthday celebration. He has been visiting Chicago land for many many years with Dr. Bharatbhai and Meenalben Nayak.
Our Prayers
Please do Dhoon
Jaya SwamiNarayan.
Jaya SwamiNarayan.
Jaya SwamiNarayan.
Let us please pray for all the 'Divya Jivan' bhakto of Shivanand Ashram. May we all pray for everyone to have the strength to bear this loss.
Swaminarayan Swaminarayan
Swaminarayan Swaminarayan

Jai Shri Swaminarayan
From Acharya Sri Dinkarbhai,Yogi Divine society
------------------------------
With profound sorrow, we accept the news of the untimely demise of renowned Yoga Guru Swami Adhyatmanandaji of Shivanand Ashram. I have lost a dear family friend & well wisher. A multi-faceted personality and champion of several worthy causes. Swamiji had endeared himself to thousands around the Globe.
Mukesh Patel, International Tax & Investment consultants.
------------------------------
Om Namo Narayan!

With Profound Sorrow I accept the Sad News of the Untimely Demise of the Renowned International Yoga Guru His Holiness Sri Swami Adhyatmanandaji Maharaj of Shivanand Ashram!

It is the deepest sadness to His beloved Trustees, Devotees and Disciples around the world that His Holiness Sri Swami Adhyatmanandaji Maharaj willed to withdraw His human darshan and has attained Mahasamadhi and merged into the bliss absolute on 08th May 2021. Please accept our heart-felt condolences! A Multifaceted Personality devoted to Karma, Bhakti, Dhyana, Jnana, Moksha & a Champion of Several Worthy Causes His Holiness Sri Swami Adhyatmanandaji Maharaj had endeared himself to thousands all around the Globe!

His Holiness Sri Swami Adhyatmanandaji Maharaj was very close to AMA. As we recall his numerous talks and workshops which was started in late 1990s as part of Mamata-AMA Week Spiritual Lectures Series, His Holiness Sri Swami Adhyatmanandaji Maharaj's Lecture Series on Management and Spirituality was very popular and would draw huge Audience in Auditoriums of AMA. His Holiness Sri Swami Adhyatmanandaji Maharaj had addressed and contributed on different Subjects for almost 25 Mamata-AMA Weeks Series till October 2017. His Holiness Sri Swami Adhyatmanandaji Maharaj also facilitated many free Spiritual and Yoga Camps for AMA Members and General Public at AMA. Everyone was whole-heartedly touched and inspired by His remarkable lifetime mission, humbleness, generosity, kindness and wisdom.

His Holiness Sri Swami Adhyatmanandaji Maharaj was the greatest global Leader for Spiritual, Cultural, Social & Human welfare around the World. His Holiness Sri Swami Adhyatmanandaji Maharaj was the Beacon of Spirituality, Ocean of Compassion and Peace. I and everyone will always remember His Benevolence, Compassion towards all of God's creatures, all Humanitarian Work, Empowerment of Women and Underprivileged Community, Self-less Services, Simplicity, Gentleness, Truthfulness, Humanity, and Love for Human Values.

I pray to the supreme Lord Shiva to bestow divine strength, wisdom and courage to accept His will and continue to inspire us to help those in need more and more.

Dr. Malay Mahadeviya,
President,
Ahmedabad Management Association
------------------------------
Covid does not spare anyone. Param Pujya Swami Adhyatmanandaji of Sivananda Ashram who taught yoga to thousands (including me)) lost his battle with Covid. This great yoga teacher and spiritual leader shall always remain in our thoughts and prayers. A great loss to humanity indeed. Bhushan Punani, President, West Asia at International Council For the Education of People with Visual Impairment.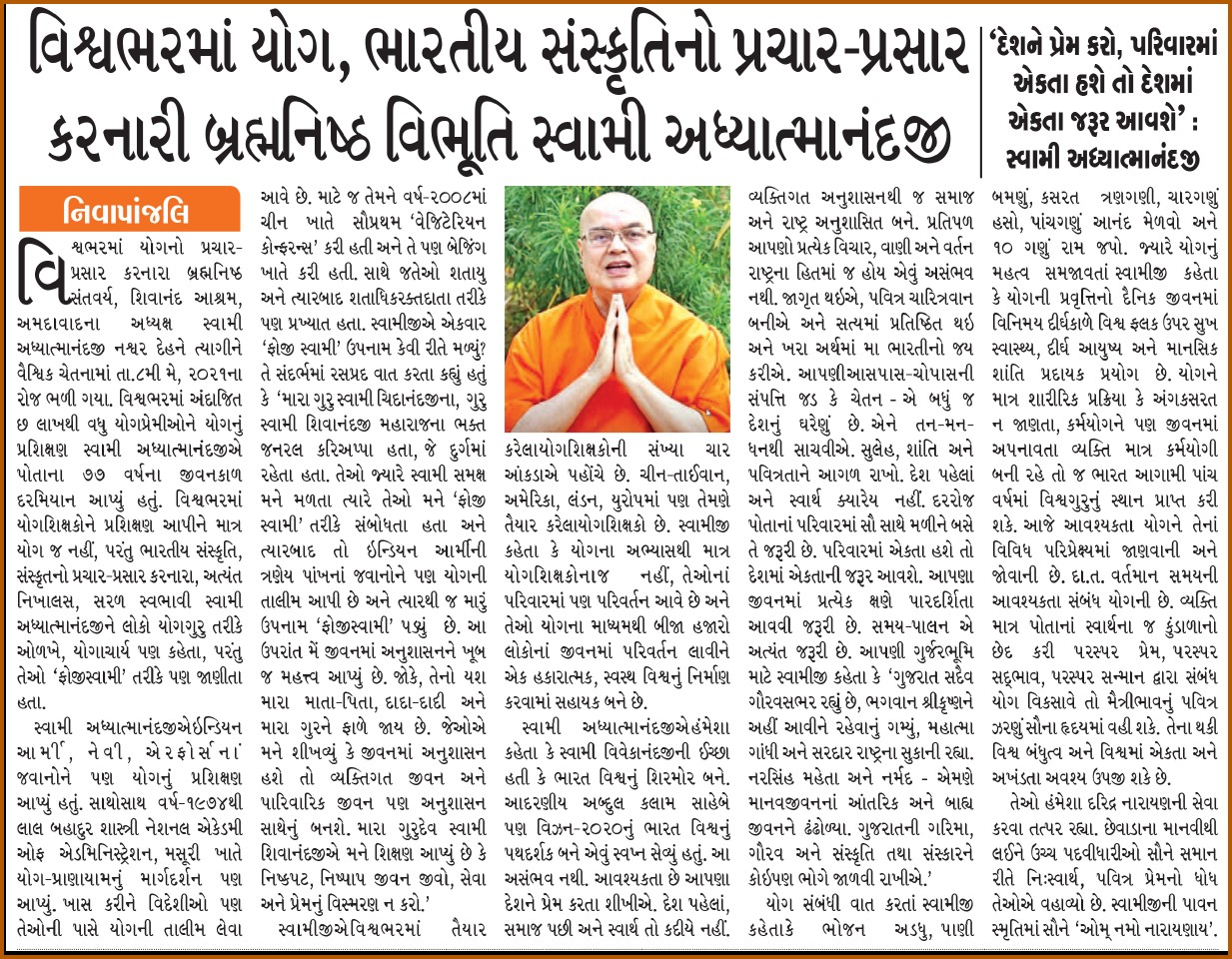 "Worshipful homage to Pujya Swami Sri Adhyatmanandaji Maharaj, President and Spiritual Head of Holy Sivananda Ashram, Ahmedabad. Divine message by Sri. K. Mohanlal, Chairman of ASIA Charitable Trust and Trustees under which all JG Colleges run.
From President DJSS (USA)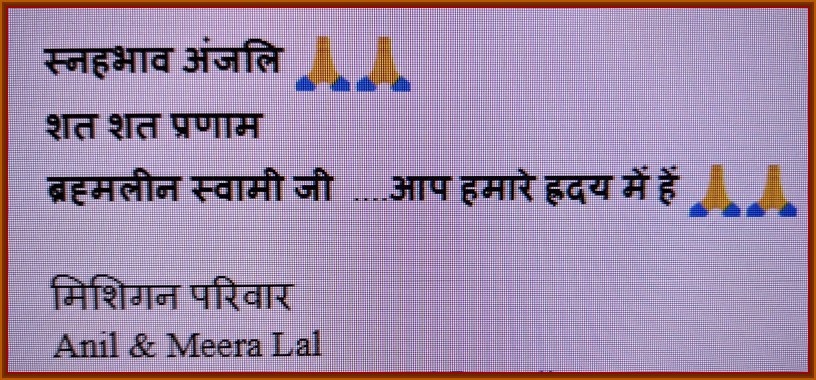 Indeed a big loss for us; Swamiji will continue to inspire us everyday through his teachings and satsang we had!
Hari & Aparna (Milwaukee)
-----------------------------
Shiv Aggarwal from Atlanta
Om Shanti,
Swami Ji's blessings are with us, Great memories from last
20 years of his teaching, Love and affection for humanity,
May God Bless the soul,
Om Namah Shivam
------------------------------
Our heartfelt condolences.
His presence will always be there in our thoughts.
May God Bless His Soul & Rest in Peace.
Aum Shanti!!
Thanks,
Douce Shukla Jayshreeben & Rameshbhai Parivar (Chicago)
------------------------------
Jai Sri Krishna !
So sad ! we will miss him forever. It is hard to digest Him not being among us. A holy flower bloomed and disappear living us all in shock and a permanent void. No words to express the sorrow and gratitude to swamiji. Om namo Narayan. !
Raksha & Praful Patel ( Chicago)
------------------------------
We are sadden to know sudden physical disappearance from our world to be in the God's world of immortality & purity.
Rajendra Rana (Los Angeles)
------------------------------
Namo Narayan,
We are shocked and saddened by Swamiji's Loss. In 2019, when he visited us, he was full of energy and committed to teaching yoga.
He will be missed by so many and it will create a big void in our lives and ashram.
Our prayers for his soul to rest in peace.
Warm regards,
Dr Gaurangi N Patel (Florida)
------------------------------
We heartily pray for H.H Pujya Swamiji. HE has departed for HIS journey of eternity towards ultimate liberation. We feel very sad to lose his physical presence around us. We were very closely attached to HIM and HE has showered abundant love and blessings on our family. We are highly obliged of HIM for all HIS lessons, trainings and values he has nurtured in us.....HE did sewa of millions of people throughout his life but at the end HE did not take sewa of anyone and did not bind HIS karma.
Shaishav & Sunita Shah
Happiness Yoga LLC (VA, USA))
-----------------------------
I feel so Sad . This earth has lost such a great soul who has done countless good deeds for Mother Earth and humanity. Om Shanti
Sachi Rana ( Los Angeles)
-----------------------------
Namo Narayan. Our Param Pujya Swamiji took Samadhi yesterday. This is a very big loss for all of us and a big loss for this earthly plane.
Hetal Sukla (Chicago)
-----------------------------
I received the news about Sri Swami Adhyatmananda Ji's Mahasamadhi. We have all been touched by Swamiji's love and spiritual vibration and have received his blessings. It is needless to mention Swami Ji's leaving the physical body brings a sense of deep grief and loss to us. However, I also know that a Yogi like him only leaves the body, but his spirit will always be there to love us and guide us.
With my Humble Pranaam to Swami Ji,
Sincere Regards
Ved Basu (Houston, TX)
-----------------------------
Suchita Shah from Bhartiya Temple at Indiana
Hari Om!
We are so sorry and sad to know the news of our beloved Respected Swamiji Maharaj is no more with us in his physical body
But Pujya Swamiji's blessings and grace will shower on all of us forever.
Swamiji is our guiding light and we will always follow Swamiji's teaching of Yoga and spiritual path
Jai Shree Krishna!
-----------------------------


Om Shanti
Hearty & Divine Tribute
Date: 8-5-2021 (Saturday)
Founder of Divya Jivan Sanskriti organization in Gujarat for the first time and Inspirational soul, President of Ahmedabad Shivananda Ashram, spread the message of Yoga all over the world and spread the color of Yoga in everyone's Life, President of Ahmedabad Divya Jivan Sanskriti Organization, Achieved a place in the hearts of all the saints, worked tirelessly to convey the message of Dharma and Karma to the masses, served society by spreading the fragrance of values, spirituality and Indian yoga not only in Gujarat but also in foreign lands, A symbol of inspiration and empathy for mankind service, Inspiring specially youth by his karma and higher values, Great place in heart of millions of people, rich in simple personality, Always a divine smile on the face, a supernatural aura, Param Pujya Mahamandleshwar Swami Shri Adhyatamanandji, has made a the journey to the end, His end of life which is a very sad and tragic occasion for the whole and special Gujarat.
Today, Prajapita Brahma Kumari Ishwariya Vishwa Vidyalaya's Head quarter Mount Abu, Chief Administrative Head Rajyogini Dadi Ratan Mohiniji and Gujarat's Zone In charge Rajyogini Brahma Kumari Bhartididi and All dedicated Brahma Kumari brothers and sisters pay divine tribute flowers to him. We offer tribute of the flowers with divine feeling to the eternal immortal and indestructible soul of Param Pujya Swami Shri Adhyatmanandji, who goes to the abode of the God, rest and enlighten in the presence of The God Father.Swami shri Adhyatmanandji- A popular disciple of Shri Chindanandji, Inspired from Guru and took initiation as per the order of Guru and today afternoon we were saddened to hear the sad news of the demise of Param Pujya Swami Shri Adhyatmanandji, the founder of Divya Jivan Sanskriti Organization, Ahemdabad, from 1974. Pujya Swamiji Shri had a very close spiritual and divine relationship with the Brahma Kumaris for more than 30 years (especially with Rajyogini Sarladidiji, the former Gujarat Zonal In-charge). From time to time, Swamiji used to attend various programs organized at the Vidyalaya's headquarters, Mount Abu and various places in Gujarat, with great regard and knowledge. Rakshabandhan, Diwali and Mahashivaratri were some of the festivals that were visited regularly. At various places, Swami Adhyatmanandji was also found in close association with saints many times. On every occasion of Divya Jivan Sanskriti Organization, honored the sisters of Brahma Kumaris by sending invitations.
His sudden demise today morning will surely be a great loss to Divya Jivan Sanskriti organization Ahmadabad and other ashrams. No one can fill this vacuum. God Father will give strength and power to other all saints, devotees, satsangis, guru, bhaktas of the ashram to remain stable in this sudden and tragic situation. In this sad time, the sisters of the Brahma Kumaris strong desire to pay our last respects to him to meet you and all the family members of Divya Jivan Sanskriti organization but due to the present time and situation, we all need to follow all rules of government and be calm. Due to which we are unable to meet you personally, we expressed our condolences and tribute through sending email and WhatsApp.
Om Namo Narayan... Om Shanti... Shanti... Shanti...
On Divine Service,

Rajyogini Brahmakumari Bhartididi
(Gujarat Zone Incharge)
Brahma Kumaris, Gujarat
Contact No: +91 9426708448; +91 7990934912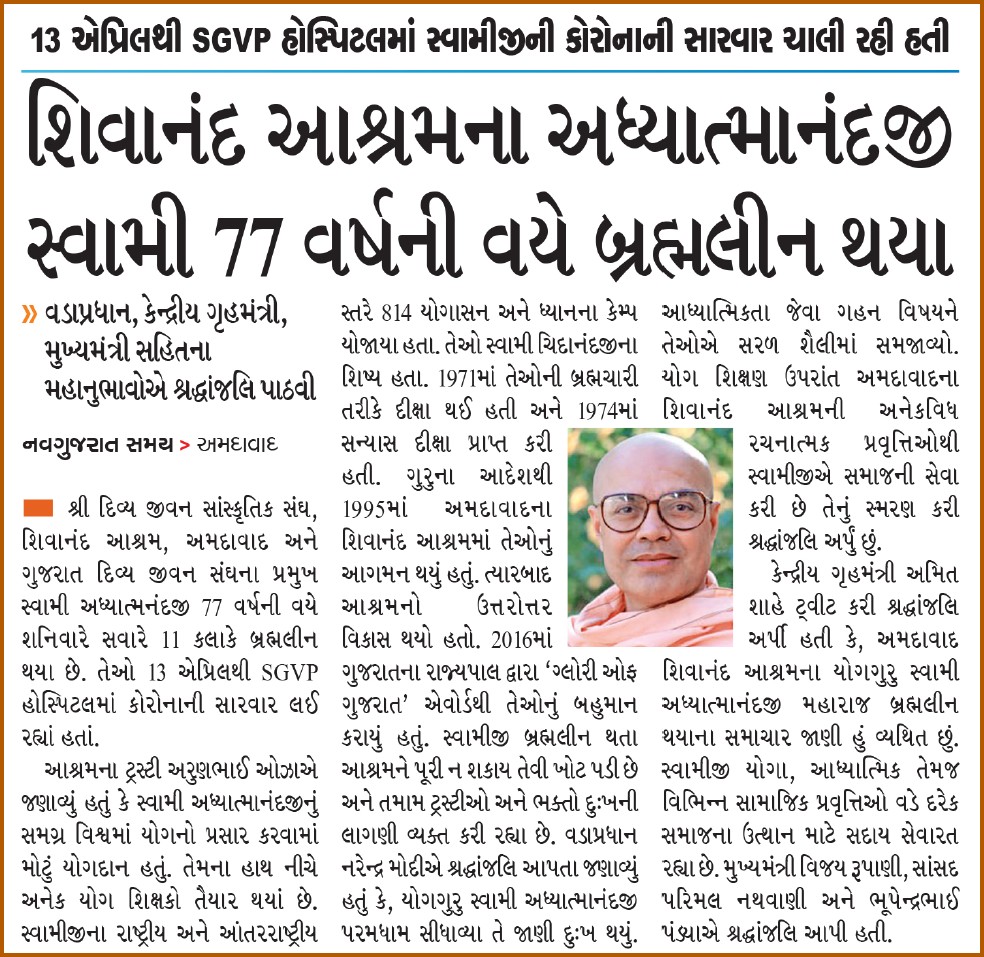 -----------------------------
THE NEWS SCROLL08 MAY 2021 Last Updated at 7:40 PM | SOURCE: PTI

Yoga guru Swami Adhyatmananda loses the battle against COVID-19 Ahmedabad,

May 8 (PTI) Well-known Yoga guru Swami Adhyatmananda, who headed Ahmedabad-based Sivananda Ashram, died of COVID-19 at a hospital here on Saturday, an official said.

He was 77."Swamiji was admitted in the city''s SGVP Hospital on April 13 after he was found infected with the coronavirus. He died at the hospital at 11:10 am on Saturday," said Ashram trustee Arun Oza.

Swami Adhyatmananda had spread yoga, pranayam and meditation across the world by organizing 814 camps, said a note issued by the Ashram.

He represented India for the World Peace Conference at Chiapas, New Mexico in 1999, and was a recipient of the Lifetime Achievement Award from the India Canada Culture and Heritage Association, it said.

Prime Minister Narendra Modi, Union Home Minister Amit Shah and Gujarat Chief Minister Vijay Rupani condoled his demise. "Saddened to know about the passing away of Yoga Guru Swami Adhyatmanandji. He explained a profound subject like spirituality in a simple style. I pay homage to Swamiji who, apart from teaching Yoga, served the society through various creative activities of Sivananda Ashram in Ahmedabad. Om Shanti!" the PM tweeted in Gujarati.

Shah tweeted, "I am distressed to know the news of the demise of Swami Adhyatmanandji Maharaj, the yoga guru of Sivananda Ashram, Ahmedabad. Swamiji has always been serving for the upliftment of every society through yoga, spiritual as well as various social activities. May the Lord bestow ''Sadgati'' on the divine soul of respected Swamiji".

Rupani tweeted the spiritual and yoga world has suffered greatly from Swamiji''s demise.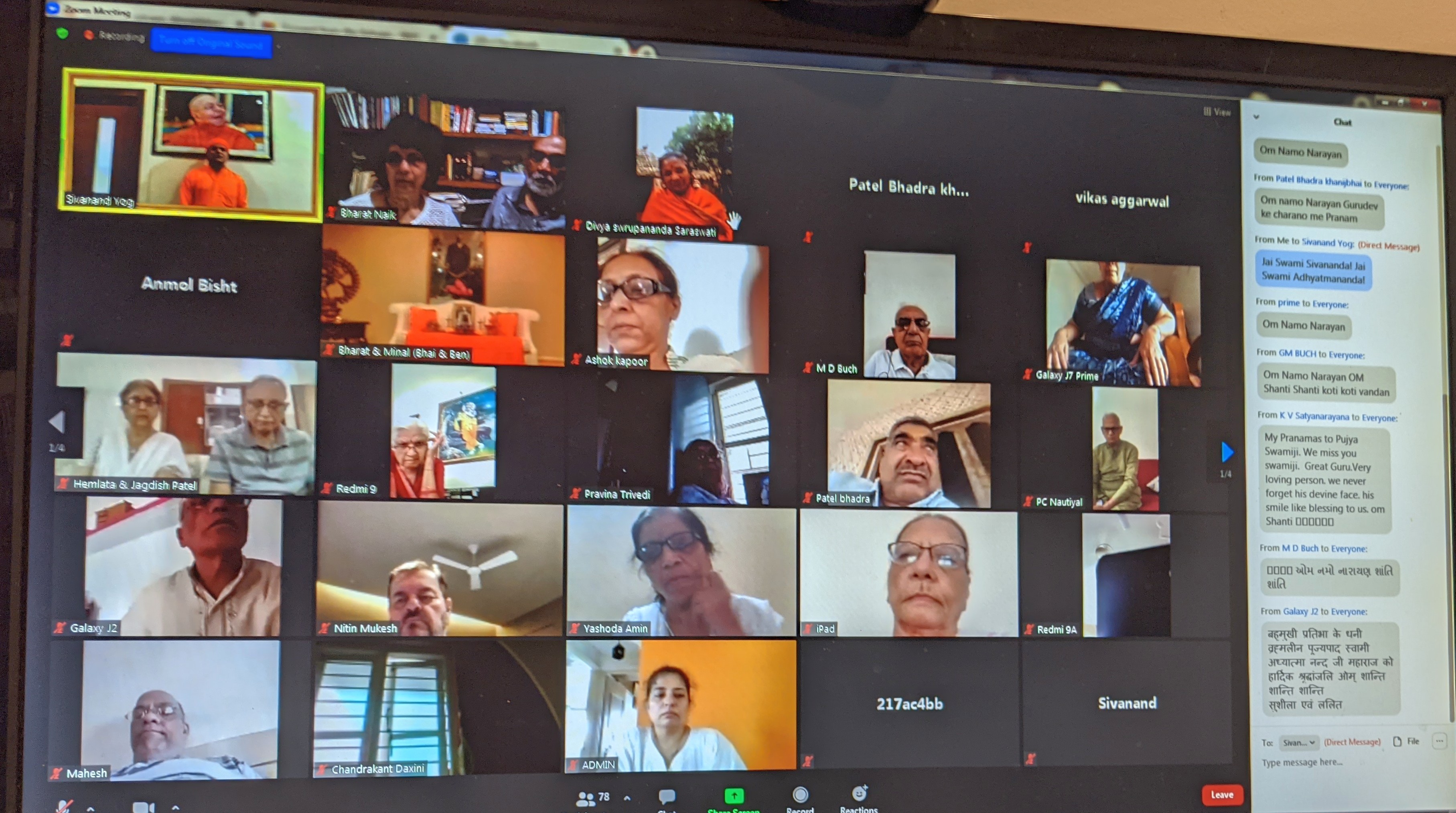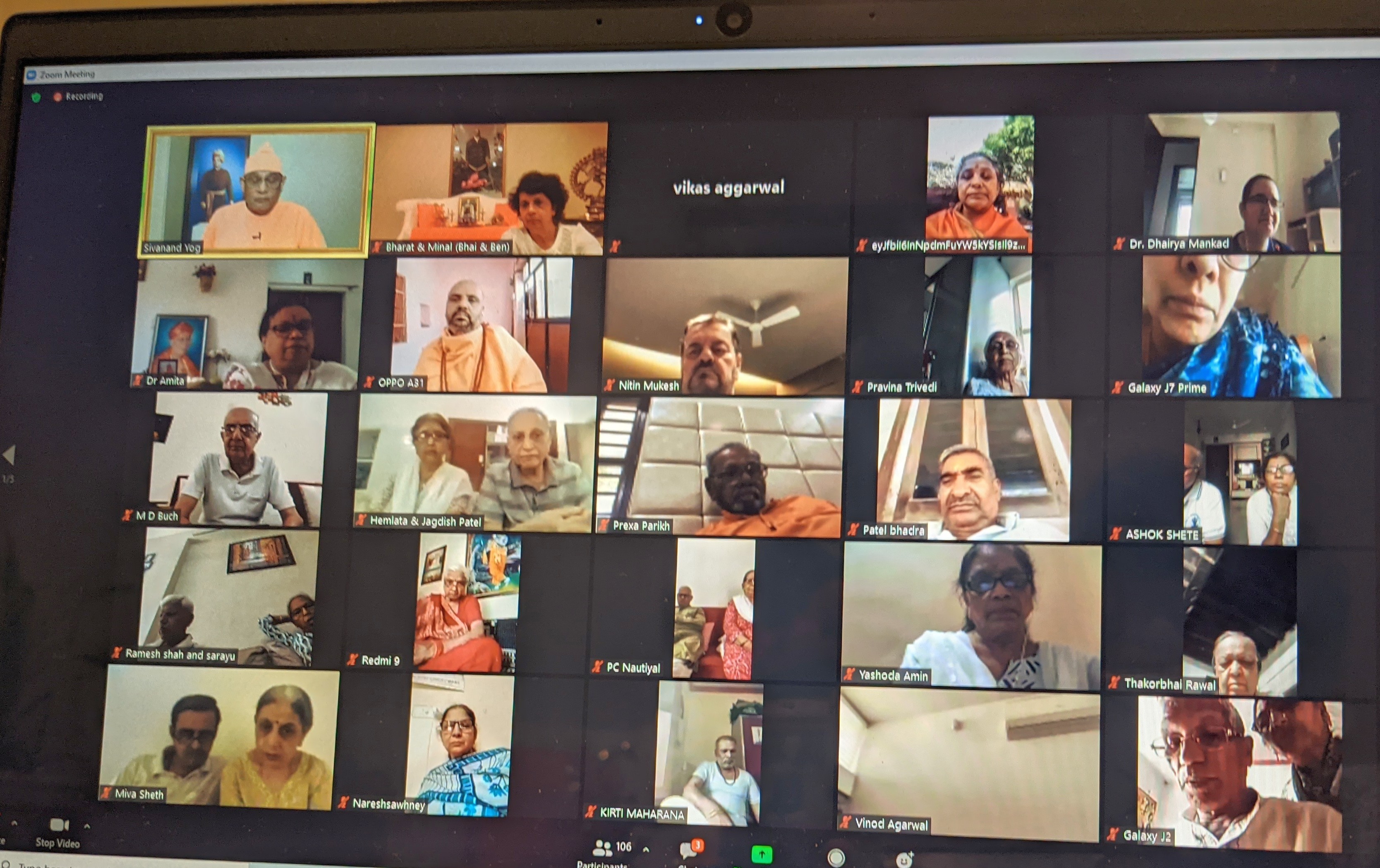 Sacred Samadhi Shrine of His Holiness Brahmleen Sri Swami Adhyatmanandaji Maharaj
at
Sivananda Ashram, Ahmedabad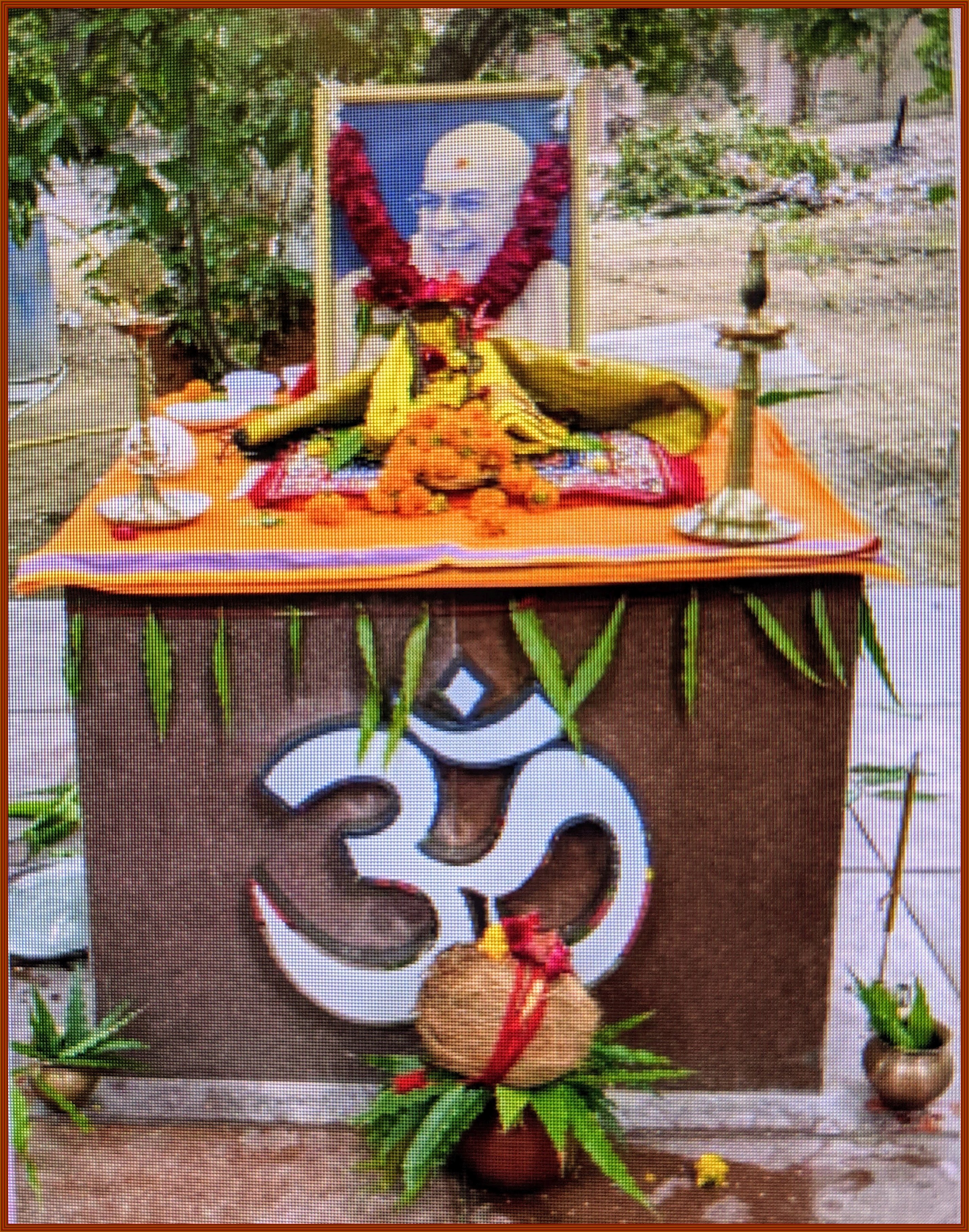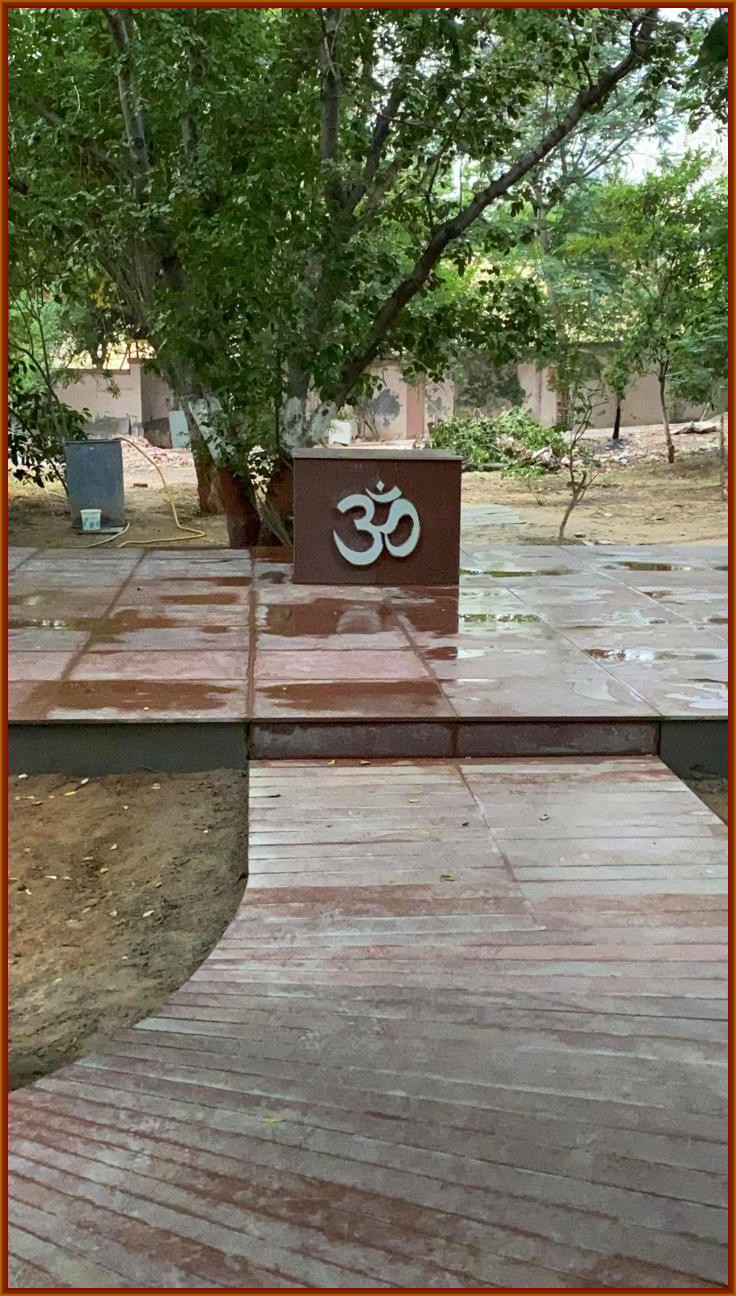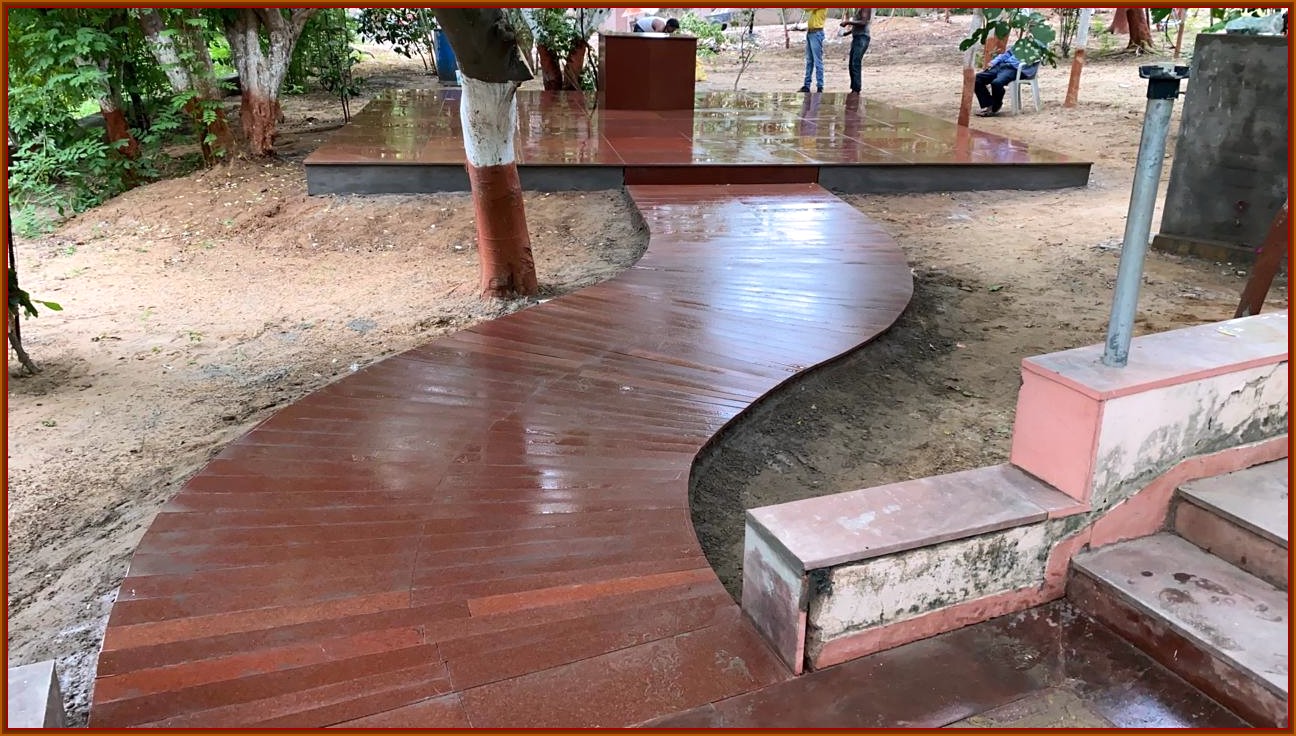 Sacred Samadhi Shrine of His Holiness Brahmleen Sri Swami Adhyatmanandaji Maharaj at Sivananda Ashram, Ahmedabad
How Sacred! In Loving Memory of Beloved Brahmleen Sri Swami Adhyatmanandaji Maharaj Samadhi Shrine has been consecrated on Sri Swamiji Maharaj's remains (Asthi), under the leadership of Ashram's Secretary and trustee of the Ashram Sri Vijaybhai Soni with ardent devotees' group of Pujya Sri Swamiji Maharaj.
And last rite, the Poojan and Asthi Visarjan of Brahmleen His Holiness Sri Swami Adhyatmanandaji Maharaj was performed in all honor and sacredness with Vaidik rituals by Saints & Mahatma, Ashram's devotees group of Pujya Swamiji Maharaj and devotees from America (through whatsapp video) at Rishikesh Parmarth Niketan Ashram Ganga Ghat On Aug 1, 2021. Among them were Revered Sri Swami Nityanandaji Maharaj, Revered Sri Swami Narayanpadji Maharaj, Revered Sri Swami Baldevanandaji Maharaj, Revered Sri Swami Brahmnisthananaji Maharaj and group of Rishikumar's of the Ashram. Also Pujya Sri Chinananda Sarswati Ji Maharaj sent His blessings as he was away on the tour to America. HIS Guru Maharaj Sri Sri Swami Asangananadaji Maharaj came personally and paid HIS respect and blessings. So did Mahamandleswar Pujya Sri Avadheshanand Giriji Maharaj from Haridwar personally came and paid His respect and blessings. After the last rites ceremony, Bhandara was served to all in all honor arranged by Sri Vijaybhai Soni and his team from the Ashram.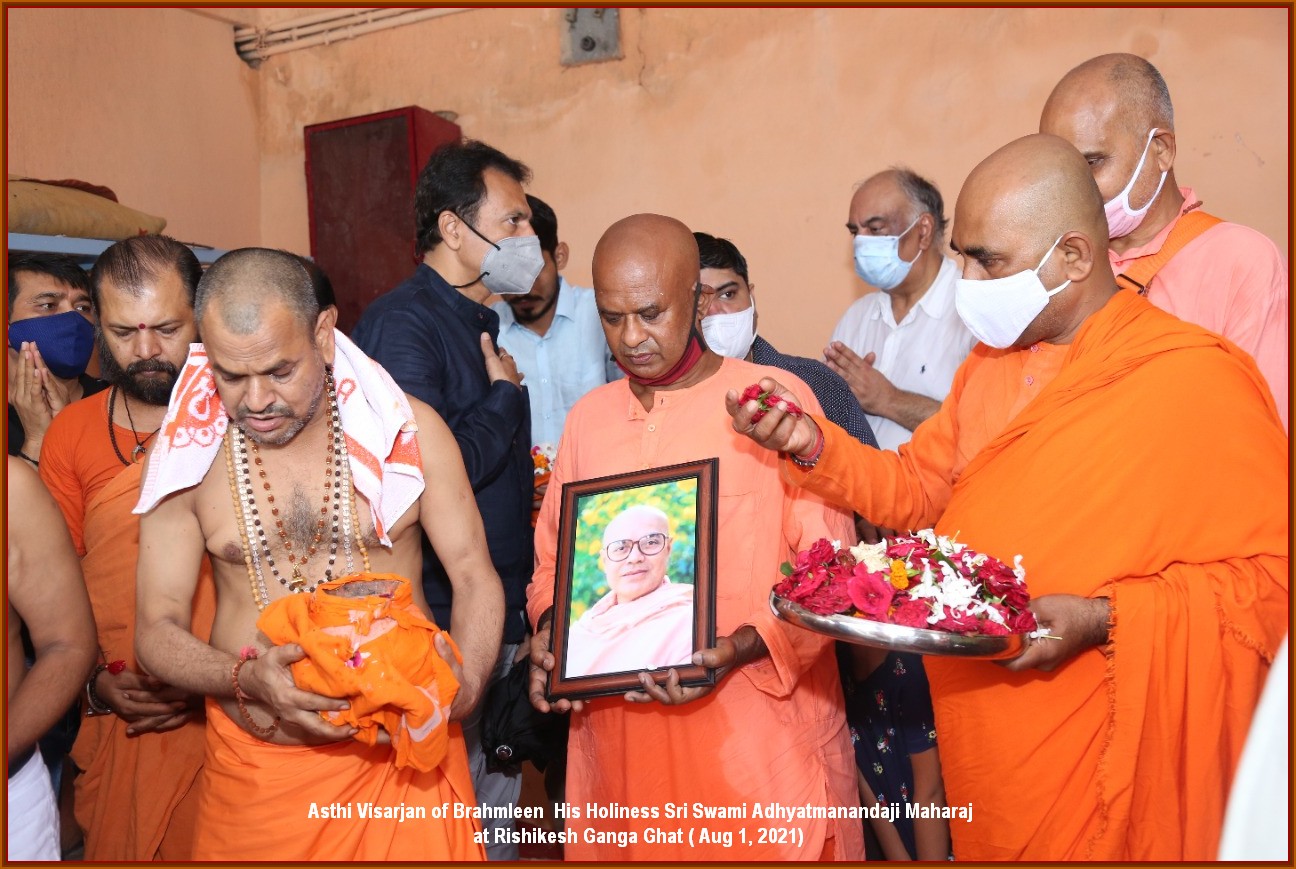 Poojan and Asthi Visarjan of Brahmleen His Holiness Sri Swami Adhyatmanandaji Maharaj
at Rishikesh Parmarth Niketan Ashram Ganga Ghat ( Aug 1, 2021)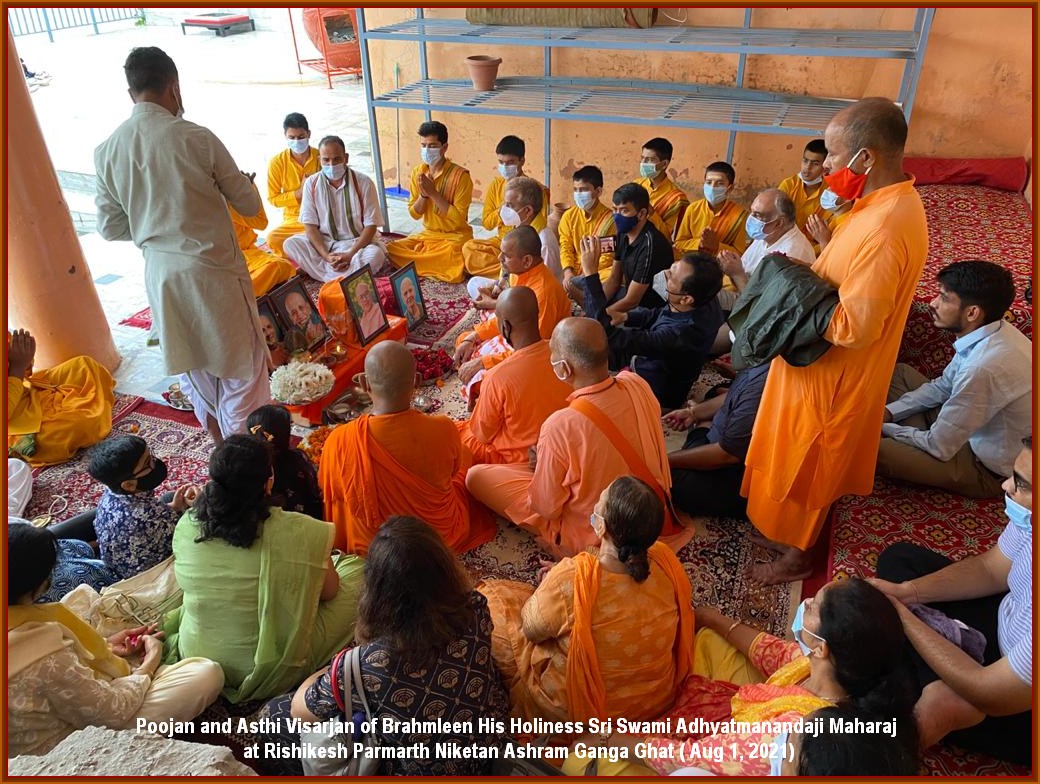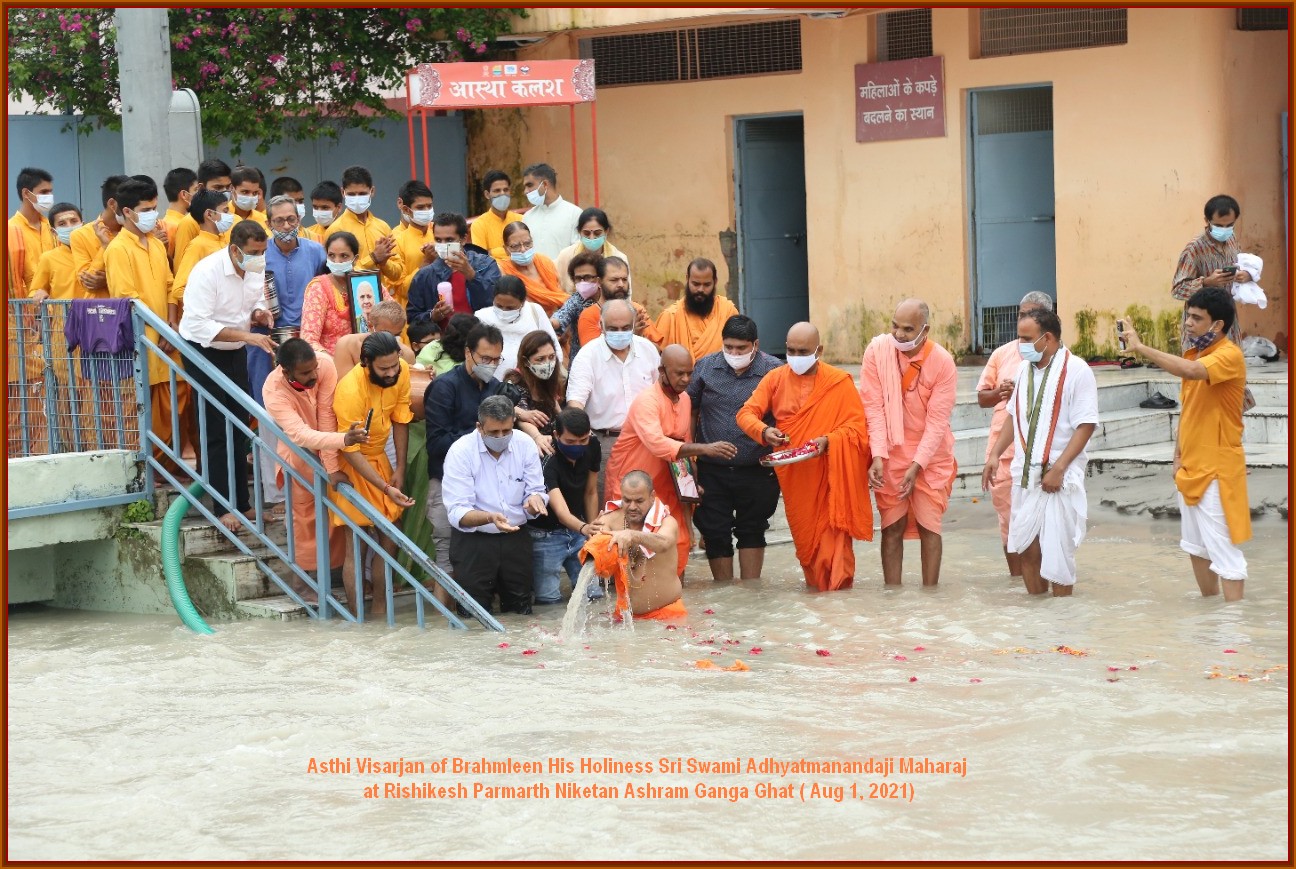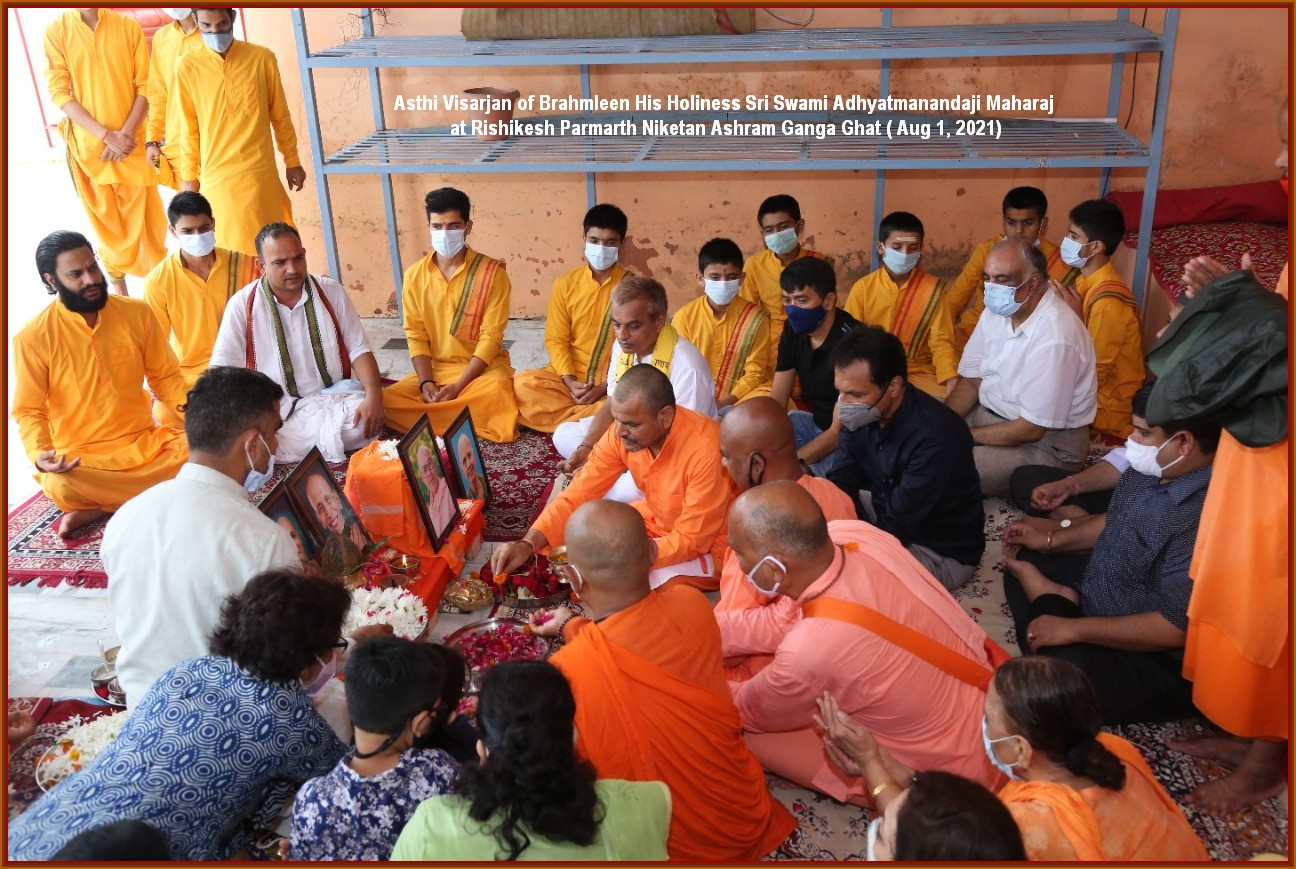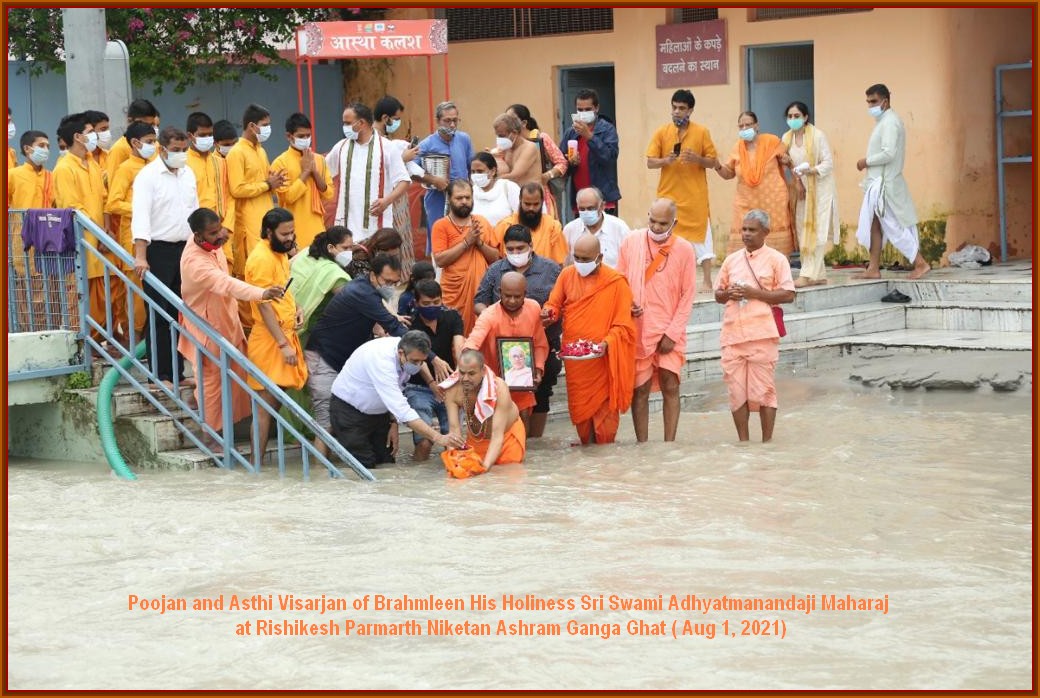 Latest Additions.........

Please subscribe to Divyajivan Mailing List. We will update you with new uploads of spiritual literature on the web of Holy Master Sri Swami Sivanandaji Maharaj, saints of his lineage and other saints. We will also update you about the Sivananda Ashram, Ahmedabad website and facilitate communication with Sri Swami Adhyatmanandaji Maharaj.

Please enter your email address and click Subscribe button
To manage your subscription, please visit Subscription Page. You can also subscribe and unsubscribe from this page. You may unsubscribe by yourself anytime you wish. You will be required to send confirmation link that you will get in your e-mail to complete this subscription.

[ Home ] [ News ] [ Upcoming Events ] [ What's New? ] [ Services ] [ Swami Adhyatmananda ] [ Multimedia ] [ Publications ] [ Administration ] [ Saints and Sages ] [ Photo Gallery ] [ Contact ] [ Guestbook ] [ Important Links ] Webmaster: webmaster@divyajivan.org