News & Activity Report for the Month of June 2019
Sivananda Ashram, Ahmedabad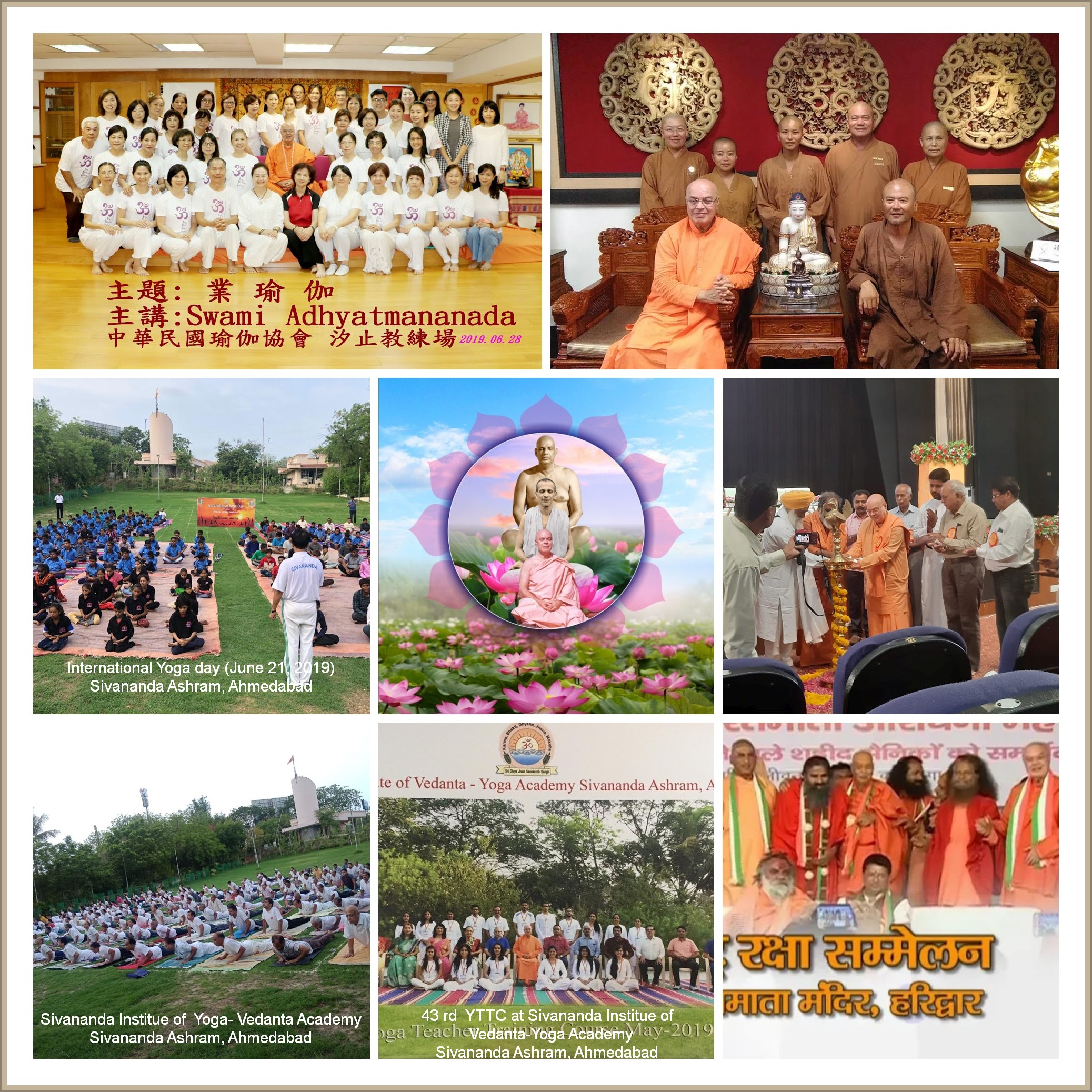 June 1, 2016 marks holy Sannyas day of Most worshipful and Revered Guru Bhagawan Srimat Swami Sivanandaji Maharaj. It was Srimat Swami Vishwanandaji Maharaj from Varanasi gave Sannyas Diksha and Virja Homam was performed by Acharya Mahamandaleshwar Srimat Swami Vishnudevanandaji Maharaj of Kailash Ashram. At the ashram special satsang was organized. A large number of Devotees participated in satsang, kirtan, and Paduka Pujan.

43rd YTTC (May 5, 2019, to May 30, 2019): 43rd Yoga Teachers Training Program was conducted at Sivananda Institute of Vedant Yoga Academy, Sivananda Ashram, Ahmedabad. Other than Gujarat, students came from different parts of India as well as the U.S.A. enrolled for this Yoga teachers Training Residential course for 20 days of 220 hours of education was
imparted which includes yogasan, pranayama, meditation, relaxation technique, shankha prakshalan, Kriyas, mudras and Bandha. Other than practical yoga teaching, Bhagavad Gita, selected Patanjali Yoga Sutras, Reiki Science of natural healing part I & II, basic knowledge of Anatomy, Philosophy, Gynecology, Orthopedic, Ayurveda, diet, Yoga Psychology and Philosophy, management and Sanskrit was imparted by very experts of these subjects.Ms. Priya Sheth stood first amongst all. The examination wasconducted and certificates recognized by Gujarat University were awarded to the students at the conclusion of YTTC.

Silver Jubilee (25 th Anniversary) celebration of Sri Vishwanath Mahadev Temple( May 20, 2019): Sivananda Ashram celebrated 25th Patotsav of ashram's Vishwanath Mahadev TempleLord Shiva's temple. The Vishwanath Temple consecration was performed by Revered and worshipful Gurumaharaj Sri Swami Chidanandaji Maharaj on May 20, 1994. Early morning traditional Shodashopachar was offered to Lord Vishvanath by priest & Revered Sri Swami Adhyatmanandaji Maharaj. Large numbers of devotees joined in sacred Homatak Laghurudra Havan with Vedic hymns chanting in the forenoon. It concluded with offering and final oblation to Yajna Narayan, Maha-Arti by Sri Swamiji and Bhandara served to all the devotees.
Renowned Kathak choreographer Padma Bhushan Smt. Kumudiniben Lakhia's 90th Happy Birthday was celebrated at ashram's ' CHIDANANDAM 'Artists from all four corners of Gujarat flocked to attend this memorable event. Her disciples presented spectacular Kathak dance performance. H. E. Governor of Gujarat Sri Om Prakash Kohliji
graced the occasion. The entire program was organized by J. G. School of Performing Arts and hence its Respected President Sri John Gee Varghese also graced the occasion.

For Yoga day on June 21, 2019 All India Radio and Television Centre of Govt. of India ( DD Girnar – Gujarat) broadcasted and telecasted Inspiring talk by Pujya Sri Swami Adhyatmanandaji Maharaj.
Satsang & Tour of H. H. Sri Swami Adhyatmanandaji Maharaj During the Month of May - June 2019
The last rites and prayer meeting of B. K. Sarla Didi, a Head of Gujarat of Brhma Kumari organization was attended by Sri Swamiji Maharaj on June 6th and June 10th respectively.

Jamnagar and Dwarka (May 5, 2019): After the conclusion of the annual function of Sivananda Ashram, Ahmedabad, Revered Sri Swami Adhyatmanandaji Maharaj arrived at Lakhabawal (near Jamnagar ). Sri Swamiji was invited to grace and bless the inauguration of Yoga, Nature Cure and Ayurved Hospital. At the function, Sri Swamiji spoke in length about the quality of health through Naturopathy and regular practice of yoga. Sri Ramnikbhai Shah, founder of the hospital introduced Sri Swamiji Maharaj and Respected Dr. Hargovind Tanna, President DLS, branch Jamnagar for Rev. Swamiji's presence is so inspiring.
After visiting Dwarka on May 5 afternoon, Pujya Swamiji attended 20000 days of continuous chanting of holy Mantra "Sri Ram Jay Ram Jay Jay Ram" at Sri Ram Mandir of Palace Lake, Jamnagar. Mr. Rajnish Kashyap, senior manager of Air India & Mrs. Ameeta Kashyap, director, Skill India, Shram Bhavan also Joined Sri Swamiji.

Jaipur (May 17, 2019, & May 18, 2019): Honoring humble invitation of Sri Vinod Agrawalji, a son of Late Sri Mulchand Agrawalji, an ardent devotee
of Guru Bhagwan Sri Swami Chidanandaji Maharaj, Sri Swamiji visited Jaipur for
the family function.

Rajkot (May 22, 2019): Saurashtra High School celebrated its foundation day on May 22, 2019. It was established 119 years ago. In loving memory of its Principal and well-wisher late "Sri Vijay Dholakia awards" were presented to five renowned teachers of Gujarat. Rev.ered Sri Swamiji presided over the function and presented the awards to five teachers who have earned this prestigious award. Pujya Sri Swamiji met the members of the Divine Life Society, Rajkot also.

Ahmedabad (May 26, 2019): Annual General Body Meeting of Jain Cultural Group, Ahmedabad was graced by Sri Swami Adhyatmanandaji Maharaj at the grand auditorium of Gujarat Chamber of Commerce. Sri Swamiji spoke on the subject of "Let us know our Religion and be faithful to the it". In his talk, Sri Swamiji Maharaj elaborated the true meaning of being "JAIN", its rituals, mantras, and daily spiritual practices.

Sri Narayan Guru Cultural Mission had organized opening function for "Guru Sagaram" discourse series by Respected Sri Sajeev Krishnanji. He will be moving throughout India
to propagate teachings of Sri Narayan Guru i.e. One God, One Caste, One Religion for mankind. Pujya Sri Swamiji graced the inauguration function and lit the lamp and gave an inspiring talk.

Mumbai (May 28, 2019): Revered Sri Swamiji Maharaj arrived at Mumbai, held satsang with devotees of Late Sri Sai Paramanandaji Maharaj. He returned to Ahmedabad in the
evening.

Ahmedabad (May 31, 2019): Maha Samadhi Day of Brahmalin Acharya Mahamandaleshwar Sri Swami Vidyanandaji Maharaj, founder of Gita Mandir, was celebrated in the
Presidentship of H. H. Sri Swami Adhyatmanandaji Maharaj. Satsang meeting concluded with Bhandara.

Vadodara(June 1, 2019): Upon the very pressing invitation of Respected Dr. Mrugank Merchant, Rev. Swamiji visited Vadodara. Old Padra road Rotary main organized Pujya Sri
Swami Adhyatmanandaji Maharaj's discourse on the subject of Chapter of Three of Bhagawad Gita (Karma Yoga ) in the forenoon and in the afternoon, he shared the words of wisdom from the Chapter Thirteen of Bhagawad Gita.

On his way back to Ahmedabad, Rev. Sri Swamiji was invited to lit holy fire (Dhoono) at Sri Sanyas Ashram, Kadi. Satsang was followed by
Bhandara.

Khambhat ( June 2, 2019); Sri Swamiji Maharaj consecrated the holy Sri Valkeshwar Mahadev (Shiv Lingam ) at Khambhat. Holy ritual was performed by learned scholars and in
the end, when actually consecration was done, RAIN GOD very profusely graced upon newly consecrated temple as well as a large crowd of devotees.

Tour to Taiwan of H. H. Sri Swami Adhyatmanandaji Maharaj (June 19, 2019 - June 30, 2019): For the grand celebration of International Yoga Day, H. H. Sri Swami Adhyatmanandaji Maharaj was invited at Taiwan. Other than Taipei, Sri Swamiji's programs was organized at various cities where Swamiji taught Asan, Pranayam, Mudras, Bandhas, Meditation and gave series of discourses on the subject of Bhagawad Gita and Patanjali Yoga Sutras. This Tour to Taiwan 2019 was organized by the president and members of Republic of China Yoga Association.

HARI OM !
Latest Additions.........

Please subscribe to Divyajivan Mailing List. We will update you with new uploads of spiritual literature on the web of Holy Master Sri Swami Sivanandaji Maharaj, saints of his lineage and other saints. We will also update you about the Sivananda Ashram, Ahmedabad website and facilitate communication with Sri Swami Adhyatmanandaji Maharaj.

Please enter your email address and click Subscribe button
To manage your subscription, please visit Subscription Page. You can also subscribe and unsubscribe from this page. You may unsubscribe by yourself anytime you wish. You will be required to send confirmation link that you will get in your e-mail to complete this subscription.

[ Home ] [ News ] [ Upcoming Events ] [ What's New? ] [ Services ] [ Swami Adhyatmananda ] [ Multimedia ] [ Publications ] [ Administration ] [ Saints and Sages ] [ Photo Gallery ] [ Contact ] [ Guestbook ] [ Important Links ] Webmaster: webmaster@divyajivan.org