News Report for the Month of December 2020
Sivananda Ashram, Ahmedabad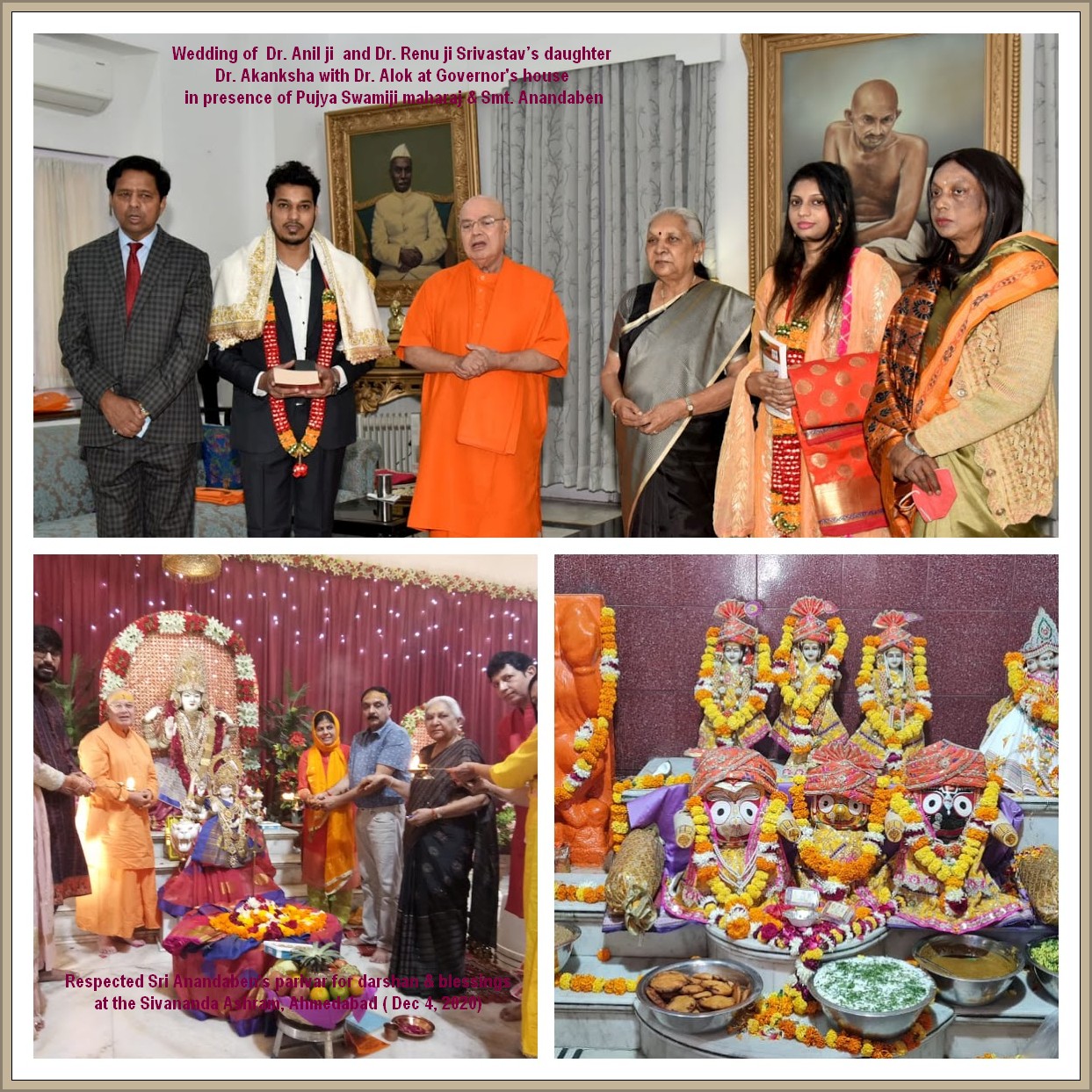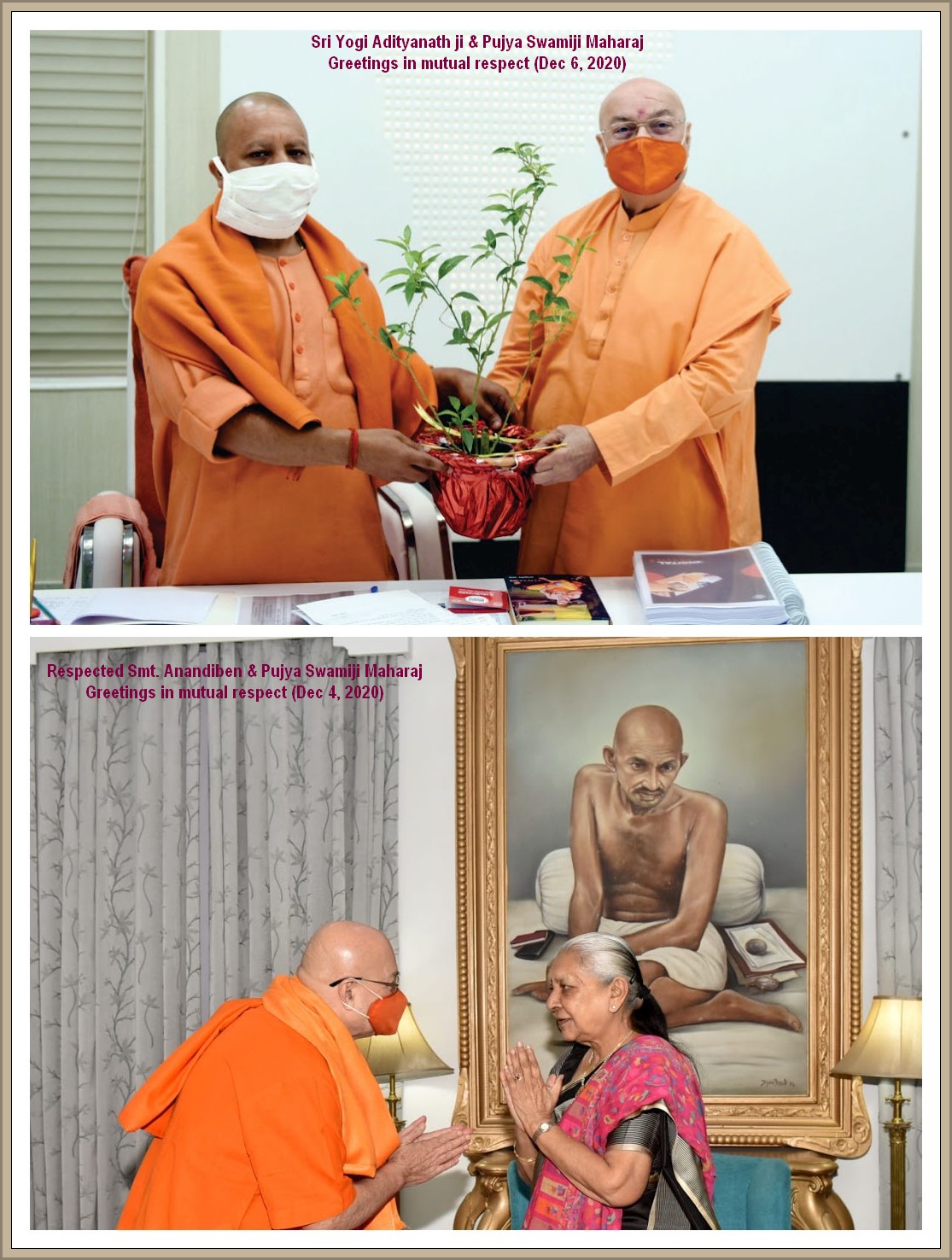 Activities at the Ashram are slowly getting normalized with the release of Covid restrictions.Temples of the ashram are open now for devotees darshan with the strict rules abidance of COVID -19. Regular Yoga classes & Reiki sessions will be starting from January 2021onwards.

Pujya Sri Swamiji Maharaj's daily satsang discourses are organized by Sivananda Ashram Parivar through Sivananda Ashram Face Book page. which is posted on youtube also. At present Swamiji is taking "Patanjali Yoga Darshan" text of Maharshi Sri Patanjali.

On December 3 Mahamantra Kirtan was started 77 years ago at Sivananda Ashram, Rishikesh. Ever since then continuous chanting has been going on. In the memory of it Sivananda Ashram, Amdavad also had a special Satsang.

At Sivananda Ashram, Ahmedabad Mahamantra chanting is being done in the ashram's daily night Satsang.

On December 20, 2010 Board of trustees of Gujarat Divya Jivan Sangh meeting was organized through Zoom from 9 am to 10 am. The trustee meeting of Divya Jivan Sanskrutik Sangh was held from 10 am to 11 am and Annual General Meeting of Divya Jivan Sanskrutik Sangh was held from 11 am to 12 am.

On Christmas eve December 24, 2020, a special Satsang was held and prayer was offered for Corona's free world.

Gita Jayanti (Dec 25, 2020): Gita recitation by devotees group was organized at Sri Adi Shakti Peeth, Sri Ashtalaxmi Bhawan from 9.30 am to 11.30 am.

On the eve of New Year, Dec 31, 2020, Sri Mahamantra Kirtan & Om Namah Shivaya japa chanting performed on 77th installation year of Sri Vishwanath Mandir, Rishikesh.


Narayan Seva - Monthly food & grain distribution to poor and underprivileged families of the town is regularly done through ashram. A packages contain groceries` 5 Kg, wheat flour, 2Kg. green gram, 2 Kg Potatoes & 1 Lit edible oil to 150 to 160 families get distributed in the outskirt of Ahmedabad City. It costs about Rs. 80,000 to Rs. 85,000 Per month.

This is possible only because of a generous donations by Devotees of the Lord. Ashram team appreciates and welcomes this kind gesture. Please write the check the address to "Sri DivyaJivan Sanskrutik Sangh",

Refer to the page for the details.

..........also, please feel free to contact us through email

sivananda_ashram@yahoo.com

or contact directly # +91 93761 05554.

Regular Yoga Classes & Reiki Class will commence from January 2021 onwards. please register ahead, as entry will be limited. Kindly visit personally and get an admission card.

Satsang & Tours of Pujya Swamiji Maharaj during the month of December 2020

Lucknow (Dec 3, 2020 – Dec 7, 2020): Revered Sri Swami Adhyatmanandaji Maharaj arrived in the morning to Lucknow. Dr. Anil Srivastavji received Sri Swamiji in great honor. Sri Anil ji is a well-known cardiologist (MD. PHD) and is in high esteem in the medical community. He served as CMO Govt. Civil hospital, Lucknow) and his wife Smt. Renu Srivastava is a Gynecologist. This Blessed couple is fortunate to receive Mantra Diksha by GuruBhagawan Sri Swami Chidanandaji Maharaj.

On Dec 4, 2020, H.E. Governor of Utter Pradesh and Madhya Pradesh Respected Smt. Anandiben invited Revered Swamiji to Governor House.

Pujya Swamiji attended the ceremonial wedding of Dr. Anil ji and Dr. Renu ji Srivastav's daughter Dr. Akanksha (MD Pediatrics) with Dr. Alok ( MS Neurosurgeon) They all felt blessed to have Sri Swamiji's holy presence for this wedding.

Bride and groom received blessings of Governor Smt. Dr. Anandiben Patel. After the wedding ritual guests were treated and served lunch to all at Governor House only..... In the afternoon home Satsang was organized at Sri Dayal's home (M.E. Superintendent, PWD Govt. of U.P.)

On Dec 5, 2020, Satsang was held at Mr.Sunil & Mrs.Vandana's home. In the afternoon Rev. Swamiji inaugurated Dr. Dubey's (Utter Pradesh Ratana) yoga meditation astrology Bhawan.


On Dec 6, 2020, Grand Satsang was organized at Hotel Fair Field Marriot, Lucknow in the forenoon. At dusk, Pujya Swamiji graciously visited Respected Chief Minister of Utter Pradesh, H.H. Sri Yogi Adityanathji. They exchanged greetings in mutual respect.

On Dec 7, 2020, Sri Swamiji was invited by Dr. Rajesh Kashyap & Dr. Archana to their home in Sanjay Gandhi Research Foundation Medical campus and organized Satsang. Sri Swamiji returned back to ashram late at night.

Om Shanti !

Latest Additions.........

Please subscribe to Divyajivan Mailing List. We will update you with new uploads of spiritual literature on the web of Holy Master Sri Swami Sivanandaji Maharaj, saints of his lineage and other saints. We will also update you about the Sivananda Ashram, Ahmedabad website and facilitate communication with Sri Swami Adhyatmanandaji Maharaj.

Please enter your email address and click Subscribe button
To manage your subscription, please visit Subscription Page. You can also subscribe and unsubscribe from this page. You may unsubscribe by yourself anytime you wish. You will be required to send confirmation link that you will get in your e-mail to complete this subscription.

[ Home ] [ News ] [ Upcoming Events ] [ What's New? ] [ Services ] [ Swami Adhyatmananda ] [ Multimedia ] [ Publications ] [ Administration ] [ Saints and Sages ] [ Photo Gallery ] [ Contact ] [ Guestbook ] [ Important Links ] Webmaster: webmaster@divyajivan.org