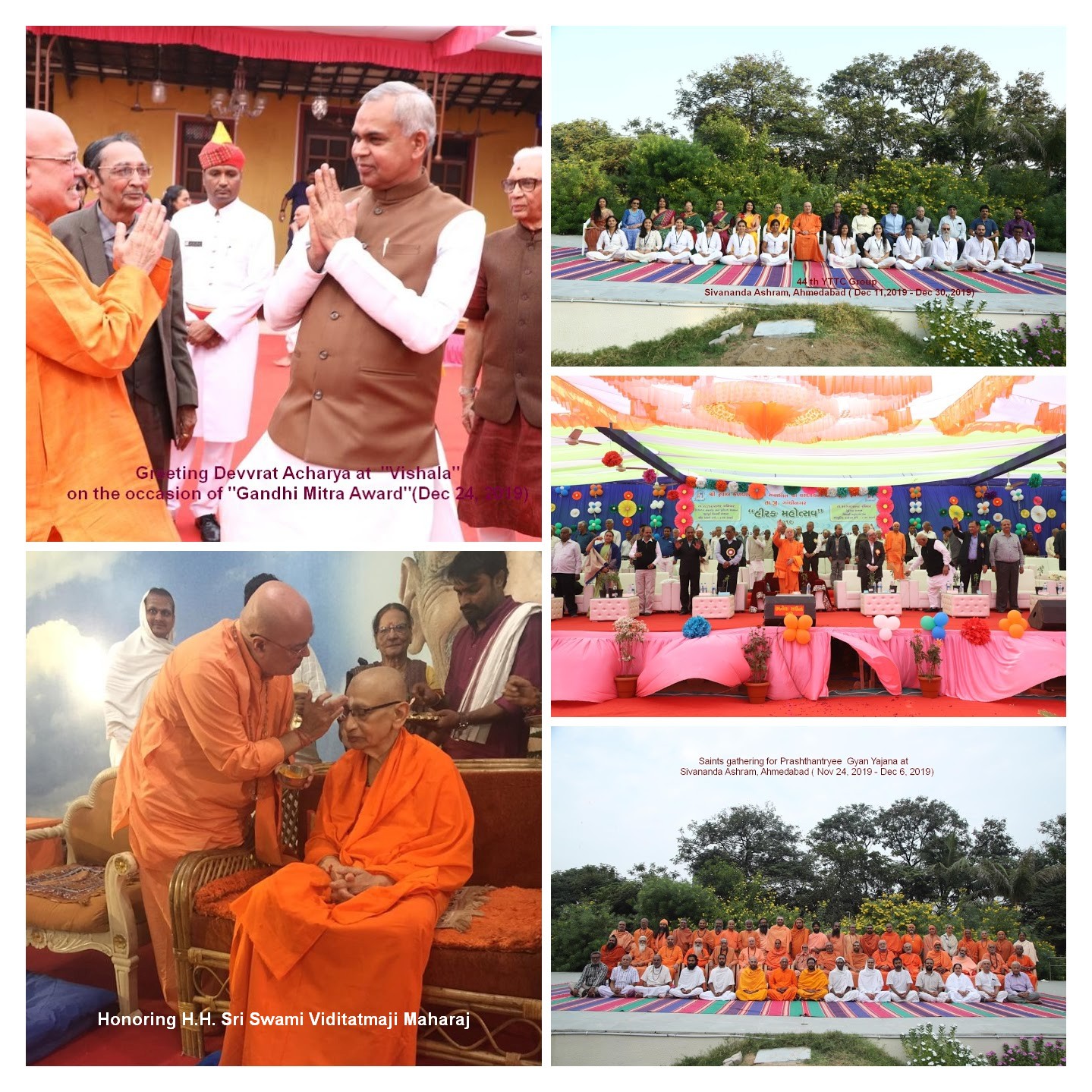 Jnan Yajana - Prasthan Trayee Parayan ( Nov 24, 2019, to Dec 7, 2019): The Prasthan Trayee Parayan was organized as a part of Amrut Mahotsav Celebration of Pujya Sri Swami Adhyatmanandaji Maharaj. A grand starting session of Prasthan Trayee Parayan was on Nov 24, 2019, in the holy presence of Paramadrsh Vedanta Peethathiswar Sri Swami Bhaskarananda Saraswati Ji at Chidananda Dhyan Mandir, Sivananda Ashram, Ahmedabad. Pujya Swami Adhyatmanandaji Maharaj gave an inaugural speech and enlightened all. About more than fifty Saints, Mahatmas, Mahamandleshwers, and Bhramcharis as well as devotees attended this sacred JanaYajana. Pujya Sri Swami Sarvananda Giriji was the Pramukh Acharya and had led the entire Jana Yajana. It was full twelve hours of daily program schedule that included recitation of Brahma Sutras, Ten Principal Upanishad namely; Isha, Kena, and Katha, Prashan, Mundaka, Mandukya, Tattiriya, Aitareya, Chhandogya and Brihadaranyaka, Bhagavat Gita and Sri Vishnu Sahsranama and two hours of discourses on "MANDUKYA UPANISHAD" and Mandukya Karikas by learned scholars from 4.30 pm to 6.30 pm.
It was a spiritual feast for the devotees to listen to great MANDUKYA UPANISHAD and its explanatory treatise Mandukya Karika by Acharya Gaudapada. The Mandukya Upanishad mantras provide us with the staple food for our intellect by enunciating the Truth while the Karika graphically reveals to us a line of inquiry and thinking with logic and reason to find out that Truth.
The statement "Brahma Satyam Jagat Mithya" – Brahman is the only reality and all the others are mithya or illusory, an unending dream" puts in a nutshell the entire non- dualistic philosophy of Adi Sankara and his teacher's teacher Gaudapada. But any person even with a minimum intelligence is bound to argue how this everlasting universe perceived by him and others like him day in and day out in the waking state be a dream? The response to this question is very meticulously investigated and expounded in the great MANDUKYA UPANISHAD and its explanatory treatise Mandukya Karika by Acharya Gaudapada.
The 12/13 days of Prasthan Trayee Parayan was concluded on December 6, 2019. Concluding Ceremony was graced by Rev. Sri Swami Parmeshwaranandaji Maharaj ( who is 96 years old ) from Sadhana Sadan, Haridwar, and H. H. .Sri Swami Viditatmanandaji Maharaj of Tatva Tirth, Ahmedabad.
The Trustees of Sivananda Ashram with Revered Sri Swami Adhyatmanandaji Maharaj gave special honor to H. H. Sri Swami Viditatmanandaji Maharaj to mark and celebrate his 80 years festivity.
Gita Jayanti ( Dec 7, 2019): A special satsang was held on Gita Jayanti day. The recitation of entire eighteen chapters of Sri Bhagawad Gita was organized.
44 th Yoga Teachers Training Course ( YTTC ) Dec 10, 2019 to Dec 30, 2019):
Twenty days residential YTTC commenced on Dec 10, 2019 evening. Students from India and USA participated. Altogether, 220 hours education was imparted during the course that included Yogasana, Pranayam, Meditation, Kriya, Mudra, Bandha, Art of relaxation, Gita, Patanjali Yoga Sutras and basic knowledge of Anatomy, Gynecology, Orthopedic, Satvic diet, Ayurveda, Sanskrit, Philosophy and Psychology of Yoga and Science of Natural healing Reiki during the course. H. H. Sri Swami Adhyatmanandaji Maharaj leads the program together with Dr. Ashok Nirwan, Dr. Varsha Dave, Dr. Amish Kshatriya, Dr. Bhavdeep Ganatra,, Dr. Mihir Upadhyay, Sanskrit scholar, Mrs. Chidrupini (Dietician ), Ms. Sangeeta Thawani, Mrs. Rupa Majmudar (Reiki Grand Master ), Ms.Sonal, Ms.Sheela Darbar, Mr.Vikram Mistry, Mr. Mukesh Bagria and Mrs. Kinjal Parekh (all Yoga experts) conducted the course. And certificates, recognized by Gujarat university were awarded to the participants, who successfully passed the written, oral and practical tests. Yoga Teachers Training Course was concluded on Dec 30, 2019 with the great satisfaction of learning and sharing the knowledge of the Yore.
Christmas Eve Satsang ( Dec 24, 2019): On the eve of the Christmas, Satsang was organized at Smt. Rupa Majmudars house. She is the editor of Gujarati Spiritual Journal "Divya Jivan". She is providing service as Reiki Grand Master as well as the Joint Secretary of Divya Jivan Sanskrutik Sangh.
On Dec 31, 2019 Pujya Swamiji was invited to inaugurate a business home "Radhika". Ashram devotee group joined together in prayer and peace chant on New year's Eve to welcome Happy New Year 2020.
Satsang & Tour of H. H. Sri Swami Adhyatmanandaji Maharaj during the Month of November 2019
Raipur, Jharkhand,
Ludhiana
: ( Dec 4, 2019 ):
Steel Industries of Ludhiana, Punjab organized a grand Program at Raipur, which was attended by more than 3000 people where Revered Sri Swami Adhyatmanandaji, Mr. Raghuvar Das, present Chief Minister of Jharkhand and Sri Arjun Munda, the past Chief Minister of Jharkhand also graced the occasion.
Ahmedabad (Dec 12, 2019): Sri Swami Narayanji of Pithoragarh (Almoda), Uttarakhand's Happy Birthday was celebrated by his devotees with Japa, meditation, Satsang and Kirtan at Sri Sadvichar Parivar. Pujya Sri Swami Adhyatmanandaji Maharaj graced the occasion.

Nadiad (Dec14, 2019): Rev. Sri Swami Adhyatmanandaji Maharaj was invited by H. H. Sri Swami Mudit Vadanandaji Maharaj of Ananda Ashram. Pujya Swamiji gave discourse on the subject of " Stress Management and Yoga" and enlightened all.

Sri Swamiji also paid homage and sought the blessing of Padmasri Dahyabhai Sastriji, who is 98 years old at his Sanskar Dham, a renowned Sanskrit School. Sri Swamiji and Sri Shastriji honored each other in mutual respect and students gave grand honor by chanting Ved Mantras.

Here at Nadiad Sri Swamiji paid a humble visit to Sri Santram Mandir and received the blessing of Sri Swami Ramdasji Maharaj, a Mahant of Santram Mandir.
Installation of the new Successor of famous Mandir at Nadiad was organized in great enthusiasm. Revered Swamiji Maharaj with other galaxies of Saints graced the occasion.
Pethapur (Dec 20, 2019):
H.H. Sri Swami Swaroopanandaji Maharaj, Shankaracharya of Sri Sharda Peeth Dwarka organized Sanatan Dharma Sammelan, Sri Swami Adhyatmanandaji Maharaj was invited to share the words of wisdom and grace the occasion at Shivalaya Pethapur at Mahudi.
A book on Development of Gujarat was released at Chief Minister of Gujarat, Sri Vijay Rupaniji's bungalow on Dec 20, 2019 in the evening. Mr. P. K. Mishra ( IAS ), Principal Secretary of Prime Minister of India was the Chief Guest and Revered Sri Swami Maharaj were the guest of honor.
Ahmedabad (Dec 22, 2019) : International Rotary Club Dist. No. 3054's Mr.Bina Desai invited Sri Swami Adhyatmanandaji Maharaj to share the words of wisdom upon the Rotary theme "Service above the Self" at the District Rotary meeting which was attended by more than 2000 Rotarians from Gujarat and Rajasthan.

Sarkhej, Naroda (Dec 24, 2019): Every year, at the famous "Vishala" organized the "Gandhi Mitra award" function. H. E. Governor of Gujarat Sri Acharya Devvrata awarded a number of Gandhians for doing wonderful selfless service in the rural area. Revered Sri Swamiji
was invited to bless the occasion.
RUPAL(Dec 28, 2019):
Diamond Jubilee of Sri Rupal Education Trust was celebrated on Dec 28, 2019 with great enthusiasm and a meaningful manner. Sri Swamiji inaugurated two days long function. With Sri Swamiji's inspiration, a Blood Donation drive was organized and sixty young people donated blood.Tree plantation of Sixty saplings was done by Pujya Swamiji.
In the evening home satsang was organized at Sri Kamlesh Khanna, Member of Board of Management of Divya Jivan Sanskrutik Sangh which was followed by dinner Prasad.
Om Shanti!