News Report for the Month of February 2021
Sivananda Ashram, Ahmedabad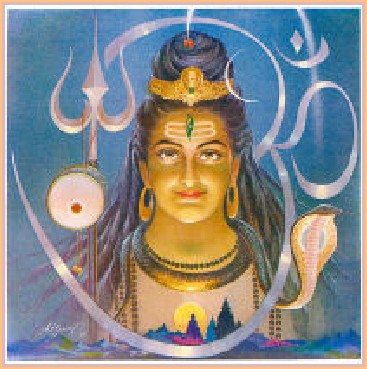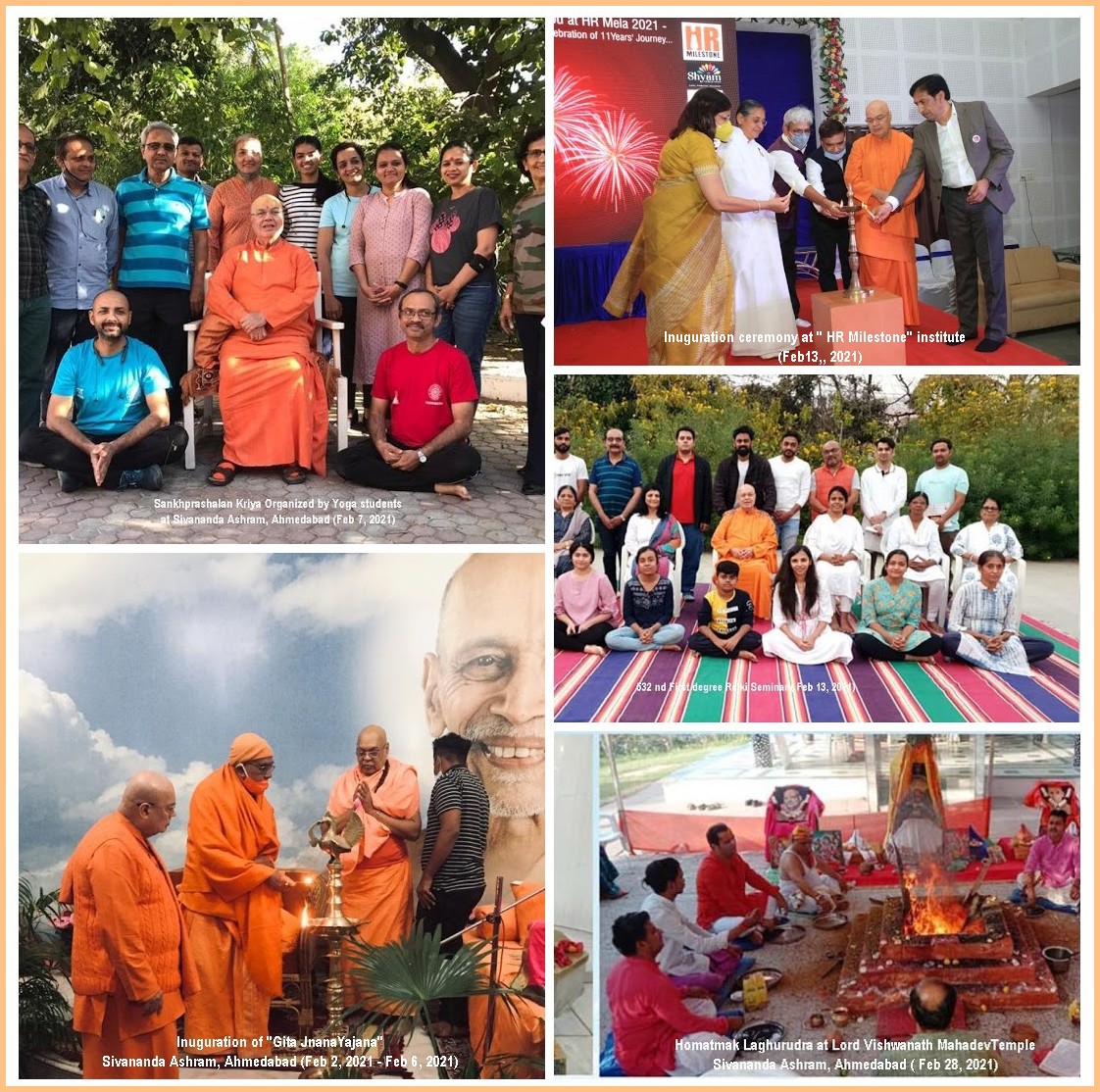 After nine months of a break due to the Covid pandemic, transitions in the regular activities at the Ashram were smooth. All the precautions, wearing masks, social distancing, and restriction of a small group of devotees at one time and like were maintained to the full effects.
Highlights of Events in the month of February 2021 : Gita Jnana Yajana (Feb 2, 2021, to Feb 6, 2021) by Pujya Sri Swami Vishnu Teerthji Maharaj of renowned Brahma Vidaypeeth Kailash Ashram at Rishikesh was organized at Sivananda Ashram, Ahmedabad. Reiki Seminar for First & Second degrees and Regular Yoga classes in small batches went well as well, Devotees felt blessed to join Homatmak Lugurudra performed at Lord Viswanath Temple. And needless to say that Monthly Narayan Seva - food distribution to underprivileged families was carried out diligently by Ashram's Karma Yoga Team, as always.
Pujya Sri Swamiji Maharaj's enlightening discourses on "Patanjali Yoga Darshan" text of Maharshi Sri Patanjali and " Gitamrutam" on Bhagavad Gita every Sunday is a blessing to all. Chapter one, "Samadhi Pad" has been completed of very amazing text Yoga Sutra of Maharshi Patanjali . You can watch them anytime through Sivananda Ashram Facebook page and Youtube also. Visit Sivananda Ashram Face Book page for more details.
Gita Jnana Yajana (Feb2, 2021 – Feb 6, 2021): Discourse series on Chapter 13 (Stanza 7 to 11) of Srimad Bhagavad Gita by Vedantacharya Pujya Sri Swami Vishnu Teerthji Maharaj of the well-known Brahma Vidaypeeth Kailash Ashram at Rishikesh was organized at Sivananda Ashram, Ahmedabad, every day from 5.30 pm to 7.00 pm. Srimad Swami Sri Achyutanandaji Maharaj, the president of Sri Maa Anandmayi Sangh in the presence of Pujya Swami Sri Adhyatmanandaji Maharaj lighted the lamp. A group of devotees as per the rules of government for the covid pandemic were permitted to attend live discourses but a live telecast from the Facebook page of the Ashram and YouTube were made available for the benefit of devotees at large.

Narayan Seva (Feb 2, 2021): Narayan Seva in the form of distribution of food packets have been done regularly for the last twelve years by Sivananda Ashram, Ahmedabad. 150-160 food packets containing 5kgs rice, 2 kgs of toor dal, 2 kgs potatoes, and 1liter oil were distributed to the needy people staying in a slum area in the vicinity of 40 km from Ahmedabad.
Shankh Prakshalan Kriya was organized at Sivananda Ashram, Ahmedabad. It was successfully carried out by Ashram's Yoga teachers team lead by Ms. Sangita Thawani. Thirty-five Yoga aspirants from various places including Ahmedabad, Yoga Niketan School, Vadodara, Bhuj, Bharuch, and Surat participated and accrue the benefits of it.
Reiki Seminar - 532nd Reiki first degree seminar was organized on Feb 13, 2021, at Sivananda Ashram, Ahmedabad. Sixteen participants attended and learn knowledge of Reiki – natural healing system. 533rd Reiki 2nd degree seminar was organized on Feb 27, 2021. For both sessions, a full day of Reiki teaching was scheduled from 9.30 am to 5.30 pm.
The next Reiki first and second-degree seminars are scheduled on March 3, 2021, and March 27, 2021, respectively. People who are interested to attend, please contact the ashram and make registration.
On Feb 28, 2021, Homatmak Laghurudra was organized in the vicinity of the Sri Vishwanath Mahadev temple. With Covid restriction, a limited number of devotees could join in the pooja. After the pooja, Prasad was served to all.
Vadodara (Feb 13, 2021): Pujya Sri Swami Adhyatmanandaji Maharaj attended function organized by "HR Milestone", the institution working for human resource, on the occasion of its 11th anniversary celebration. National awards were given by the worthy hands of Pujya Swamiji to the employees. Police Commissioner of Vadodara Sri Shamsher Sinhji and Aruna Didi from Brahma Kumari also graced the occasion.

Abhishekatmak Laghurudra (February, 11, 2021 ) - 4.00am to 6.45am
Shodoshopchar Puja -7.00am to 9.30 am
Shringar Darshan - 9.30 am to 12.00pm
Abishekatmak Laghurudra -12.30pm to 4.00pm
Maha Aarti - 12.00am & 4.00am
Bhashma Aarati - 6.45 pm
Prahar Puja (Hourly) - 8.00pm to 4.00am(next day)
Devotees who would like to stay at the Ashram during the Shivaratri Utsav will need to have documentation of negative COVID test 24 hours prior to the stay. Also please visit our Guest Information page for the details of your visit and help us make proper arrangements.
Om Shanti!
Latest Additions.........

Please subscribe to Divyajivan Mailing List. We will update you with new uploads of spiritual literature on the web of Holy Master Sri Swami Sivanandaji Maharaj, saints of his lineage and other saints. We will also update you about the Sivananda Ashram, Ahmedabad website and facilitate communication with Sri Swami Adhyatmanandaji Maharaj.

Please enter your email address and click Subscribe button
To manage your subscription, please visit Subscription Page. You can also subscribe and unsubscribe from this page. You may unsubscribe by yourself anytime you wish. You will be required to send confirmation link that you will get in your e-mail to complete this subscription.

[ Home ] [ News ] [ Upcoming Events ] [ What's New? ] [ Services ] [ Swami Adhyatmananda ] [ Multimedia ] [ Publications ] [ Administration ] [ Saints and Sages ] [ Photo Gallery ] [ Contact ] [ Guestbook ] [ Important Links ] Webmaster: webmaster@divyajivan.org