News and Activity Report
Sivananda Ashram - June, 2005
A special satsang and prayer was held on Holy Sannyasa anniversary day (June 1, 2005) of Sadgurudev Sri Swami Sivanandaji Maharaj at Chidananda Meditation Center. Large number of devotees joined in this satsang.
6th Yoga Teachers Training Course (May 18, 2005 – June 7, 2005)
Sivananda Ashram conducted sixth Yoga Teachers Training Course (YTTC) from May 18, 2005 to June 7, 2005.Twentynine established yoga student participated in this course to become a certified yoga teacher recognized by Gujarat University. The teaching team of the course including qualified doctors and yoga teachers namely Dr. Mayur Patel (Diabeitologist), Dr. Ina Patel (Pathologist), Dr.Amish Kshtriya (Orthopedic), Dr. Swetang Pancholi (Cardiologist), Dr. Varshaben Dave (Gynecologist), Dr. Snehal Amin (General Practitioner), Mrs. Rupa Majmudar (Reiki Master), Miss Sangita Thawani (Yoga teacher), Sri Sureshbhai Patel and Rev. Sri Swami Adhyatmanandaji Maharaj. Main topics covered were Human Anatomy, Physiology, Yogasanas, Pranayamas, Meditation, Eastern and Western Philosophy, Philosophy of Geeta and Patanjali's Ashtangna Yoga. It was about thirteen hours of intense learning each day. At the end of the three weeks course candidates had gone through formal exams including theory and practical aspects of the course syllabus. The concluding ceremony was held at Sivananda Ashram, Ahmedabad, on June 7, 2005 in the august presence of entire faculty members of the board as well as trustees of the ashram. Certificates were awarded to the candidates, who successfully completed twenty days long course of YTTC recognized by Gujarat University.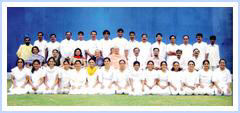 Spiritual Retreat at Seashore of Tithal, Valsad ( June 1, 2005- June 6, 2005)

Gujarat Divya Jivan Sangh, organized its annual Sadhana Shibir (Spiritual Retreat) from June 1, 2004 to June 6, 2004 at the seashore of Tithal near Valsad, at Shantiniketan, a hermitage of famous Jain Sadhus' Bandhu Triputi in peaceful and blissful atmosphere.

During the retreat every day in the early morning hours chanting of "Vaidik Hymns" started with the background music of roaring ocean, ringing of bells from Shirdi Saibaba's Temple . It was a good morning in the real sense for all. After prayer and meditation Rev. Sri Swami Adhyatmanandaji Maharaj conducted a Yoga and Pranayama session for the Yoga students at the seashore only.

Forenoon commenced with Gita chanting, discourses by Pujya Swamiji on "Shanti Mantras" and followed a mid-day meditation. In the afternoon also sadhana continued with Gita Chanting, discourses on Gita and different Sadhana related topics covered by Resp. Kirtichandraji Maharaj, Mrs. Rupa Majmudar and others.

Evenings were spent in the company of beautiful ocean waves and sunset at seashore. The days ended with Question & Answer session and prayer for peace at night satsang.

Activities at the Ashram

In the month of June, 650 kg.of grains and wheat was distributed in thirty-five needy families. As always third of the month nutritious food packages were distributed to underprivileged children of slum area.

In the month of June, about 530 to 600 people participated daily in Yoga classes at the ashram. Morning Yoga classes are conducted by the experienced yoga teachers in the Ashram at 5.30am, 7.00am and 10.30am. Afternoon yoga classes at 4.00 pm and 6.00 pm. especially for women. Other than regular yoga classes every month, from 1st to 10th in the morning and from 15th to 25th in the evening, yoga classes run for the beginners.

As always daily satsang from 8.30pm to 9.30 pm, Sunday satsang at 9.15am to 10.15 am and Paduka pujan on Thursday morning were performed at the ashram. Sunderkand path is being recited in Dukh Bhanjan Hanuman temple at the ashram on every Saturday.

Visit to Ambala, Ludhiana & Jalandhar (June 25, 2005 to June 30, 2005)

From June 25, 2005 to June 30, 2005 Sri Swamiji Maharaj had his tour to Punjab including Ambala, Ludhiana and Jalandhar. Swamiji's Spiritual discourses were organized at Ambala Cant and Ambala city. Ambala is the place where, " The Divine Life Society" was registered by the most worshipful and Rev. Gurudev Sri Swami Sivanandaji Maharaj on January 13, 1936.

At Ludhiana, morning meditation classes for general public were held at the beautiful lawns of Satluj club. Evening discourses and tree plantations were organized at different places namely at Air force station Halwara, Rotary Club Mid-town and Sri Dayananda Medical College, Ludhiana. Sri Swamiji was also invited at Citibank, Firoz Gandhi Complex, for a talk on 'stress management'.

Early morning meditation and evening discourse on the subject of 'Gita in daily life' at Arya Samaj Bhavan at Jalandhar were well received by people. Television center, Jalandhar and All Indian Radio recorded and telecasted Swamiji's discourses for the benefits of people at large.

Other News
At Billimora - On June 4, satsang was arranged at banglow "Vrandavan" of Sri. Vinod & Surekha Vashi. Pujya Swamiji Adhyatmanandaji blessed their beloved parent Sri. Bhikhubhai (ninety years old) & Smt Nirmalaben Desai. They were happy to have Pujya Sri.'s darshan & satsang. Also present at the satsang was Sri. Moghabhai, President of famous Vasundhara dairy.

On June 6, 2005 Rev. Swami Adhyatmanandaji was invited to preside over an Arangetram Bharat Natyam Indian classical dance recital by Miss Nitika Soni, at famous Tagore Hall, Ahmedabad.

Sivananada Ashram welcomed H. H. Sri Swami Prasannatmanandaji Maharaj from Sivananda Ashram headquarters of the Divine Life Society. He stayed at the ashram for a week from June 17, 2005 to June 23, 2005.

At the meeting of new executives" Lions club" Sanand, Rev. Sri Swami Adhyatmanandaji Maharaj delivered a lecture on the subject of "Breathe Excellence" Rev. Swamiji said that key to achieve excellence is to surrender unto the supreme. One needs to forget the "little I " and work for the benefits of others.

Rotary club for handicap of Bhavnagar is one of its kind. On the completion of four year and at the commencement of its fifth year Sri swami Adhyatmanandaji Maharaj was invited at the meeting of their new executives. The program was held at the "Bhavnagar Apang Manav Mandal" (Handicap peoples Association). Pujya Swamiji spoke on the subject of "Service before self". In the evening a satsang was conducted on account of Gujarat Divya Jivan Sanskrutik Sangh at Dr. Naren Joshi's place.

Shri Narayan Cultural mission located in the neighbourhood of Sivananda Ashram run a school from grade I to XII. On June 21, 2005 they started a Commerce college. Pujya Swami Adhyatmanandaji Maharaj was invited at the inauguration ceremony.

On June 21, 2005 famous Gujarat Vidyapith's nature cure and yoga training center at Randheja in Gandhinagar (A'bad) invited Rev. Swamiji Maharaj at their annual Gyan Satra. Mrs. & Mr. Shukla of the institute gave a tour of the center to Swamiji. Other dignitaries were present also namely Mr. Arun Oza, trustee and vice president of Shri Divya Jivan Sanskrutik Sangh, Mr. Joshi, past chancellor of Bhavnagar University and Mr. Ghanshyam Vyas.

Pujya Swamiji was invited at conference of chartered accountants of west zone at the country club. He spoke on the subject "Power of Knowledge" and inspired all.

Upon the request of ETY channel, Revered Swami Adhyatmanandaji and his Yoga team, have recorded about Ninety episodes of "Yoga for health" for their "Health Plus" TV series.

On June17,2005 and June 18 Rev. Swamiji joined in the annual prayer meeting of Hero Honda family in memory of late Sri Raman Munjal, the worthy founder of Hero Honda automobiles.
Guru Purnima Celebration (July 21, 2005 to July 28, 2005)
Ashram will have a week long Sadhana Shibir and Maha Samadhi day (Aradhna day stasang) of H. H. Sri Swami Sivanandaji Maharaj from July 21, 2005 to July 28, 2005. People wishing to attend the Shibir, please contact the ashram.
Regular Activities and Services at the Holy Sivananda Ashram
Latest Additions.........

Please subscribe to Divyajivan Mailing List. We will update you with new uploads of spiritual literature on the web of Holy Master Sri Swami Sivanandaji Maharaj, saints of his lineage and other saints. We will also update you about the Sivananda Ashram, Ahmedabad website and facilitate communication with Sri Swami Adhyatmanandaji Maharaj.

Please enter your email address and click Subscribe button
To manage your subscription, please visit Subscription Page. You can also subscribe and unsubscribe from this page. You may unsubscribe by yourself anytime you wish. You will be required to send confirmation link that you will get in your e-mail to complete this subscription.

[ Home ] [ News ] [ Upcoming Events ] [ What's New? ] [ Services ] [ Swami Adhyatmananda ] [ Multimedia ] [ Publications ] [ Administration ] [Saints & Sages] [ Photo Gallery ] [ Contact ] [ Guestbook ] [ Important Links ]

Webmaster: webmaster@divyajivan.org