News and Activity Report
Sivananda Ashram, January- 2006
"Serve, Love, Give, Purify, Meditate and Realize" the teaching of Gurudev Sri. Swami Sivanandaji Maharaj is the ideal keeping in front, all the activities gets carried out at Sivananda Ashram. Holy Master used to say "Do not lose a single opportunity in helping and serving others. Serve cheerfully and willingly and never show a Sunday-face or castor-oil face." With that spirit only the doors of Ashram are open to all at all the times..
Happy New Year 2006 began with group prayer, meditation and a day long Mrutyunjaya Mantra Japa Yajna and Satsang at the Ashram on Jan 1, 2006 . In the evening Smt. Keta Thakker of Archan Academy presented a memorable Bharat Natyam Recital..
Yoga Camp 650th – 651st (Jan 2, 2006 -Jan 12, 2006)
At the start of Year 2006, two yoga camps were organized simultaneously at two different place of the town first session in the morning and the second session in the evening. In the morning about twelve hundred and fifty yoga lovers joined ten days yoga camp at " Navdeep Green's " beautiful lawn garden.
International Diabetes Conference (Jan 6, 2006 & Jan 7, 2006))
International diabetes conference was organized at Sivananda Ashram, A'bad. Rev. Sri Swami Adhyatmanandaji lit the lamp at the opening ceremony on Jan 6, 2006. Governor of Gujarat Sri Navalkishor Sharmaji was present at the function. In his inaugural speech Rev. Swamiji elaborated the added benefits of yoga, pranayama & meditation in the treatment of diabetes together with essential medications, Insulin etc. Also regular practice of Yoganidra (relaxation technique) is very helpful to relieve stress that could be an important factor causing fluctuating hyper and hypoglycemia.


Inauguration Ceremony - International Diabetic Conference
On Jan 7, 2006 at concluding session get together function was arranged. About nine hundred and fifty delegates and researchers in the field from all over the world attended the function at serene atmosphere of Sivananda Ashram. H. E Governor of Gujarat Sri Naval Kishor Sharmaji Maharaj also heartily joined this informal meet and musical evening. Soothing Sehnai Vadan and Jaltarang music by Sri Gayakwad Brothers of Baroda created very enjoyable atmosphere.
Srimad Bhagwat Katha (Jan 12, 2006- Jan 18, 2006)
A sincere and holy wish of H. H. Swami Gurukripanandaji Maharaj to have Srimad Bhagvat Katha at Ramnagar (Khedbhrma) got fulfilled. Pujya Swami Adhyatmanandaji Maharaj was adorned on Vyasapith. It was concluded on Jan 18, 2006. During his stay at Ramnagar camp Swamiji visited number of near by small villages. People were very happy to have satsang and darshan of Swamiji Maharaj.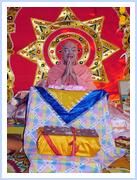 Swamiji at Vyasapith
On his way to Khedbhrama Swamiji visited Leprosy colony of Himatnagar. Sri Suresh Soni, a founder of this facility is doing great work, beyond imagination. About 950 inmates blind, deaf, dumb, handicapped are being cared for very tenderly and with all sincerity. Swamiji visited each one of them, spent time with them and cheered them up with his holy presence. His visit brought a joy and solace to them in the midst of their physical miseries.
On Jan 13, 2006 public meeting was organized at "Dr. Nalinkant Gandhi Memorial Bhavan", Himatnagar in the evening. Rev. Swami Adhyatmanandaji addressed a large assembly on the subject of Living Vedanta in daily life, which followed very interesting question and answer session. Collective efforts of District Collector, Chief Medical Officer of Civil Hospital, local member of parliament and other prominent citizens made the program successful.
On Jan 14, Rev. Swamiji and a group of devotees had a trip to holy "Sri Ambaaji " temple at Abu (Rajasthan) in early hours of dawn. It happened to be a holy Makar Sankranti and full moon day. Everybody had a lovely darshan of Divine Mother Ambaa at holy Shrine. They celebrated happy birthday, a raising day of the temple.
Sri. Suktam Parayana (Yajana)
On Jan 19,2006 Sri Suktam parayana was performed at Sri. Ashtalakshmi Bhavan. Sri. Suktam is a hymn to the Divine Mother in the form of Lakshmi, (Goddess of Wealth). It is a Vedic chant in praise of Sri.Lakshmi. 16000 times the entire Sri. Suktam was recited by one hundred students and five Acharyas (Teachers) from Sri Sola Bhagavat Vidyapith. Chanting in chorus filled the Ashtalakshmi Bhavan with divine vibrations. It was started from early morning to late afternoon. Late in the evening a festival of Karnatik music was organized at Sri Ashtalakshmi Bhavan to honour Sri Tyag Raj (Andhra Pradesh)'s birth anniversary, a legendary singer and a great devotee of Lord Sri Rama.The evening was concluded by serving dinner to all.
652th Yoga & Meditation camp at Jamnagar (Jan 20, 2006- Jan 25, 2006).
A Gitajana Yajana and Yoga camp were organized at Gita Vidyalaya, Jamnagar. Evening discourses on chapter 9th of Bhagvad Gita, a kingly science of the kingly secrete were attended by large number of devotees. During his stay many devotee families and public organizations invited Swamiji for satsang. Swamiji graced the Arangetram of Ms. Jahnavi Vyas. On Jan 25, 2006 Rev. Swamiji was invited at Smt. Kokilaben Dhirubhai Ambani's Institute of Education at Reliance Greens (Motikhavdi). Swamiji's talk to student and teachers were well received. All programs at Jamnagar were organized by Gujarat Divya Jivan Sangh and Sri Sadhana Mandir, Jamnagar
.



Eye Camp - Divya Jivan Sangh, Jamnagar
On Jan 24, 2006 Swamiji unveiled a statue of "Sri. Narsinh Mehta at Gita Vidhyalaya, Rajkot. "Sivananda Udyan", a public park dedicated in the name of worshipful Gurudev Sri Swami Sivanandaji Maharaj at Rajkot. Swamiji was present at the opening ceremony. All India Rajkot radio station recorded interview with Swamiji.
653rd Yoga Camp (Jan 26, 2006 - Feb 1, 2006)
A weeklong Yoga camp commenced on Jan 26, 2006 at Sri. Sardar Patel Stadium. More than two thousand yoga enthusiastic joined the camp daily for two hours 5.30am to 7.30am in the morning. This was planned and organized by the Commissioner and chief of Municipal Corporation, Ahmedabad as a part of "Utsav-Amdavad" festivity. It was concluded on Feb1, 2006



653 rd Yoga Camp at Sri Sardar Patel Stadium
"Utsav -Amdavad"



Swamiji with Governor of Gujarat H.E.Naval Kishor Sharmaji
& with Chief Minister of Gujarat Sri. Narendra Ji Modi at Rajbhavan
Get together function was organized at Governor's Bungalow, Gandhinagar upon the invitation of His Excellency Governor of Gujarat Shri Nawal Kishore Sharmaji in the evening of Jan 26, 2006. Sri Swami Adhyatmanandaji Maharaj attended this function.
Other news
On Jan 1 2006, 94th Birthday of Prof. J. N. Moudgill, an inmate of Sivananda Ashram was celebrated with prayers and satsang.

On Jan 9, 2006 Rev. Swamiji inaugurated a symposium on "Sanskrit Literature - Contribution by women folk" at Law Society's auditorium. He lit the lamp at the opening ceremony and shared his thought on the glory of divine mother. The Vedas, the Puranas, the Hindu epics and history all have snag the glory of women.

On Jan 10, 2006 another birthday of Sri Ghanshyambhai Vachharajani(94 years old) was celebrated with prayers and satsang at the ashram.

On Jan 26, 2006, on the occasion of the Independence Day, national flag was hoisted by Sri Swamiji at the Ashram as well as at Sri Narayan Guru Mission Institute of Education.

Last year, new Hanuman temple was built in the ashram premises and Murti Pratisha of Sri Hanuman, Sri Ram, Sri Dattatrey and Sri Jagannath Mahaprabhu were performed. Jan 29, 2006 first anniversary of the temple was observed with full day religious activities. Marutiyanjaya japa chanted throughout the day. Sunderkand Path led by Sri Bankimbhai in the forenoon and evening satsang was led by Sri Ajay Yagnikji from Delhi.

This month fifty-six people participated in Raikee Session led by Raikee Master Smt. Roopa Majmundar on Jan 11, 20056.

One hundred and ten people participated in Shankha Prakshalana Kriya (Cleansing of Elementary canal) on Jan 29, 2006 arranged by Miss Sangita Thawani and Sri Tapan Mankodi.

On Jan 31, 2006 this month activities were concluded with soul elevating devotional singing by Sri Ashwin Pathakji from Sri Tulsi Ramayan and Sundarkand,. Large numbers of devotees enjoyed this special satsang.

Divya Jivan Sangh Bharuch - Inauguration of Burn Ward at Sivananda hospital Bharuch
Upcoming Yoga Teacher Training Course (May 1, 2006 -May 20, 2006)
Please download the form in pdf file
Latest Additions.........

Please subscribe to Divyajivan Mailing List. We will update you with new uploads of spiritual literature on the web of Holy Master Sri Swami Sivanandaji Maharaj, saints of his lineage and other saints. We will also update you about the Sivananda Ashram, Ahmedabad website and facilitate communication with Sri Swami Adhyatmanandaji Maharaj.

Please enter your email address and click Subscribe button
To manage your subscription, please visit Subscription Page. You can also subscribe and unsubscribe from this page. You may unsubscribe by yourself anytime you wish. You will be required to send confirmation link that you will get in your e-mail to complete this subscription.

[ Home ] [ News ] [ Upcoming Events ] [ What's New? ] [ Services ] [ Swami Adhyatmananda ] [ Multimedia ] [ Publications ] [ Administration ] [Saints & Sages] [ Photo Gallery ] [ Contact ] [ Guestbook ] [ Important Links ]

Webmaster: webmaster@divyajivan.org