News & Activity Report for the Month of April 2021
Sivananda Ashram, Ahmedabad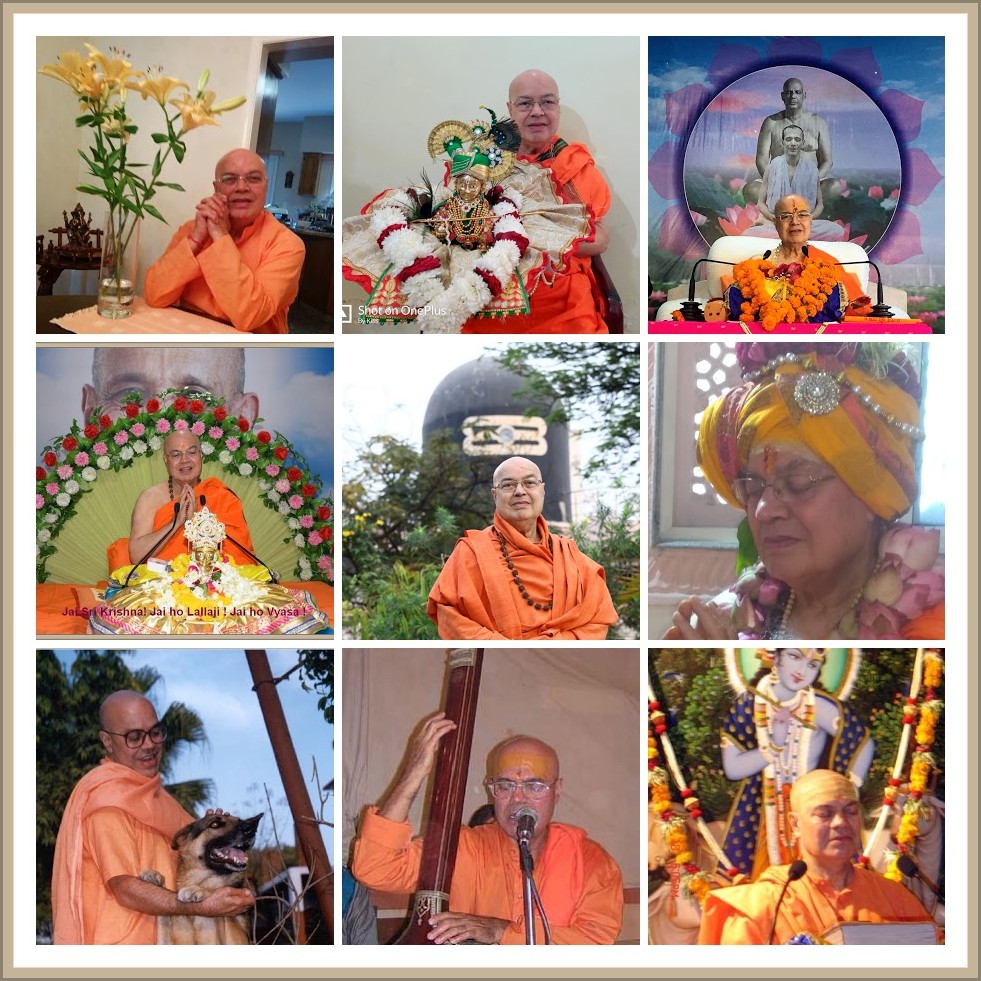 Sivananda Ashram, Ahmedabad announced.....Once again all the regular Yoga classes and Reiki Seminar have been canceled at the Ashram until further notice due to second wave of Covid-19 is spreading like a wild fire. Also, the planned upcoming Satsang programs, YTTC, Yoga camp and scheduled Mangal Utsav celebrations from April 13, 2021 to April 29, 2021 are canceled. Ashram's Priest performs daily worship at all the shrines and only the ashram inmates joined in a special satsang and Mangal utsav during the Month of April. All the temples are closed for casual visitors.
Sacred Chaitra Navratri -Vasant Navratri (April 13, 2021 to April 21, 2021): Sri Ramcharit Manas Parayana was organized in Sri Sri Sri Ashtalaxmi Bhavan in the leadership of Pandit Sri Kamlesh Jha . ashram inmates participated.

Sri Ram Navami (April 21, 2021): On the day of Sri Ram Navmi, Sri Ram Yajna, Poojan, Archan, Special Bhog, and Aarti were arranged. The birth Day of Sri Ram was celebrated with joy, but, by limited ashram devotees participated in Puja at Sri Ram – Hanuman temple of the ashram.

Sri Hanuman Jayanti ( April 27, 2021): Today, Maruti Yajna, Aarti, and Archana were concluded in the Sri Hanuman temple of the ashram in the presence of Pujya Swamiji.
21 st Brahmotsav of Sri Sri Sri Ashtalaxmi Adi Shakti Peeth (April 29, 2021) : Patotsav of Sri Sri Sri Ashtalaxmi Bhavan and Adi Shakti Peeth was celebrated by Ashram inmates only. Sri Yantra Pooja in the Brahm Muhurt followed by Navchandi – Laxmi Homam.
Covid Seva Yajana through Ashram : The relief efforts has been continued in the distribution of food packages of groceries, spices , oil etc to the needy in the underprivileged area of the town. regularly. Thanks to Ashram's Yoga Teachers Team for their Selfless Spirit.
The continuation of such a comprehensive programs have been possible only because of the unstinting devotion and generous financial assistance provided by selfless devotees of the Lord. Refer to the page for the details...........also please feel free to contact us through email sivananda_ashram@yahoo.com or contact directly # +91 93761 05554.

Pujya Swami Adhyatmanandaji's Virtual Stasang programs are going on daily through Sivananda Ashram Facebook page.....Satsang Discourse Series on "Patanjal Yog Darshan" text of Maharshi Sri Patanjali - Live telecast on Facebook Page of the Ashram and YouTube at 6.00 pm daily & Satsang Discourse Series on Gitamrutam on each Sunday at 8.00 am. Discourse series on Kathopanishad on Google Meet - Live Telecast 4.30 pm to 5.30 pm on each Thursday & 10.30 am to 11.30 am on each Sunday.
Visit
Sivananda Ashram Face Book page
and
Sivananda Ashram Youtube Channel
for more details
Once again, Please note,
All regular yoga classes & Reiki Seminar have been canceled from April 9, 2021 onwards until further notice.
upcoming YTTC (Yoga Teacher's Training Course) May 11, 2021 to May 30, 2021 has been canceled
Temple's door are closed for the general public & visitors from April 14, 2021 onwards until further notice.
While humanitarian relief efforts are active all over, it is time for us to do our part at individual level to overcome this crisis and think about what can I do to prevent the Coronavirus disease at home and people around you ?....... Be safe, stay healthy and play your part in the whole to prevent the spread of Corona Virus
Donation for the Seva Yajnas would be appreciated. Check drawn in the name of "Divya Jivan Sanskrutik Sangh" . Donation given to the ashram is deductible u/s. 80 G of the Income Tax Act.
Latest Additions.........

Please subscribe to Divyajivan Mailing List. We will update you with new uploads of spiritual literature on the web of Holy Master Sri Swami Sivanandaji Maharaj, saints of his lineage and other saints. We will also update you about the Sivananda Ashram, Ahmedabad website and facilitate communication with Sri Swami Adhyatmanandaji Maharaj.

Please enter your email address and click Subscribe button
To manage your subscription, please visit Subscription Page. You can also subscribe and unsubscribe from this page. You may unsubscribe by yourself anytime you wish. You will be required to send confirmation link that you will get in your e-mail to complete this subscription.

[ Home ] [ News ] [ Upcoming Events ] [ What's New? ] [ Services ] [ Swami Adhyatmananda ] [ Multimedia ] [ Publications ] [ Administration ] [ Saints and Sages ] [ Photo Gallery ] [ Contact ] [ Guestbook ] [ Important Links ] Webmaster: webmaster@divyajivan.org