News Report for the Month of May 3, 2020
Sivananda Ashram, Ahmedabad
Zoom Meet Photos ( May 3, 2020)
Mangal Utsav (April 19. 2019 - May 3, 2019) Photos
Amrut Mahotsav Celebrations of H.H. Sri Swami Adhyatmanandaji Maharaj by "Adhyatm Global Parivar" through Zoom Meet ( May 3, 2020)
"All Things are Possible", " The ways of the Lord are mysterious!" And He is always sarva-samartha—omnipotent, all-powerful, capable of instantly doing anything and everything that He divinely wills." - H. H. Sri Swami Chidananda.

The joy is to experience HIS Presence. We had beautiful & memorable Amrut Mahotsav celebration of Beloved Pujya Swamiji Maharaj through Zoom Meet on May 3, 2020, even in Lockdown of COVID -19. It is all Guru's Grace!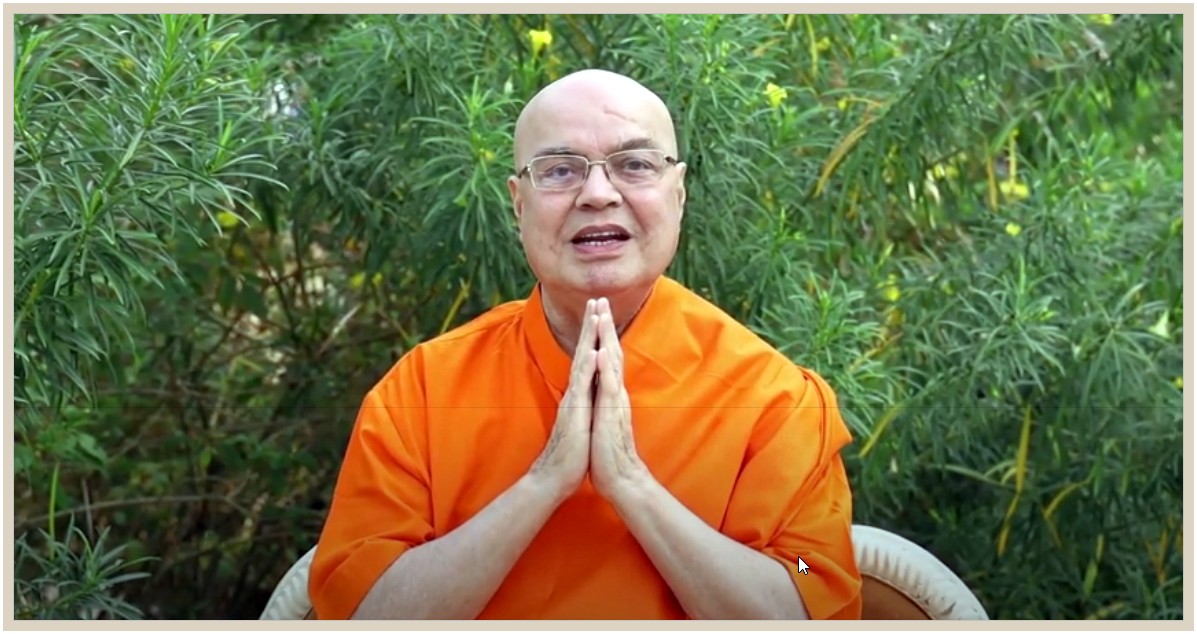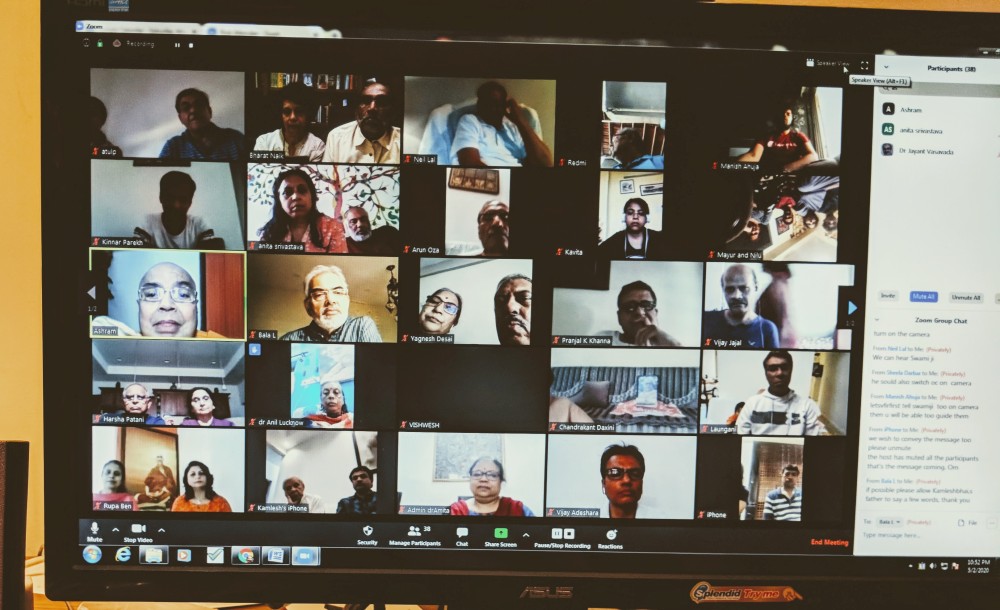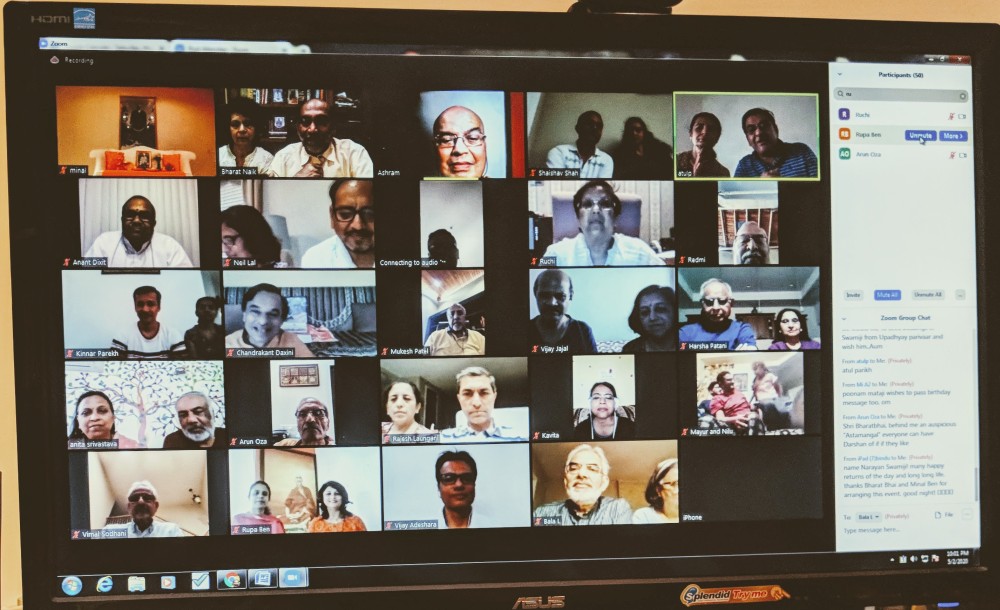 How Blessed we are to have Pujya Swamiji's Darshan, Satsang & Blessings on this momentous occasion of His 75 th Birth Anniversary celebrations! Devotees felt Swamiji physical presence! Devotees from the USA, UK, Canada, and all over India joined in the celebrations. There was an outpouring of sentiments of deepest gratitude & love by devotees who spoke felicitating their Beloved Swamiji Maharaj. They all shared their unique experiences and bonding with Swamiji Maharaj. How fortunate & blessed each one of us feels to be a part of this sacred event!
And How Powerful and Inspiring was Swamiji's message! "Stand for Truth & Purity", He said. In all situations, be rooted in the Absolute Truth, Abide in the SELF, sing HIS Glories, Surrender at the holy feet of your Guru. Stick to the path guided by your Guru. Chant the Guru Mantra with unwavering faith. Intensify your faith only on one thought " I am Thine, Thou art Mine, Thy will be done". "O God, I am Thine, Thy wish is mine as I have none". Guru's Grace is unfailing; it is ever ready to help you. I have experienced in my life, you can too.

We will cherish the Global Oneness connected with this event forever!
We wished, we had more time for all who wanted to speak and express their sentiments but, Pujya Swamiji had full schedule lined up on this sacred day, never the less, all were happy to be a part of this momentous occasion of Pujya Swamiji's Amrut Mahotsav Celebrations. The meet went on overtime and still could have gone on & on.....
We Pray for Pujya Swamiji's Good health & long life, So HE could be a guiding light to the spiritual aspirant all over.
The Zoom Meet was hosted by a devote couple of Chicago (USA) on behalf of all the devotees. They feel fortunate for this Blessed opportunity.
After the Zoom Meet in the morning hours, the Holy Padooka Pujan of most Worshipful and Revered Sri Guru Maharaj Swami Sri Sivanandaji and Swami Sri Chidanandaji were performed by the inmates of ashram.
Narayan Seva to underprivileged people of the town and service to Leprosy Colony was organized to mark this very special day.
Also, "Amdavadtak" TV Media broadcasted Pujya Swamiji's Blessings to mark this sacred day. Here is the Link to Full coverage
The day progressed for Pujya Swamiji to receive Prayers & heartfelt wishes from devotees & well-wisher from all over the globe for HIS happy Birthday.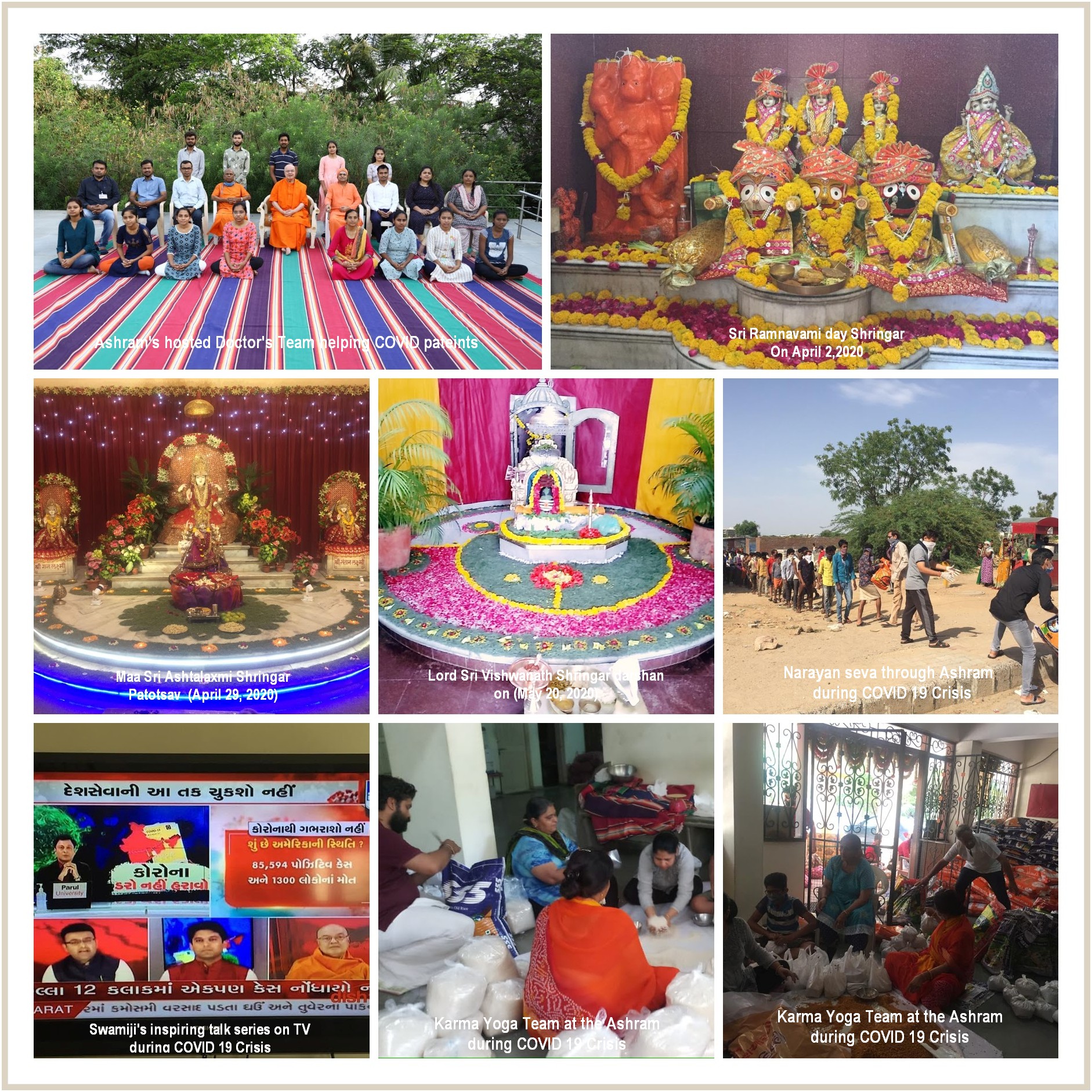 26 th Patotsav (Anniversary) of Lord Sri Vishwanath Mahadev was celebrated with Laghu Rudra Pooja as well as Homam .
Corona Relief efforts & Services through ashram: As we are passing through Corona epidemic, ashram extended free lodging and boarding for the Medical team, who came to serve COVID patients from different districts of Gujarat for about two & half month from March 15, 2020 to May 25, 2020. Ashram received altogether 70 Doctors. Ashram's management was happy to serve them as they were front liners warriors taking care of COVID patients.
Daridranarayan Seva continues to people in underprivileged area of the town.
Announcement for Upcoming Events:
Sivananda Ashram, Amdavad Announces......
As, COVID Lock down is extended up to June 30, 2020 at Ashram vicinity area and all the regular Yoga & Satsang programs continues to be close until further announcement. Ashram's Priest performs daily worship at all the shrines and prayers are offered every day for the global peace.
Be safe, stay healthy and play your part in the whole to prevent the spread of Corona Virus!
Om Shanti!
Latest Additions.........

Please subscribe to Divyajivan Mailing List. We will update you with new uploads of spiritual literature on the web of Holy Master Sri Swami Sivanandaji Maharaj, saints of his lineage and other saints. We will also update you about the Sivananda Ashram, Ahmedabad website and facilitate communication with Sri Swami Adhyatmanandaji Maharaj.

Please enter your email address and click Subscribe button
To manage your subscription, please visit Subscription Page. You can also subscribe and unsubscribe from this page. You may unsubscribe by yourself anytime you wish. You will be required to send confirmation link that you will get in your e-mail to complete this subscription.

[ Home ] [ News ] [ Upcoming Events ] [ What's New? ] [ Services ] [ Swami Adhyatmananda ] [ Multimedia ] [ Publications ] [ Administration ] [ Saints and Sages ] [ Photo Gallery ] [ Contact ] [ Guestbook ] [ Important Links ] Webmaster: webmaster@divyajivan.org