Tour to Taiwan of H. H. Sri Swami Adhyatmanandaji Maharaj ( June 13, 2017 - June 25, 2017)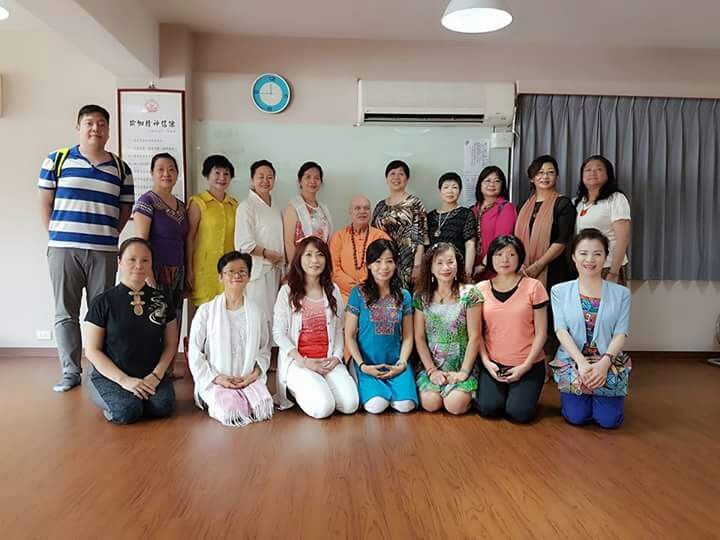 Honoring invitation of founder Yogi James Law of Sivananda Yoga, Taipei (Taiwan), Pujya Swami Adhyatmanandaji Maharaj Toured to Taiwan. On June 13, 2917 morning Swamiji arrived at Delhi airport. Satsang was arranged with the officers of Indira Gandhi International Airport, Delhi followed by lunch. In the late night, Swamiji arrived at Taipie, Taiwan by Air China. After prayer with a group of devotees, they reached to Shivannada Yoga Ashram.
During the stay here, Satsang was done at the Ashram itself on Tuesday and Thursday. Besides this, two detailed work shops of eight hours each from the morning to evening were arranged at Ren-ai Studio on June 16, 2017 & June 18, 2017 for Yoga Teachers Training Shibir students.
Tree plantation was done on June 21, 2017 on the occasion of the World Yoga Day at Youth Park of new Taipei city. During the tree plantation program, Municipal Mayor Mr. Enjelaing and Ambassador of Taiwan from Delhi Mr. Huie Shin Chen also remained present. Indian Business forum president Sri Vijay Kapadia also remained present..
As there was rain during the entire week, The World Yoga Day program of June 21, 2017 was organized in Kausing city by China Yoga Association ( CYA ) on June 17, 2017. Three thousand devotees participated.
On June 24, 2017, there was big Yoga Rally in Taipei by Indian Embassy. In the evening, Pujya Swamiji delivered a public speech on "Geeta Amrutam" from 7.00 pm to 8.00 pm. in the auditorium of Taipei University which was attended by big crowd. On June 22, 2017 Pujya Swamiji visited New Taipei on the invitation of China Yoga Association. Every body was happy to meet old friends.
In the first out of three public lectures, Swamiji spoke on the subject of "You are the problem and You are the solution". The big enemy of the man kind is his ego. Man changes his nature led by the problems like water gets shape of the vessel in which it is poured in. You leave the world, you leave the wealth, but, your inner ego and much bigger ego of your so called "Tyag" ever fight with your inner soul. Some times, you feel that you are well educated and doing every kind of services that will be a cause of ego. To make your self free from that you do Shastang Namaskar to all, that would be a new ego of being the most courteous person. All such types of ego may surface any time any where. So, be alert "
Second lecture : It was on the subject of Guru Dattatreya and his twenty four Gurus. Third was on Geeta Amrutam in which he talked on karma Yoga . By doing selfless service you purify your heart. Egoism, hatred, jealousy, ideas of superiority and all the kindred negative qualities will vanish. You will develop humility, pure love, sympathy, tolerance and mercy. Sense of separateness will be annihilated. Selfishness will be eradicated. You will get a broad and liberal outlook on life. You will begin to feel oneness and unity. Eventually you will obtain knowledge of the Self. You will realize One in all and All in one.
Om Shanti
Latest Additions.........

Please subscribe to Divyajivan Mailing List. We will update you with new uploads of spiritual literature on the web of Holy Master Sri Swami Sivanandaji Maharaj, saints of his lineage and other saints. We will also update you about the Sivananda Ashram, Ahmedabad website and facilitate communication with Sri Swami Adhyatmanandaji Maharaj.

Please enter your email address and click Subscribe button
To manage your subscription, please visit Subscription Page. You can also subscribe and unsubscribe from this page. You may unsubscribe by yourself anytime you wish. You will be required to send confirmation link that you will get in your e-mail to complete this subscription.

[ Home ] [ News ] [ Upcoming Events ] [ What's New? ] [ Services ] [ Swami Adhyatmananda ] [ Multimedia ] [ Publications ] [ Administration ] [ Saints and Sages ] [ Photo Gallery ] [ Contact ] [ Guestbook ] [ Important Links ] Webmaster: webmaster@divyajivan.org